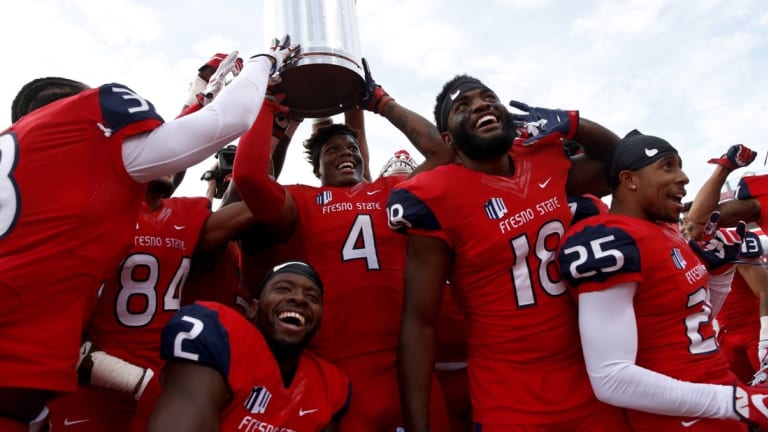 Fresno State losing 2 defenders to draft
A defense that propelled Fresno State to the Mountain West Conference championship is losing a pair of key players.
Middle linebacker Jeff Allison and safety Mike Bell both announced via social media that they are leaving the school early to enter the 2019 NFL Draft.
Allison was named the Mountain West Defensive Player of the Year after registering 132 tackles and a pair of interceptions in earning first-team all-conference honors for the second straight season.
"Fresno State has been my home away from home for the past three years. It was an honor to go out and battle in Bulldog Stadium with my brothers and to rep The Valley," Allison wrote on his Twitter account. "My dream was to play NCAA football at the highest level and I was able to accomplish that here at Fresno. Now the time has come for me to pursue another one of my childhood dreams. I will be forgoing my Senior year and will be entering the 2019 NFL Draft."
Bell was a second-team all-conference selection in 2018 after recording 87 tackles and three interceptions in 14 games for Fresno State. The 6-foot-3, 203-pound Bell was an MWC honorable mention pick as a sophomore.
"These past 4 years at Fresno State have been some of the best times in my life," wrote Bell via Twitter. "I've seen this program at (its) lowest of lows and highest of highs and I'm proud to be a part of every moment of it. I have taken time to reflect on my life and what my future will uphold. After careful consideration of my family I have made my decision on foregoing my senior year and declaring for the NFL draft."
The Bulldogs finished 11-2 overall and 7-1 in conference play, capping the season with a 19-16 victory over Boise State in the MWC championship game before rolling to a 31-20 win over Arizona State in the Las Vegas Bowl.
Fresno State permitted only 198 points in 14 games.