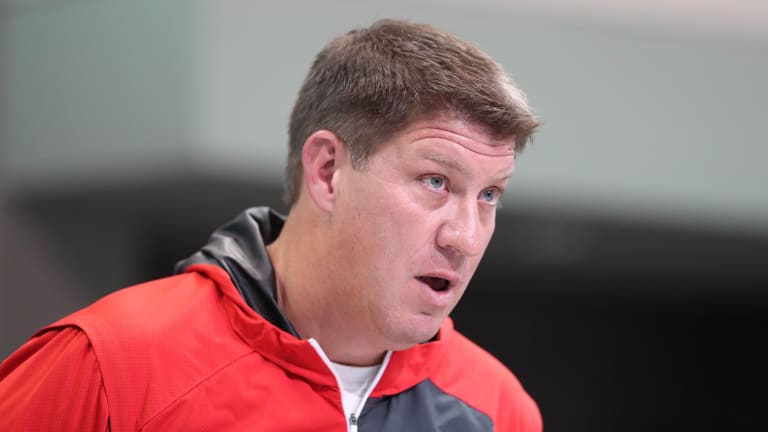 Garcia apologizes to Bucs fans for 3-and-out tweet
--- NFLDraftScout.com ---
--- NFLDraftScout.com ---
Jeff Garcia doesn't seem to be too interested in announcing a draft pick of the Tampa Bay Buccaneers this weekend.
After initially tweeting that he was honored to declare the team's third-round selection, the former Buccaneers quarterback apparently wasn't too pleased to be informed by Greg Auman of the Tampa Bay Times that the club doesn't have that pick anymore.
That pick went to the New York Giants in a trade last month involving defensive end Jason Pierre-Paul. The teams also swapped fourth-round picks in that deal, with the Buccaneers' current fourth-round pick scheduled to be delivered by a parrot from the pirate ship at Raymond James Stadium, the team announced on Monday.
As for Garcia, he elected to offer a terse response to Auman on Twitter.
"Whatever the pick is, I'll be announcing one. Don't turn this into some clown show dude," the 48-year-old Garcia wrote. "I could care less about who they pick nor do I pay any attention as to what picks they have or don't have. I have a life."
Garcia, who threw for 25 touchdowns in two seasons (2007-08) with the Buccaneers, apologized on Tuesday over Twitter.
"My bad @Buccaneers fans … I wouldn't have said it was an honor if it wasn't but I would have liked to have been informed that they didn't have a 3rd before I tweeted it," Garcia wrote. "(Just) was a bit of embarrassment. Loved my time in Tampa & the fans."
Garcia played for the San Francisco 49ers, Cleveland Browns, Detroit Lions, Philadelphia Eagles and Buccaneers during an NFL career that spanned from 1999-2009. He began his professional career with the Calgary Stampeders in the Canadian Football League and finished with almost 42,000 yards passing.
Garcia's accomplishments include being a four-time CFL All-Star and league MVP in 1997, 1998 Grey Cup title and four NFL Pro Bowl invitations.