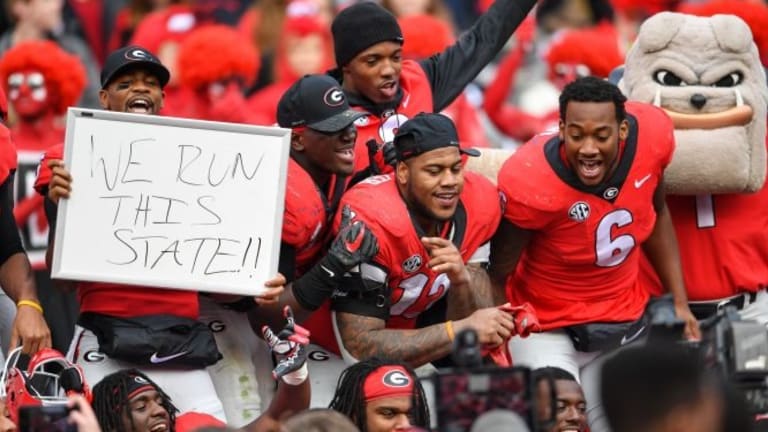 Georgia moves into No. 4 spot in CFP rankings
There's a new No. 4 team in the College Football Playoff rankings released Tuesday night.
Georgia (11-1) moved up after its victory over Georgia Tech last week. The Bulldogs are preparing to take on No. 1 Alabama in Saturday's Southeastern Conference championship game.
The top three — Alabama (12-0), No. 2 Clemson (12-0) and No. 3 Notre Dame (12-0) — remained in the same spots this week.
Michigan held the No. 4 spot for three weeks until its crushing 62-39 loss at Ohio State on Saturday.
The Buckeyes were the biggest movers, climbing from No. 10 to No. 6. They'll play No. 21 Northwestern (8-4) the Big Ten Championship Game on Saturday night in Indianapolis' Lucas Oil Stadium.
Ohio State sits just behind No. 5 Oklahoma (11-1), which faces No. 14 Texas on Saturday for the Big 12 championship. The Sooners edged West Virginia 59-56 last weekend in their regular-season finale.
"We spent a lot of time on that one (No. 6)," selection committee chair Rob Mullens said in an interview. "I undestand the defensive efficiencies are there, but they really have an historic offense."
Georgia, Oklahoma and Ohio State appear to be vying for the fourth spot behind the top three, barring weekend upsets. If Georgia loses to Alabama, either Oklahoma or Ohio State likely would inherit the coveted No. 4 position. Oklahoma wil be trying to avenge a regular-season loss to Texas.
Central Florida (12-0) checked in at No. 8, behind two-loss Michigan. UCF will take on Memphis in the American Athletic Conference championship game without injured quarterback McKenzie Milton.
Two SEC schools, Florida (9-3) and LSU (9-3, round out the top 10.
The top four teams in the final rankings, which will be announced Sunday, move on to the national semifinals, which will be played Dec. 29 in the Orange Bowl and the Cotton Bowl. The national championship game is Jan. 7 at Levi's Stadium in Santa Clara, Calif.
The rest of the top 25 are Washington (9-3), Penn State (9-3), Washington State (10-2), Texas (9-3), Kentucky (9-3) , West Virginia (8-3), Utah (9-3), Mississippi State (8-4), Texas A&M (8-4), Syracuse (9-3), Northwestern (8-4), Boise State (10-2), Iowa State (7-4), Missouri (8-4) and Fresno State (10-2)