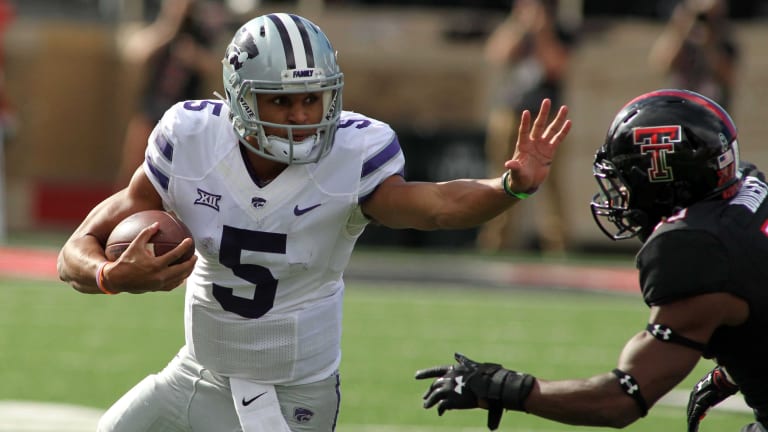 Kansas State's new coordinator examines offensive tendencies
An offensive upgrade would seem like an appropriate goal for Kansas State.
During the offseason, wide receivers coach Andre Coleman assumed the role of coordinator, replacing Dana Dimel, who moved on to become head coach at UTEP.
Coleman played wide receiver for the Wildcats from 1990-93, then played in the NFL for five seasons. He coached receivers before his promotion into the coordinator position, where he will debut Sept. 1 against South Dakota in Snyder Family Stadium.
Logic dictates he might want to open up the Kansas State offense after the Wildcats averaged just 173.8 yards per game through the air a year ago, ranking last in the Big 12 and trailing the next worst passing unit (Kansas) by more than 50 yards on average.
"Guess what?" Coleman said when reacting to the assumption the ball will get thrown more. "Whatever's working, that's what we're going to do and say, 'Stop us.' I don't have an ego. I'm not going to throw the ball if I don't have to, right?"
That possibility could materialize.
The Wildcats, who finished 8-5 a year ago after a 5-4 run to a fourth-place tie in the Big 12, have an experienced offensive front. An assortment of experienced running backs are led by junior Alex Barnes, who gained 819 yards and averaged 5.6 yards per carry in 2017, but was slowed by several nagging injuries.
The real question will be how much the K-State quarterbacks continue to be involved in the run game. Both Skyler Thompson and Alex Delton return at quarterback.
Delton is considered more dangerous as a rusher, gaining 500 yards last season while leading the Wildcats with eight rushing touchdowns. Delton closed the season by coming off the bench to rush for 158 yards in a Cactus Bowl win over UCLA and was named the most valuable offensive player of that game.
"I think it's a huge dual threat," said Dalton Risner, a two-time All-Big 12 tackle who was listed on several preseason All-America teams. "Whenever you can (use) run formations with a quarterback, with running backs as the lead blockers or whatever it is, that's a huge edge."
Health risks exist, though. Both Delton and Thompson have nursed injuries before, so durability could be an issue, even in what appears will be a two-quarterback system.
In the past, Kansas State coach Bill Snyder often liked to rest his defense and minimize the explosiveness of Big 12 rivals by killing clock with a successful run game. Also, the Kansas State receiving corps is largely pedestrian.
"We have a very good offensive line and a very good running back crew and we're going to use that," Thompson said. "We're going to play to our strengths, obviously, but one of our strengths is going to be throwing the ball too, so we'll see how that goes."
NOTES
–S Denzel Goolsby is Kansas State's top returning tackler after ranking third on the squad with 78 stops last season. The junior will be the leader of a secondary following the loss of versatile CB D.J. Reed, who skipped his senior season to move on to the NFL. Goolsby was named the defensive MVP of the Cactus Bowl, where his forced fumble and recovery set up a decisive touchdown against UCLA.
–WR Isaiah Zuber led the Wildcats with 51 receptions last season, becoming a dependable possession-type receiver capable of also burning opponents on end arounds. Newcomers should factor into Kansas State's passing game as targets, though coach Bill Snyder often likes to rely on veterans who have proven themselves as blockers.
–OT Dalton Risner had a string of 38 career starts snapped when he missed the Cactus Bowl with an injury last season. He is considered the Wildcats' top pro prospect, though the senior plays right tackle, largely because the Kansas State scheme is predicated on running the football. His leadership characteristics should appeal to scouts. He is a third-year captain.
–FB Mason Barta was one of the few surprises on the depth chart released the week of the opener. The redshirt freshman was listed as a co-No. 1 alongside junior Adam Harta.