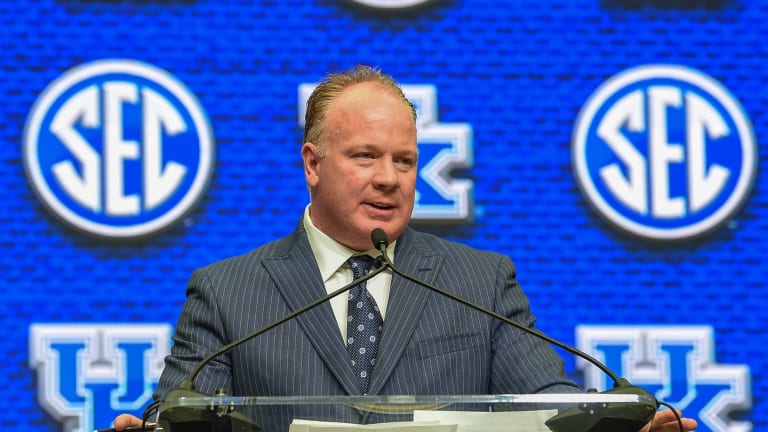 Kentucky heads into season with JC transfer QB
Junior college transfer Terry Wilson named starting quarterback.
After a three-way competition that stretched back to last spring, junior college transfer Terry Wilson has won the starting job at quarterback for Kentucky's opener Saturday against Central Michigan.
Coach Mark Stoops, who is 26-36 in five seasons but is coming off back-to-back postseason appearances, made the announcement at his weekly session with the media to preview the upcoming game.
Though redshirt freshman Danny Clark was in the picture at one time, the eventual decision came down to Wilson and sophomore Gunnar Hoak.
"We made the decision over the weekend," Stoops said. "I brought both quarterbacks in Friday after practice and I had a face to face with them and just told them what I was thinking and when I was going to make that decision, just so they understood where they were at.
"And I told them I would call them over the weekend and bring them back to the office and tell them face to face."
Wilson will take over for Stephen Johnson, a junior college transfer who took over as the starter in 2016 following an injury to Drew Barker and guided the Wildcats to consecutive bowl game appearances.
"He's a dynamic guy but we haven't seen him full go because he has not been live since he's been here," Stoops said of Wilson. "So, kind of interested to see how the year goes, myself. See what he can kick that thing out to and how fast he can run when it's in the open field."
Wilson was considered the best runner among the candidates for the job, but that wasn't the only reason he won it, Stoops said.
"It wasn't about just the legs," Stoops said. "That's always a piece of it, but it's about operating within the offense and you've heard me talk for a year now about being improved and trying to build on the passing game, as well."
Stoops said that Wilson will not be "on a short leash" and he will have "every opportunity" to hold onto the job. Though he made comments earlier about the possibility of playing two quarterbacks, Stoops would not commit to that for now.
"I don't know how that's going to play out," Stoops said.
"I cannot say that right now or today. Those players understand that. I'd like both guys to play. I think both guys have earned the right to get the opportunity to play, but you understand and I understand and they understand that sometimes that's not a possibility."
NOTES
–RB Benny Snell will be the focal point of the offense as the Wildcats look to break in a new starting quarterback. Snell has rushed for 2,464 yards in just two seasons, becoming just the third player in SEC history to top 2,400 yards with 31 touchdowns in that time span. Georgia's Herschel Walker and LSU's Leonard Fournette are the other two.
–LB Jordan Jones returns for his senior season after posting 64 tackles (fifth on the team) along with 7.5 tackles for loss (2.0 sacks) despite miss four games to injury in 2017. He is a force to be reckoned with and the attention he gets often results in tackles/sacks for his teammates. If Kentucky's defense is to improve over mediocre 2017 numbers, he will be a key reason.
–Junior LT Landon Young will miss the season after injuring his knee just eight days before the season opener. Young had 15 starts his two seasons, six of them on the left side last year. "Very disappointed for Landon," coach Mark Stoops said. "It was a non-contact injury."