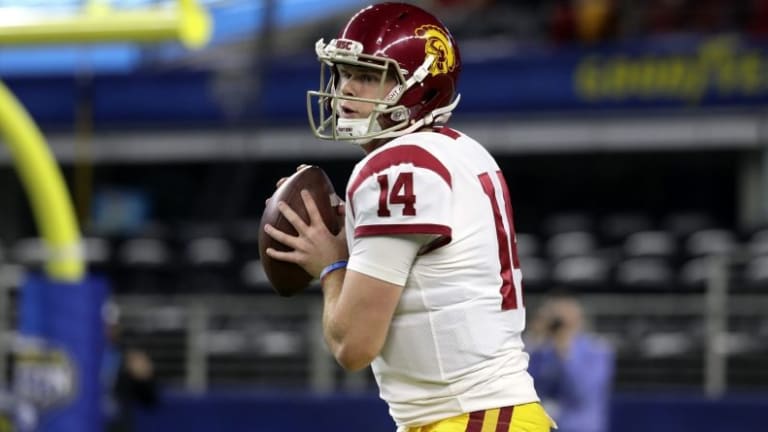 Leaf: Top QB should avoid being drafted by Browns
--- NFLDraftScout.com ---
Ryan Leaf, who is arguably one of the biggest busts in the history of the NFL Draft, offered some draft advice of his own during his recent visit to FS1.
Leaf said that he would urge the top-tier quarterbacks to avoid playing for the Cleveland Browns should the team select them with the No. 1 overall pick of the 2018 NFL Draft. The draft will be held on April 26-28 at AT&T Stadium in Arlington, Texas.
"I don't want anybody to be a bust," the 41-year-old Leaf said on "The Herd" with Colin Cowherd. "I want them to be successful. And there is no evidence to show me that Cleveland is going to be successful. It's a place where quarterbacks go to die. How many quarterbacks — 27 quarterbacks in the last 10 years?
"If I were (USC quarterback) Sam Darnold and I have this leverage right now and I know I'm going to be the first pick in the NFL Draft, I'm going to my agent and saying, 'Figure out a way for me to not to go Cleveland. Eli Manning this for me.'"
The Manning reference stems from the quarterback refusing to play for the then-San Diego Chargers in 2004. While we're at it, John Elway did the same with the then-Baltimore Colts in 1983. The Chargers and Colts ultimately traded Manning and Elway to the New York Giants and Denver Broncos, respectively.
"Do something like John Elway or Eli Manning did," Leaf said. "What if he plays five years there and is mediocre because they never win?"
At this point, there is no indication that Darnold — or UCLA quarterback Josh Rosen, Wyoming Josh Allen and reigning Heisman Trophy winner Baker Mayfield of Oklahoma — plan to declare against playing for a Browns team that went winless last season.
In his most recent edition of The Big Board, Rob Rang of NFLDraftScout.com has Darnold as the top overall pick of the 2018 NFL Draft.
Darnold completed 303 of 480 passes for 4,143 yards, with 26 touchdowns and 13 interceptions, last season. He threw 31 touchdown passes a redshirt freshman.
Rosen is listed second in Rang's Big Board, followed by Penn State running back Saquon Barkley, Notre Dame offensive guard Quenton Nelson and North Carolina State pass rusher Bradley Chubb.
The Browns acquired Tyrod Taylor and Drew Stanton this month while parting ways with fellow quarterback DeShone Kizer.
Taylor played in 15 games for the Buffalo Bills last year and completed 62.6 percent of his passes for 2,799 yards and 14 touchdowns with four interceptions.
Stanton has started 17 games and appeared in 38 total during his NFL career with the Detroit Lions (2007-11), Indianapolis Colts (2012) and Arizona Cardinals (2013-17). He has completed 345 of 659 career passes for 4,059 yards with 20 touchdowns.
As for Leaf, he retired four years after he was selected second overall by the Chargers in the 1998 NFL Draft. He played in three seasons after missing the 1999 campaign with a shoulder injury.
His teams went 4-17 and he completed just 48.4 percent of his passes while throwing for 14 touchdowns and 36 interceptions.
Leaf's short career was muddied by run-ins with teammates, management and media, as well as injuries, and his personal life has been marred by legal and drug issues.