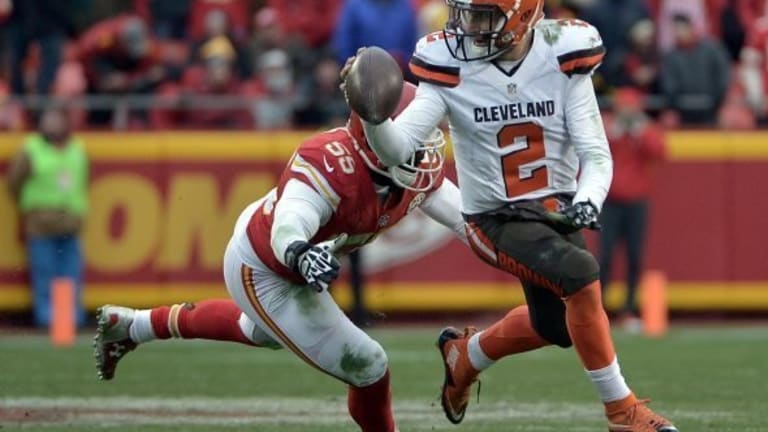 Manziel 'intrigued' by transition to CFL
--- NFLDraftScout.com ---
Johnny Manziel had some uneven moments during training camp Saturday as he continued his bid to win the starting quarterback job with the Hamilton Tiger-Cats of the Canadian Football League.
Manziel, who signed with the Tigers-Cats earlier this month in the hopes of reviving his stagnant NFL career, is battling incumbent Jeremiah Masoli to be the starter.
The former Heisman Trophy, who last played at the end of the 2015 season with the Cleveland Browns, had some sharp moments during Saturday practice, according to TSN.
Manziel completed 4 of 5 passes for 175 yards during team drills, including a pair of 50-yard connections and one 30-yard strike one week after signing with the club.
However, the former Texas A&M standout struggled during situational drills at the end of practice, finishing only 2 of 6 for 25 yards with an interception.
Manziel was asked his thoughts on his play and the adjustments to the CFL following the seventh day of Hamilton's training camp.
"It's good, it's fun. It's intriguing, that's the best thing I would say," Manziel told TSN. "Things you don't know and when you get a chance to learn them and they kind of click for you, it's eye-opening. I'm very intrigued with everything that's going on right now and I like the offense."
Manziel, who in April competed in two games in the Spring League at Austin, Texas, acknowledged the learning curve to the CFL game.
"The thing that I'm slowly but surely starting to see the field a bit more, the defense, seeing where the safeties are lining up. Being able to be aggressive on some things," said Manziel. "Threw a post (pass) for a touchdown today … It's easy when you put it in one (play) at a time but then when you put in altogether in concepts … as a team, this whole thing isn't built in one day.
"Forget about me and everything that I'm doing, as a whole unit, to function at a high level it takes time so we're just piecing it altogether.
Masoli had a strong practice Saturday, not missing one throw during the practice-closing situational drills in leading the Tiger-Cats down the field.
"He's had as good a camp as I've seen (from a quarterback)," Hamilton coach June Jones told TSN about Masoli.
Manziel played 15 games over two seasons with Cleveland after the team selected him with the 22nd overall pick in the 2014 NFL Draft. He expects that to serve him well as he transitions to the CFL.
"Luckily I do have some experience, it's a little bit different of a game but at the end of the day I'm not treating it like it's all that much different," said Manziel. "Get the ball out a bit little quicker than I'm used to, more from the shotgun. Width of the field, size of the ball, the extra player, it's something to adjust to but I'm not over-exaggerating on everying like that. I'm taking it as it is."