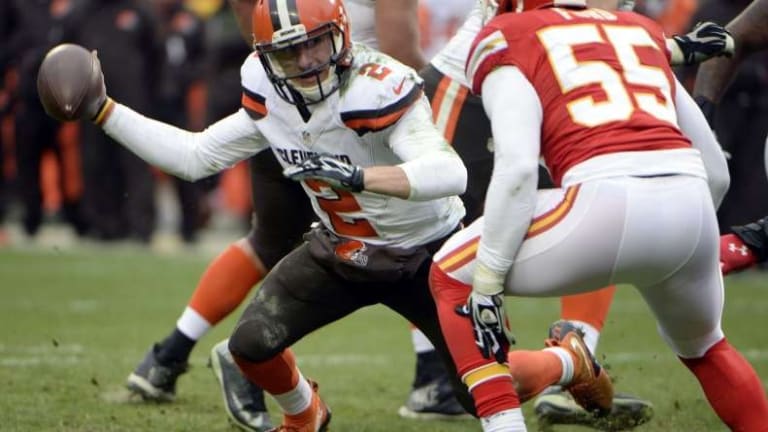 Manziel will be backup in CFL debut
--- NFLDraftScout.com ---
Johnny Manziel will see his first CFL action on Friday night but it will be in a backup role.
Manziel, who signed a two-year contract with the Hamilton Tiger-Cats earlier this month, will come off the bench for the team in its preseason opener against the Toronto Argonauts, head coach June Jones said, per USA Today.
Jones added that there is no quarterback controversy on the team and said that incumbent Jeremiah Masoli "absolutely" will be the starter when the regular season opens on June 16.
"Masoli is going to play until I feel good about it," said Jones of the preseason preseason opener. "And then the rest of the game will be whatever we decide — 15 plays each, or whatever."
Manziel has not played in a game since the end of the 2015 season with the Cleveland Browns, with the exception of two appearances in the Spring League during April.
"It's going to be fun just getting back on the field, getting the chance to play, take some snaps, and do what I love doing," said Manziel on Thursday. "I'm excited from a personal standpoint just to get back, take some snaps and run around."
The former Heisman Trophy winner acknowledged over the weekend that there is a steep learning curve to the CFL game.
Manziel played 15 games over two seasons with Cleveland after the team selected him with the 22nd overall pick in the 2014 NFL Draft. He completed 57 percent of his passes with seven touchdowns, seven interceptions and seven fumbles.
Significant problems off the field led to Manziel's fall. He was investigated by Dallas police in 2016 for domestic violence against an ex-girlfriend, but the charges were dropped when he agreed to undergo counseling.
Following the 2015 season, Manziel entered a rehabilitation center and was suspended for the first four games of the 2016 season for violating the NFL's substance abuse policy.