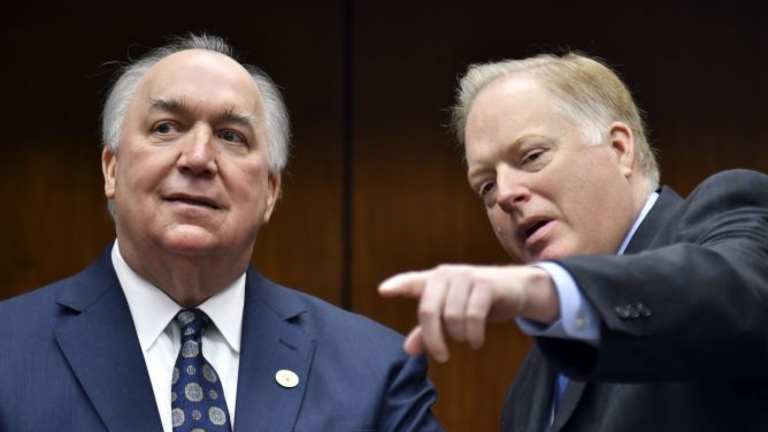 Michigan State interim president blast $10,000 fine
Engler: "The idea that Michigan State gets fined is absurd."
Engler: "The idea that Michigan State gets fined is absurd."
Michigan State interim president John Engler did not hide his displeasure at the Big Ten's decision to fine the university $10,000 for a pregame scuffle with Michigan last week.
Speaking on WMNQ-FM's pregame show before Saturday's 23-13 win over Purdue, Engler blasted commissioner Jim Delany's ruling as "absurd" and ridiculous".
"It was a setup. I think the whole thing was staged and the behavior just outrageous," Engler said. "The idea that Michigan State gets fined is absurd. The Michigan player (Devin Bush) that was out there tearing up the field, that seemed to be the single-most egregious act. I mean, blocking the players was dumb, the players as they did the march. But his behavior in front of everyone, trying to tear up the field and forcing our groundskeeper to come out and fix it, come on.
"I was told and I haven't been around very long that down at the Big Ten headquarters, the scarlet and gray (Ohio State) and the maize and blue (Michigan) have a little status. And it sure looked like it this week."
Big Ten officials said Michigan State violated the conference's Sportsmanship Policy by walking across the field with linked arms and initiated contact with numerous members of Michigan's team during warmups.
Spartans coach Mark Dantonio was reprimanded for failing to take appropriate action to avoid a conflict from occurring.
Michigan coach Jim Harbaugh also was reprimanded for postgame comments about the incident. Bush tore up Michigan State's midfield logo with his cleats before the game.