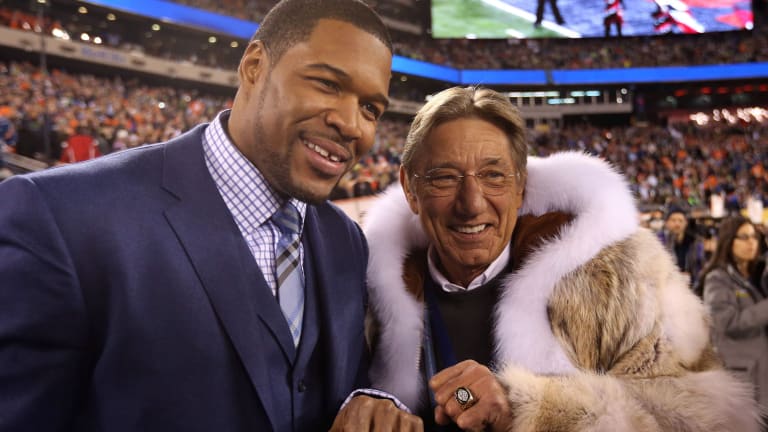 Namath: Mayfield is 'most outrageous' QB in draft
--- NFLDraftScout.com ---
--- NFLDraftScout.com ---
Pro Football Hall of Famer Joe Namath has admitted to taking a look from afar at the group of top-tier quarterbacks heading into the 2018 NFL Draft.
After all, Broadway Joe's former team – the New York Jets – have the third overall pick in the draft, which begins Thursday at AT&T Stadium in Arlington, Texas.
As for which quarterback has caught his eye, Namath shared his feelings during a phone interview with ESPN's Rich Cimini.
"I haven't met them, but I've watched them and the most outrageous, so to speak, that I've seen has been (Oklahoma quarterback Baker) Mayfield," the 74-year-old Namath said.
Namath, who famously guaranteed the Jets' victory in Super Bowl III and wears lavish fur coats, also dismissed the notion that Mayfield's persona may limit him on the field.
"I'm not as big on the outward swagger, so to speak, but the confidence, the leadership qualities … and that damn confidence, man. Don't tell me I can't do it, I'm gonna get it done," Namath said.
Mayfield's stock has risen recently in lieu of a pair of reports that have the reigning Heisman Trophy winner's name being mulled for the top overall pick by the Cleveland Browns.
Radio broadcast host Dan Patrick said on Monday that he's hearing the Browns are choosing between Wyoming quarterback Josh Allen or Mayfield.
ESPN's Adam Schefter added the following over Twitter on Tuesday morning:
"(O)ne NFL executive said this morning that Baker Mayfield is 'definitely' in Cleveland's conversation to become the No. 1 overall pick."
NFLDraftScout.com senior analyst Rob Rang lists USC quarterback Sam Darnold first in his most recent Big Board. UCLA quarterback Josh Rosen, Penn State running back Saquon Barkley, Notre Dame guard Quenton Nelson and North Carolina State defensive end Bradley Chubb round out the top five.
Allen is ranked 10th by Rang, Mayfield is 14th and Louisville quarterback Lamar Jackson is 15th.
Namath admitted to seeing his fair share of Mayfield's games this past season, including the Sooners' 54-48 double-overtime loss to Georgia in the College Football Playoffs. Mayfield completed 65.7 percent of his passes and threw for two touchdowns against the Bulldogs.
"Hey, it wasn't just Georgia, it was a couple of years, early on, when I saw him play," Namath said. "I saw him a couple of years back. I never saw him look bad. I don't know how tall he is. I still don't know big he is (6-foot-1). Size can be a major asset, yes, size can be an asset in today's game. But Drew Brees, his size was questioned many times and he's one of the greatest players who's ever played."
Mayfield passed for 4,627 yards and accounted for 48 touchdowns with just six interceptions while leading Oklahoma to the College Football Playoff last season.
While that that is impressive, Mayfield is also linked to some less-than-stellar moments.
Mayfield planted the Sooner flag at midfield after winning at Ohio State and taunted Kansas fans as well. Those actions were preceded by a Feb. 25 arrest in Fayetteville, Ark., on charges of public intoxication, disorderly conduct, resisting arrest and fleeing, which resulted in a plea deal.
As for the Jets, they signed quarterback Josh McCown to a one-year, $10 million deal in the offseason.
McCown, who turns 39 in July, is coming off one of his most productive seasons in 2017. He completed 67.3 percent of his passes, threw for a career-high 18 touchdowns with nine interceptions in 13 games before his season ended due to a broken left hand.
McCown joins Teddy Bridgewater, Christian Hackenberg and Bryce Petty as quarterbacks on the team.