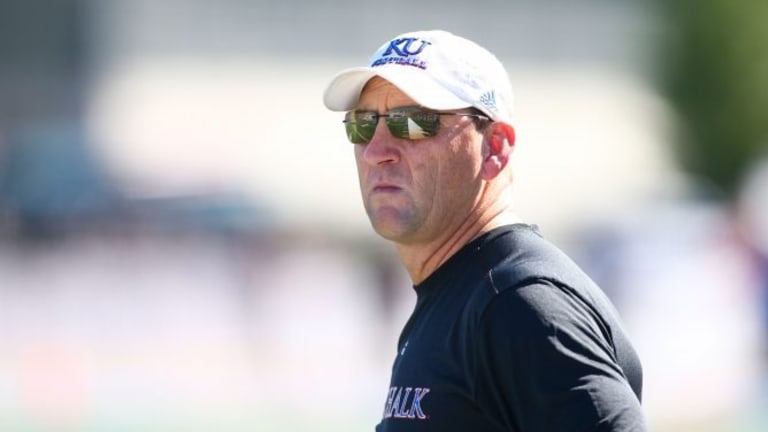 New Kansas AD evaluating Beaty
The new athletic director at Kansas does not seem to be in a big rush to change football coaches.
Nonetheless, the move to bring in Jeff Long as a replacement for Sheahon Zenger was related mostly to providing the Jayhawks a spark on the gridiron. Kansas is 15-81 over the last eight seasons, last made a bowl appearance 10 years ago and has arguably been at its worst under David Beaty, who stands 3-33 entering his four season.
Both Beaty and Charlie Weis were hired by Zenger following a two-year run of 5-19 under Turner Gill.
Obviously, Long could elect to change coaches quickly if the Jayhawks sputter in nonconference play, beginning with a Sept. 1 opener at home against Nicholls State, which is ranked 17th in the FCS preseason poll and returns 18 starters among 91 veteran players.
"Changes are best made at the end of the season," said Long, who chaired the College Football Playoff Committee when he was AD at Arkansas.
"But I'm not really focused on that at all. I am focused on that Sept. 1 date … and helping coach Beaty. Our job is to remove obstacles. I don't know what obstacles are there now or if there are any, but I'm sure there are and our job is to get in and remove as many of those as possible to help this team be successful."
Improvement is possible since the Jayhawks, who went 1-11 a year ago and were winless in the Big 12, return 18 starters including Peyton Bender, who lost his starting spot as quarterback last year but again beat out Carter Stanley for the nod this year in fall camp.
Beaty, however, is quick to acknowledge that the offensive line must make strides for the Jayhawks to be effective with the spread offense their coach is intent on executing.
Three graduate transfers — Kevin Feder (Ohio State), Alex Fontana (Houston) and Dwayne Wallace (Cal) will factor into a mix that includes 22 offensive linemen on the roster. The top returnee, junior tackle Hakeem Adeniji, recovered from offseason surgery on each shoulder.
"The biggest thing you can see is we've got depth and not just bodies," said the Jayhawks' new offensive line coach, A.J. Ricker. "Guys are coming in to start, to play, and you've got some veteran guys that have played at other places, which will really help with the room in general."
The Jayhawks have a genuine deep threat in wide receiver Steven Sims, a senior who has 2,000-plus receiving yards. Junior running back Khalil Herbert also returns after leading Kansas with 663 yards rushing a year ago.
Greater efficiency from the offense in general, and quarterbacks in particular, is a must. In back-to-back Big 12 defeats last season at Iowa State and at TCU, the Jayhawks were blanked 45-0 and 43-0 while totaling 127 yards and nine first downs.
Kansas ranked last in the Big 12 in both total offense (329 yards on average) and total defense (468) while getting outscored by 25 points on average. Special teams were also inept.
"The name of the game in college sports is production," Beaty said. "We feel like we understand that that is no different for us than it is for anyone else; production is the name of the game."
NOTES
–LB Joe Dineen led the FBS with 7.6 unassisted tackles per game a year ago as the Big 12's leading tackler (157). Included in those stops were 25 for loss, a season record at Kansas. Obtained a medical redshirt after playing in just three games to begin the 2016 season and did not show any ill effects from his injury. Dineen, a hometown product from Lawrence, did not entertain an early NFL bid.
–WR/KR/PR Steven Sims emerged as a threat in three capacities a year ago, averaging 26.6 yards on kickoff returns and 5.5 yards on punt returns. A year earlier, Kansas averaged negative yardage on punt returns. Sims is especially effective on slip screens and capable of breaking a reception into a big play with his speed and instincts. The senior can sometimes get manhandled at 5-10, 176 pounds.
–DT Daniel Wise could have been excused had he joined DE Dorance Armstrong and declared early for the NFL Draft. Wise, an All-Big 12 senior, opted to stay at Kansas despite two older brothers with NFL connections. At 6-3, 290, Wise commanded extra attention from blockers last season, but was a terror nonetheless, recording 16 tackles for loss, seven sacks and five quarterback hurries. He will key the pressure Kansas applies up front and also be key in containing opposing rushers.