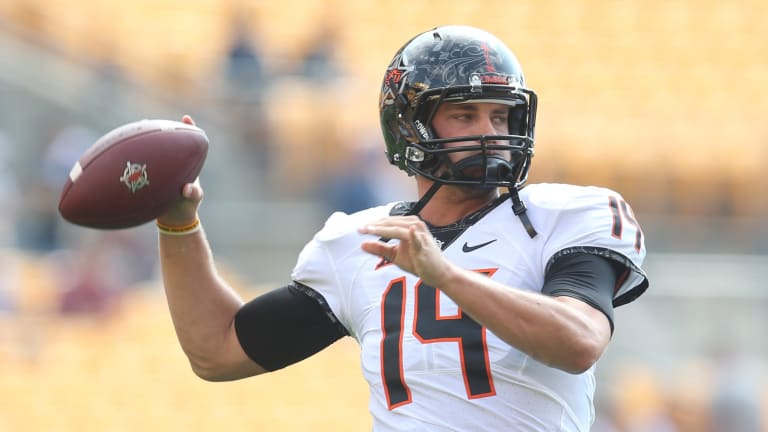 New Oklahoma State QB surrounded by threats
The story of Taylor Cornelius is quite different than most quarterbacks playing for a perennially ranked program.
The fifth-year senior arrived at Oklahoma State as a preferred walk-on. During the 2014 season, he was instructed by coaches he was battling Mason Rudolph for the starting job. It was Rudolph, however, who claimed that spot and then went on to become a record-setting quarterback for the Cowboys.
Cornelius remained loyal, though. As other quarterbacks left the Oklahoma State system to find better opportunities elsewhere, Cornelius remained. Now, he will have his senior season — a fifth year with the Cowboys — to use experience gained in practice for an opportunity as a first-time starter.
"I was worried about the unknown of what was going to happen," Cornelius told The Oklahoman, "because I had never visited Stillwater. I came on a visit after I committed, or whatever you want to call it, and toured the facility and stuff like that. But it was home."
Fair enough. Now Cornelius, who lasted started a game in 2013 as a senior for his Class 2A high school in Texas, takes on the unenviable task of succeeding Rudolph following a 10-3 run and a 6-3 showing in the Big 12. The receiver who became the meal ticket in Oklahoma State's slick passing attack, James Washington, departed for the NFL along with Rudolph.
"He can throw them all," Oklahoma State's Mike Gundy, who enters his 14th season as head coach, said of Cornelius' passing skills. "I'm not nervous about him at all. I'm really not. I've been wrong before a lot of times in my life, but I'm not concerned one bit with him."
Coming off a third consecutive 10-win season after beating Virginia Tech in the Camping World Bowl, there's reason not to feel too sorry for unranked Oklahoma State entering its Thursday opener at home against Missouri State, a Football Championship Subdivision member.
The Big 12's top rusher, Justice Hill, returns after gaining 1,467 yards, with 15 touchdowns. And in spite of Washington's departure, the receiving corps remains deep behind flanker Jalen McCleskey. Up front, All-Big 12 guard Marcus Keyes leads an experienced line.
Seven starters return on defense, though intrigue exists with Jim Knowles taking over as coordinator after previously succeeding with a 4-2-5 scheme at Duke. Oklahoma State is expected to instruct its quarterbacks — starters Rodarius Williams and A.J. Green return — to play press coverage, an indication the Cowboys are deeper in the secondary.
"Pretty much the whole game we're going to bump and run," Williams said.
The kicking game should be solid behind two proven veterans, punter Zach Sinor and placekicker Matt Ammendola.
NOTES, QUOTES
–FL Jalen McCleskey ranks in the top 10 all-time at Oklahoma State in receptions (152) and touchdown receptions (15), though the senior previously played in the shadow of All-American James Washington. McCleskey could flourish in his final year, though his build is slight (5-10, 170) and he must work out timing with a first-time starter at quarterback, Taylor Cornelius. McCleskey also returns punts.
–LB Justin Phillips provides solid leadership and was named the Cowboys' top defender a year ago by the coaching staff. Early in the season Phillips returned interceptions for touchdowns in back-to-back wins over South Alabama and Pitt. He ranked third among the Cowboys with 9.5 tackles on average. Cracked the rotation as a true freshman, then redshirted in 2015.
–QB Spencer Sanders was one of the prized recruits in Oklahoma State's recent freshman class. However, coach Mike Gundy has said no true freshmen will likely get on the field offensively at least through the first four games, making a redshirt possible for Sanders. Dru Brown, a graduate transfer from Hawaii, is listed as the Cowboys' backup QB.