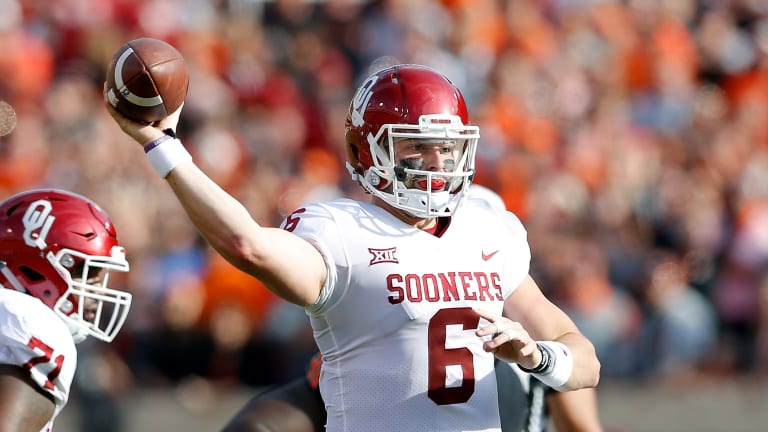 NFL Draft first round: Live blog
--- By NFLDraftScout.com ---
--- By NFLDraftScout.com ---
The NFL Draft is underway. We'll keep updating this story throughout the first round, with plenty of comments from NFLDraftScout.com senior analyst Dane Brugler:
AND WITH THE LAST PICK OF THE 1ST ROUND...
The Baltimore Ravens traded into the last pick of the round, swapping with the Super Bowl champ Philadelphia Eagles, in order to select ... Lamar Jackson.
Jackson, who slid further in the round than everyone thought, barely squeezed into the first day, the fifth QB taken, in a fascinating night.
You know where Jackson ranked on Brugler's personal big board? Yeah, No. 32.
GEORGIA ON THEIR MIND
The Patriots kept both of their picks in the first round, taking a pair of Georgia Bulldogs: OL Isaiah Wynn at No. 23 and RB Sony Michel at No. 31.
THIS HAPPENED
PENNY TURNS UP IN FIRST ROUND
San Diego State RB/KR Rashaad Penny was brilliant last season in college, but he wasn't really considered to be a first-day pick in the draft. Pete Carroll and the Seahawks disagreed, taking him at No. 27 to boost their running back situation.
Seattle doesn't have a second- or third-round pick, so it had to get him here, even if they passed on Derrius Guice, Ronald Jones, Kerryon Johnson, Sony Michel and Nick Chubb to get him.
The pick elicited cries of "Whoa!" from Brugler and the guys on the Draft Show. "Shocker with this pick," Brugler said.
Penny's running ability is not the question. Brugler explained: "His pass protection was a disaster. He needs to get better in that area."
Learn more here from Dane Brugler's draft guide:
SUMMARY: A one-year starter at San Diego State, Penny thrived in the Aztecs' pro-style power scheme (I-formation, etc.) with a memorable 2017 campaign, becoming just the fourth player in FBS history with five consecutive 200-yard rushing games, joining Hall of Famers USC's Marcus Allen and Oklahoma State's Barry Sanders. With his school-record 2,248 rushing yards in 2017, Penny helped San Diego State become the first FBS school in history to post back-to-back seasons with different 2,000-yard rushers. While not naturally explosive, Penny's best attributes are his patience and ability to transition his momentum in his cuts to string moves together. And although he doesn't look fast, few were able to close ground in pursuit, especially as a return man. His most glaring weakness comes in pass protection due to poor technique and awareness, which resulted in quarterback sacks on film. Overall, Penny might not have a true dominant trait, but he checks off the necessary boxes to be a reliable NFL starter.
BAMA STRONG IN ATLANTA
Alabama WR Calvin Ridley goes 26th to Atlanta, where he will join another former Crimson Tide receiver, Julio Jones, on an all-star offense. "He's going to a great situation," Brugler said of Ridley. "I love that fit."
MOORE AT 24
Dane Brugler has been on the D.J. Moore bandwagon longer than almost any other draft analyst, so he said he was not surprised at all to see the Maryland product be the first wideout off the board, going to Carolina at No. 24.
A REACH TO NO. 20?
The Detroit Lions took Arkansas guard/center Frank Ragnow with the 20th overall pick, a move that many will see as a bit of reach. Brugler ranked Ragnow 95th overall, loving his toughness and versatility but not in love with the whole package.
"He did get the job done a lot of the time, but it wasn't pretty," Brugler said. "The intangibles are off the charts, but the tape didn't show a top 20 player."
One pick later, the Bengals took Ohio State center Billy Price.
COWBOYS SOLVE NEED
Linebacker is one of Dallas' biggest needs (with receiver), and Boise State linebacker Leighton Vander Esch has made a lot of sense for the team at No. 19. But would he be available? He was, and the Cowboys got him.
"There are three things. It's the tape, the traits and the production. I think Leighton Vander Esch has all three," Brugler said. "He's an ascending player. I have said that a lot and I'm sticking with that."
All the receivers were still there for Dallas, and so was Boston College edge rusher Harold Landry.
"If Vander Esch was there for them, they weren't going to pass," Brugler said.
PACKERS GET SCRAPPY
Green Bay moved up from No. 27 to No. 18 in a trade with the Seahawks and picked Louisville CB Jaire Alexander.
"He's scrappy," Brugler said. "Which is what we say all the time for undersized corners, but that's what he is."
GREAT VALUE AT NO. 17
The L.A. Chargers took advantage of the slide of Derwin James to take the athletic Florida State safety at No. 17. Both Dane Brugler and Rob Rang had James going seventh overall in the final mock drafts, which was the general consensus.
BILLS DO IT AGAIN
Buffalo tried up five spots to get QB Josh Allen, and then traded up six sports to get LB Tremaine Edmunds. Reaction:
A "WOW" MOMENT
The New Orleans Saints made a monster move to jump from No. 27 to No. 14, and the obvious thought was that the only reason to do that was to get a quarterback -- Lamar Jackson.
Nope.
The Saints went for defensive end Marcus Davenport of Texas-San Antonio. Wow.
From Brugler: "Davenport isn't a technically proficient pass rusher and requires time to best understand how to use his toolsy skill-set, but he has all the physical traits of a starting NFL pass rusher and his work ethic paired with NFL coaching could lead to big things."
COMMENTARY ON THE BROWNS
NFLDraftScout.com's Rob Rang likes the surprising moves of the Cleveland, saying they will be rewarded for taking Baker Mayfield and Denzel Ward.
IS ALABAMA DEFENSIVE BACK U?
With Minkah Fitzpatrick going 11th to Miami, Alabama coach Nick Saban has now produced seven first-round defensive backs in the past nine drafts.
AND THE CARDINALS GET THEIR QB, TOO
Arizona gave up No. 15, a third (79) and a fifth (152) for the Raiders' No. 10 pick, which allowed the quarterback-needed franchise to select UCLA QB Josh Rosen. So four QBs went in the top 10 picks for the first time ever, and Rosen stays in Pac-12 country.
Brugler on the Cardinals' QB need: "They have arguably the worst quarterback situation in the NFL."
Wrote Brugler in his draft guide: "Overall, Rosen needs to stop trying to do too much with his arm and improve his feel in the pocket, but his instincts and movements are reminiscent of Matt Ryan."
BILLS GET THEIR QB
Buffalo moves up from No. 12 to No. 7 via a trade to take Wyoming QB Josh Allen. Maybe the weather was a factor, as Allen is a big, sturdy QB with a huge arm.
"You can actually scout tape of Josh Allen playing in snow," Brugler said.
Brugler added that he also likes the fit from the roster standpoint, with the Bills having AJ McCarron and not having an immediate need to rush the still-raw Allen.
"His arm talent is rare. You just don't find guys like that," Brugler said. "You're optimistic because of the person you get, the character. He's all in. You worry about the accuracy, the decisions. But with better coaching and time to develop ... it's important for a player like this not to be thrust into action."
BRUGLER'S NO. 1 PROSPECT TO COLTS
Makes perfect sense. The Colts take Notre Dame offensive guard Quenton Nelson, who has been Brugler's top-rated prospect. Gotta protect QB Andrew Luck. Don't overthink this.
"If you're Andrew Luck, you're first-pumping," Brugler said.
Brugler's take from his draft guide: "Overall, Nelson is polished, disciplined and skilled as both a pass protector and run blocker, grading out as the No. 1 prospect in the 2018 NFL Draft and projecting as a future Pro Bowler."
MAYFIELD GOES NO. 1 OVERALL
Love him or hate him, Baker Mayfield and his journey from two-time walk-on to Heisman winner to now the No. 1 pick in the draft is one of the most unlikely football stories in at least recent memory.
The Cleveland Browns made Mayfield the No. 1 pick in the draft on Thursday night.
Is he too short? Does he have character issues?
Wrote NFLDraftScout.com senior analyst Dane Brugler:
"Overall, Mayfield's brash personality won't be ideal for every situation and his long-term durability is a concern, but he has the necessary passing traits, both physical and mental, to be a winning starter in the NFL, stylistically similar to Jeff Garcia."
Mayfield joins a Browns team that traded this offseason for quarterback Tyrod Taylor, the presumed starter for 2018. But Brugler has called Mayfield the most pro-ready QB in this class, so who knows?
"Baker is not going to go in there and concede the job," Brugler said on the Dallas Cowboys' Draft Show.
GIANTS TAKE SAQUON BARKLEY
Brugler did not love this for the Giants at No. 2.
"The Giants are a better team today. There is no question. ... They are going all in on Eli Manning. I would have taken Sam Darnold."
Brugler added: "If they didn't go quarterback, I think the right pick was Bradley Chubb."
BROWNS GO FOR WARD
After Sam Darnold fell to the New York Jets at No. 3, the Browns took Ohio State cornerback Denzel Ward with the next pick. They were widely projected to take NC State defensive end Bradley Chubb, who went to the Broncos at No. 5.
"I thought Chubb was going to be the pick," Brugler said. "But if it wasn't going to be Chubb and it wasn't going to be a trade-down, it was going to be Ward."
​