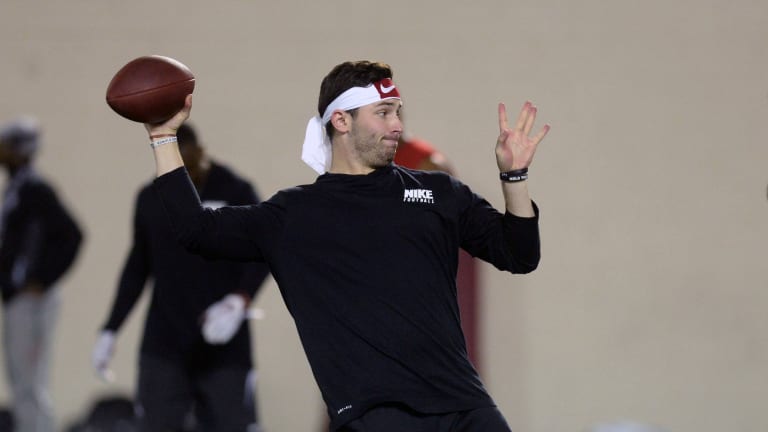 NFL notebook: Browns considering Mayfield with top pick
--- NFLDraftScout.com ---
--- NFLDraftScout.com ---
Oklahoma quarterback Baker Mayfield has been discussed by the Cleveland Browns as a serious candidate for the top overall pick of the 2018 draft, multiple media outlets reported on Tuesday.
Radio broadcast host Dan Patrick said on Monday that he's hearing the Browns are mulling between Wyoming quarterback Josh Allen or Mayfield, who is the reigning Heisman Trophy winner.
ESPN's Adam Schefter added the following over Twitter on Tuesday morning:
"(O)ne NFL executive said this morning that Baker Mayfield is 'definitely' in Cleveland's conversation to become the No. 1 overall pick."
NFLDraftScout.com senior analyst Rob Rang lists USC quarterback Sam Darnold first in his most recent Big Board. UCLA quarterback Josh Rosen, Penn State running back Saquon Barkley, Notre Dame guard Quenton Nelson and North Carolina State defensive end Bradley Chubb round out the top five.
–The Browns have been a black hole for quarterbacks since returning to the city as an expansion team in 1999.
Allen wants to change that and said at a pre-draft event in Dallas on Tuesday that he would embrace going to Cleveland.
The Brown also own the fourth overall selection but Allen, considered the third-best quarterback prospect by NFLDraftScout.com, made it clear he's looking out for No. 1.
Cleveland is coming off a winless 2017 campaign and is 1-31 over the past two seasons.
Allen, who threw for 1,966 yards with 19 touchdowns last season.
–Pro Football Hall of Famer Joe Namath admitted to taking a look from afar at the group of top-tier quarterbacks heading into the 2018 draft.
Namath shared his feelings during a phone interview with ESPN's Rich Cimini.
"I haven't met them, but I've watched them and the most outrageous, so to speak, that I've seen has been (Oklahoma quarterback Baker) Mayfield," the 74-year-old Namath said.
Namath, who famously guaranteed the Jets' victory in Super Bowl III and wears lavish fur coats, also dismissed the notion that Mayfield's persona may limit him on the field.
"I'm not as big on the outward swagger, so to speak, but the confidence, the leadership qualities … and that damn confidence, man. Don't tell me I can't do it, I'm gonna get it done," Namath said.
–Rob Gronkowski made it official — the behemoth tight end is returning for another season with the New England Patriots.
Gronkowski ended any speculation over whether he would continue playing, posting on his Instagram account that he revealed his plans to return this season in a meeting with Patriots coach Bill Belichick.
A five-time Pro Bowl selection, Gronkowski had not publicly committed to playing in 2018, leading to speculation that he could be traded.
Gronkowski, 28, posted 69 catches for 1,084 yards with eight touchdowns over 14 games in 2017. He is due to make $17 million over the next two seasons.
–The Patriots signed offensive lineman Ulrick John.
Financial terms of the deal were not disclosed for John, who has appeared in 10 games over four seasons with four different teams, including a career-high five with the Green Bay Packers last season.
The 6-foot-5, 307-pound John was a seventh-round draft choice of the Indianapolis Colts out of Georgia State in 2014. He spent parts of two seasons with the Colts, Miami Dolphins and Arizona Cardinals.
–The Arizona Cardinals have been working the phones, trying to find a willing trade partner to move up in the first round of the NFL draft.
NFL Network insider Ian Rapoport reported that Arizona is "making a lot of noise about moving up" from their No. 15 slot in Thursday night's draft.
"They certainly seem like they're making the most phone calls about possibly moving up for a quarterback," said Rapoport. "It's safe to assume that five or six could be potential slots to trade for a quarterback."
–The Washington Redskins lost Kirk Cousins in free agency and now will rely on a starting quarterback who will be 34 when the 2018 season kicks off.
So with the team holding the No. 13 overall pick in a quarterback-rich NFL draft, the obvious question for Redskins vice president of personnel Doug Williams is how good he feels with recently acquired Alex Smith under center.
"You know, the thing about Alex Smith, I say we got the best third-round pick in the draft," said Williams, who sent a third-round selection to the Kansas City Chiefs in exchange for Smith. "I don't care what nobody says. You can't get a better third-round pick. And we feel pretty good from a stability standpoint in what he's meant to this building as a whole walking in here — in the quarterback room, in the dressing room, in the dining hall.
"His leadership is unquestionable. It speaks for itself. And what he's done as a player I think speaks volumes also."
Quarterbacks are expected to be taken early and often in the first round of Thursday night's draft.
–The New York Giants have been linked to Penn State running back Saquon Barkley with the No. 2 overall pick in Thursday night's NFL draft.
New York reportedly is considering either Barkley or North Carolina State defensive end Bradley Chubb with the second pick. Notre Dame offensive guard Quenton Nelson also could be a possibility.
Barkley is currently projected to go to the Giants at No. 2 overall by both NFLDraftScout.com senior analyst Rob Rang and fellow NFLDraftScout.com analyst Dane Brugler in their latest mock drafts.
Barkley rushed 217 times for 1,271 yards and 18 touchdowns last season with the Nittany Lions, including a 92-yarder in a Fiesta Bowl victory over Washington. The consensus 2017 All-American also caught 54 passes for 632 yards and two scores, as well as returning two kickoffs for touchdowns.
–The Giants have entertained trade discussions surrounding offensive tackle Ereck Flowers, according to a published report.
NFL Network Insider Ian Rapoport reported that the Giants are seeking trade compensation for Flowers, who has steered clear from team workouts thus far.
Former Giants offensive lineman Geoff Schwartz reported that Flowers, along with now former teammate Bobby Hart, both refused to play in the Week 17 game against the Washington Redskins last season.
Flowers and then-interim head coach Steve Spagnuolo both denied the report, citing the player's ankle injury.
–Pittsburgh Steelers general manager Kevin Colbert isn't dismissing the notion of selecting a quarterback with the team's first-round pick in the draft on Thursday.
Drafting a quarterback in the first round hasn't been done in the Steel City since the Steelers used their 11th overall pick in 2004 on Ben Roethlisberger. With "Big Ben" chiming in at 36 years of age, Colbert isn't shying away from using the 28th overall pick on a quarterback.
"We haven't eliminated any position this year," Colbert said, via the Pittsburgh Post-Gazette. "Our job is not only to win a championship in '18, it's to secure this franchise's ability to do it in the future, and you have to have a grea