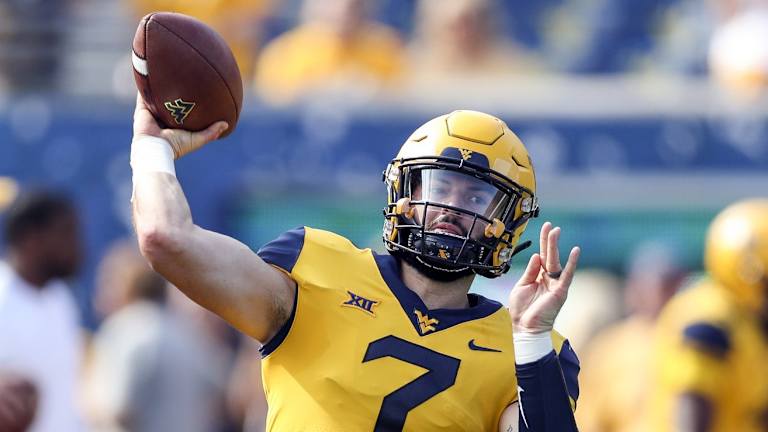 NFLDraftScout.com Prospect Notebook: Week 10
In this week's notebook, we discuss West Virginia QB Will Grier, a Cal LB and more
In this week's notebook, we discuss West Virginia QB Will Grier, a Cal LB and more
Also the small-school spotlight looks at a prospect from Western Illinois.
GRIER GETS HIS GROOVE BACK: One could argue that West Virginia senior QB Will Grier (6-1, 214, 4.62, #7) has been the most consistent quarterback among the top prospects at his position this season. However, his disappointing performance two weeks ago in a loss to Iowa State significantly damaged his Heisman hopes.
The Cyclones defense, sending constant blitzes that resulted in seven sacks, frustrated Grier, who was held to a season-low 100 passing yards. Grier saw a variety of different defensive packages, which kept him guessing on his pre-snap reads.
Knocks from the media would ensue and some analysts began to take swipes at his overall game, questioning his ability to handle pressure. However, the gunslinger from Davidson, N.C., would fire back at his critics with an astute demonstration of excellence in his shredding of the Baylor defense on Saturday.
The near-flawless performance was led by pinpoint accuracy, excellent timing and anticipation, along with Grier's arm velocity to thread the needle on a handful of throws.
It served to remind what makes the one-time Florida transfer so special. Grier may be on the outside looking in, but he's still in the mix to be a potential first-round quarterback due to his arm strength and touch. He has tallied at least 330 passing yards in six of seven games this season, while racking up 25 touchdowns and just seven interceptions.
With a matchup against No. 15-ranked Texas up next, the stage will be as big as they come for Grier to win over his doubters.
CAL LB WEAVING HIS WAY UP: There's been a resurgence out in Berkeley. California clawed its way to a 12-10 upset victory over Washington and now has visions of going bowling.
A large part of the Bears' success has been due to the stalwart play of junior linebacker Evan Weaver (6-3, 245, 4.73, #89), who made good on his word when he declared that the Bears would be "back with a vengeance" after a loss to then-winless UCLA two weeks ago. Weaver delivered against the Huskies with a key acrobatic interception return for a touchdown, to help improve the Golden Bears to 5-3 (they have won more than five games just once in the past seven seasons).
Known as fierce competitor, Weaver showed off some of his athleticism on the interception return, but he's truly valued for his physical brand of football and outstanding tackling abilities as the man in the middle of the Cal defense.
It's not the first time Weaver has stepped up to carry his team to victory. As folklore goes, he was a legendary high school football player who single handedly carried his Spokane, Wash., high school team to a state championship. He arrived at Cal as a defensive end before the coaching staff tried playing him at outside linebacker, and he eventually found a permanent home when he switched to inside backer.
With 74 tackles through seven games, Weaver has caught the attention of NFL scouts with his relentless pursuit and tenacious demeanor and is certainly a name worth filing in the memory bank.
WYOMING SUSPENDS GHAIFAN INDEFINITELY: It has been a woeful season for Wyoming football, and unfortunately for head coach Craig Bohls, sometimes when it rains, it pours. In a devastating blow to the team, junior DT Youhanna Ghaifan (6-3, 290, 4.97, #93) has been suspended indefinitely after he was issued a citation for harassment and false imprisonment at a local hotel after an incident with one of its employees.
The Cowboys are just 3-6 on the year and 1-4 in the conference, as this season is starting to look like a lost cause. As for Ghaifan, he was issued a court appearance at a later date and the school is reviewing the occurrence.
Considered to be an early to mid-round draft pick, we'll have to wait and see how this situation plays out in order to determine the impact on his draft status. Ghaifan was having a productive season, with 33 tackles from the interior, including seven tackles for loss, while demonstrating very active hands by registering four pass deflections.
The false imprisonment charge is a Class 2 misdemeanor, and the harassment charge a Class 3 misdemeanor, according to a news release issued by the University of Wyoming.
FUTURE WATCH: It was a career day for Oklahoma State WR Tylan Wallace (6-0, 185, 4.44, #2), the super sophomore who carved up the Texas defense for 222 receiving yards and two touchdowns on 10 catches in the Cowboys' surprising win.
While he doesn't possess great size, Wallace is a handful to defend with his great leaping ability and timing, coupled with his breakaway speed. He's an excellent route runner for such a young player, as his fancy footwork allows him to generate separation. Wallace is also a threat to blow the top off of a defense, plus he has been used as a weapon on jet sweeps and reverses.
We saw all of these skill-sets on display Saturday, as he ran past the Longhorns, won the contested jump balls and delivered in the clutch. Wallace primarily lines up on the outside for the Cowboys, but his size and attributes could translate to being a lethal slot weapon at the next level.
SMALL SCHOOL SPOTLIGHT: One player who goes against the grain of what NFL scouts typically look for in a pro prospect is Western Illinois fifth-year senior DT Khalen Saunders (6-1, 300, 5.10, #99). The Leathernecks' ferocious, run-stuffing man in the middle popped onto the NFL radar with a productive year last season and has continued to propel up draft boards with another stellar campaign.
You should ignore the initial, "small school" and "undersized" labels that pundits will peg him with because Saunders has been unstoppable at times, even when two or three blockers are assigned to him, which we saw once again versus Northern Iowa this weekend as Saunders collected seven tackles (one for loss) in victory.
It was the sixth time this season that Saunders has totaled at least seven tackles in a game, and he has 56 total tackles on the year. His ability to be disruptive on the interior and get after the quarterback (11 tackles for loss and 4.5 sacks on the season), makes him the FCS version of Aaron Donald (Rams).
The coaches have tried to take advantage of his tremendous athleticism and high football IQ by incorporating him into the offense and lining him up in the backfield on a number of occasions, a la "The Fridge." He also recorded his first touchdown catch earlier this year against Youngstown State. His success on offense should come as no surprise, as Saunders was a running back in high school.
Look for the St. Louis native to be playing on Sundays and expect to hear his name called during the NFL Draft weekend in Nashville come April.
ETC.: A projected mid-round pick, Utah junior RB Zack Moss (5-9, 215, 4.53, #2) ran all over UCLA to the tune of 211 rushing yards and three touchdowns on 26 carries. ... Ohio RB A.J. Ouellette (5-9, 214, 4.54, #45) is one player worth watching, the senior accumulated 135 rushing yards and produced two touchdowns on just 13 carries in a 52-14 win over Ball State. ... West Virginia senior WR David Sills V (6-3, 203, 4.58, #13) continues to enjoy a sensational season and showed why in the Mountaineers' 58-14 rout of Baylor with five catches for 139 receiving yards and two touchdowns. ... Toledo senior WR Cody Thompson (6-1, 205, 4.54, #25), a late-round draft prospect, had a monster day with three touchdowns in a 51-24 win over Western Michigan. ... Kentucky senior OLB Josh Allen (6-4, 230, 4.59, #41) registered two sacks for the second consecutive week and has 10 on the season.