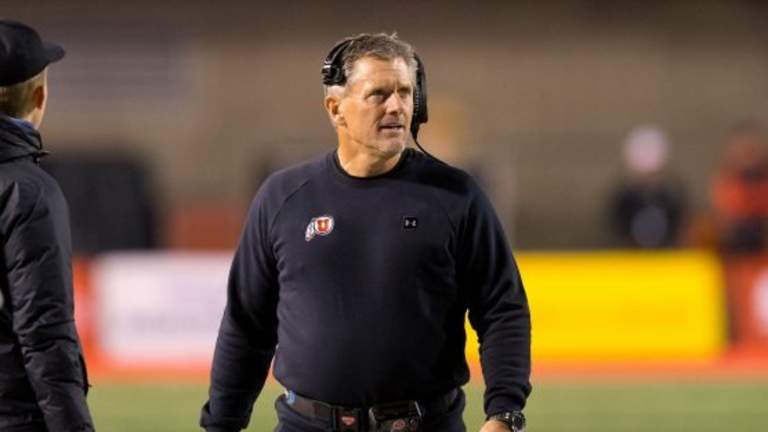 No. 15 Utah aims to blocks out noise vs. Arizona State
— By Jack Magruder, The Sports Xchange —
— By Jack Magruder, The Sports Xchange —
TEMPE, Ariz. — No. 15 Utah has the clearest path to the Pac-12 South title, and it plans to approach the stretch with a clear head.
"We are blocking out that noise," Utah coach Kyle Whittingham said. "We just have to keep trying to hang onto this momentum and doing our thing."
The Utes (6-2, 4-2 Pac-12 South) will bring a four-game winning streak and a rolling offense into a Pac-12 game against Arizona State (4-4, 3-3) on Saturday afternoon.
Utah will win the division and make its first appearance in the Pac-12 title game by winning its final four games.
Arizona State is more than just a first impediment, however. Given the wacky state of affairs, the Sun Devils would need only a small bit of good fortune to win the division if they, too, win out.
In the Pac-12 South, every game is an elimination game.
Until the next one.
The Sun Devils are one of five division teams with three losses. While Utes hold the tiebreaker edge over USC, Arizona and UCLA, they also have a game remaining against Colorado. Arizona State beat USC last week.
"We have to win this one this week if we have any chance to try to do anything in this conference," Arizona State coach Herm Edwards said.
"It's an important game. A big game, and I like those because you find out about your team. The bigger the game … it's good to your team in those situations, because eventually you always want to be in a big game. When you become a winning team, every game is a big game."
Utah enters on a four-game winning streak in which it has scored at least 40 points in each game, a first since its BCS-busting Fiesta Bowl season in 2004.
The Utes, who lost to Washington and Washington State to begin Pac-12 play before going on their run, have relied on juniors Moss and Huntley during the winning streak.
Moss had a season-high 211 yards in a 41-10 victory over UCLA last Friday, and he ranks second in the Pac-12 in rushing with 120.5 yards per game.
"He's like a sledgehammer between the tackles," Whittingham said.
Huntley has competed 143-of-219 passes for 1,700 yards and 11 touchdowns and also has rushed for 262 yards and four touchdowns. He has four interceptions. Britain Covey has 48 catches for 531 yards
"We're playing with more confidence offensively probably than we have in a lot of years," Whittingham said. "I think that's probably the key.
"Defense has been pretty consistent. Special teams has been pretty consistent. Now you have an offense that is feeling very good about themselves and making plays. I think that's the piece we've been waiting for."
The Utes have used their 4-2-5 defensive alignment to hold opponents to 81.1 yards per game rushing and 287 yards per in total offense, which lead the Pac-12 and rank third and seventh in the FBS, respectively. They are 14th in the FBS scoring defense, giving up 16.8 points a game.
Arizona State ran up 449 yards total offense in a 38-35 victory at USC last Saturday to stop a streak in which it had lost four of five games, all by seven points. The Sun Devils have lost to Colorado and have games remaining against UCLA, Oregon and Arizona.
Halfback Eno Benjamin rushed for 185 yards and a touchdown, his fifth 100-yard game of the season, and quarterback Manny Wilkins gave the Sun Devils a 10-point lead when he faked to Benjamin and ran 45 yards for a score with 1:23 remaining. Benjamin is averaging 117.3 yards per game.
"We didn't play a perfect game but we played a poised game," Wilkins said.
Wilkins has completed 160 of 253 passes for 1,965 yards and 12 touchdowns this season with two interceptions. Arizona State has only six turnovers this season, tied with Alabama for fourth in the FBS. A halfback has not lost a fumble on a running play in 27 games.
Wide receiver N'Keal Harry, a preseason All-American, caught four passes for 95 yards and a touchdown against USC and was named the Pac-12 special teams player of the week for a 92-yard punt return for a touchdown that put the Sun Devils ahead for good.
Harry fielded on the punt on the left side of the field and reversed his field, almost retreating into the end zone, before turning the corner and scoring down the right sideline.