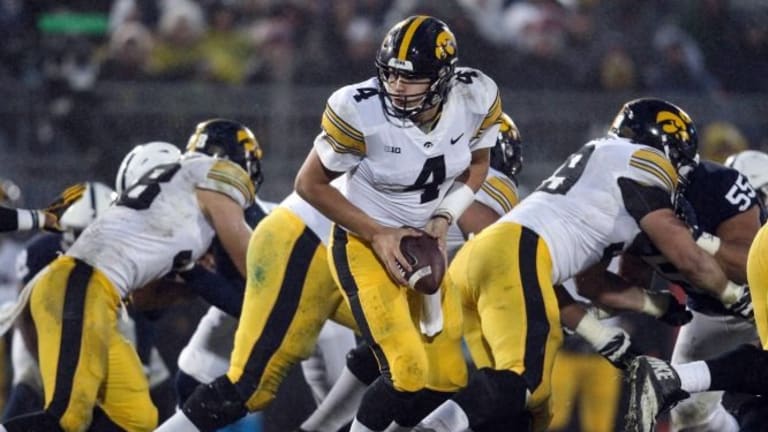 No. 16 Iowa, Purdue look to keep pace in Big Ten West
Coach Jeff Brohm: "We're going to have to work hard to improve upon that this week."
Coach Jeff Brohm: "We're going to have to work hard to improve upon that this week."
Northwestern sits atop the Big Ten West standings at 5-1, with No. 16 Iowa and Purdue each trying desperately to stay in the race after losses last week.
The Hawkeyes (6-2, 3-2 Big Ten) fell victim to their own mistakes and ineffectiveness on offense in a 30-24 loss to Penn State. Quarterback Nate Stanley was totally out of sync, completing just 19 of 49 passes, throwing costly interceptions and badly missing open receivers.
"Obviously, you would have like to have played better, but you can't do anything about it now," Stanley said Tuesday. "I'm trying to move on to Purdue."
Iowa plays Saturday at Purdue, which last week fell 23-13 to Michigan State, ending a four-game winning streak. The Boilermakers (4-4, 3-2) opened the season with a 31-27 loss to Northwestern, so they would need plenty of help to win the division.
Iowa is in better shape because it can still take of Northwestern itself, getting the Wildcats at home on Nov. 10 before finishing with two very winnable games — at Illinois and vs. Nebraska.
"Wasting time on that (big picture) stuff, it's great for the fans and the media," Iowa coach Kirk Ferentz said. "But it's not really productive for players and coaches to focus on that. Because it's going to change anyway."
The short-term focus might be on Stanley's right thumb. He banged the thumb against a teammate's helmet in the second half of last week's game, and it was taped for the final series. When he met with the media on Tuesday, he kept his right hand in his sweatshirt pocket, leading to speculation that he might not be able to play this week.
"I'm just going with the flow," Stanley said.
Asked whether he'll play Saturday, Stanley said, "That's the goal. That's all I'm going to say about it."
Iowa coach Kirk Ferentz later said Stanley threw the ball well at Tuesday's practice and is good to go this week.
Purdue upset Ohio State 49-20 two weeks ago and has some dangerous playmakers on offense, although quarterback David Blough, like Stanley for Iowa, struggled last week. Blough was intercepted three times, and the coaching staff planned to spend extra time this week having Blough practice under pressure with a hand in his face so he can be ready for what he will see Saturday.
"They are similar to Michigan State," coach Jeff Brohm said of Iowa's defense, which shut out Maryland two weeks ago and also held Northern Illinois and Iowa State to single-digit points early in the season.
"It's a Big Ten defense and they are very physical up front. They come off the ball. They knock you back. They get to the pass rusher. They have a ton of sacks this year, and it's not by blitzing. They create pressure with four guys and they create push, and that's what we had a hard time with last week. We're going to have to work hard to improve upon that this week."
Purdue had a tough time running the ball against Michigan State, abandoning it early. Iowa is fourth nationally in rush defense, allowing 84.4 yards per game.
"We are going to have to find a way to create some big plays, hopefully get a lead and maybe take them out of their game," Brohm said.
Purdue will work hard to get the ball to freshman wide receiver Rondale Moore. He had 11 catches against the Spartans but totaled just 74 yards receiving, with his longest gain going for 18 yards. Iowa may try a similar approach of allowing him to get his catches but making sure someone is always in front to keep him from turning those receptions into big plays.
The speedy Moore is second nationally with 179.86 all-purpose yards per game; his 8.5 catches per game leads the Big Ten and he's second in receiving yards at 110.3 per game. He is one of 20 semfinalists for the Maxwell Award, which goes to the most outstanding player in college football.
Ferentz is 149-99 at Iowa. One more victory will make him the fifth coach to win 150 games as a member of the Big Ten Conference. The others are Woody Hayes (202 wins), Amos Alonzo Stagg (199), Bo Schembechler (194) and Joe Paterno (162).