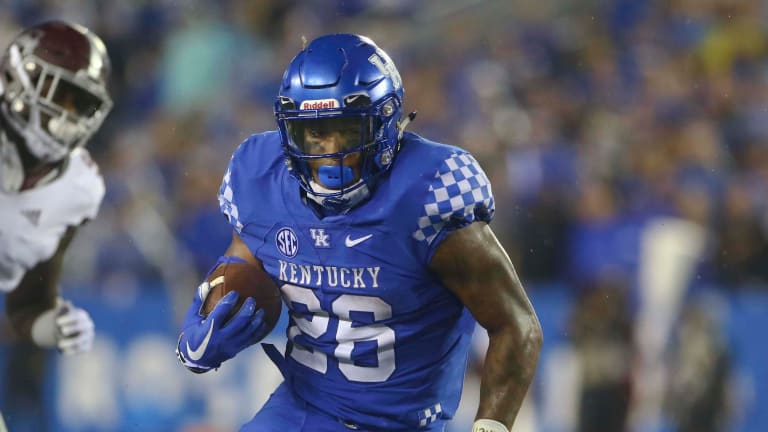 No. 17 Kentucky aiming for 5-0 start as it hosts South Carolina
Kentucky coach Mark Stoops: "South Carolina is a very good football team across the board."
Kentucky coach Mark Stoops: "South Carolina is a very good football team across the board."
South Carolina will be the next team to see if it can stop or at least slow Kentucky running back Benny Snell when the Gamecocks and Wildcats clash Saturday in Lexington, Ky.
Kickoff is 7:30 p.m. ET at Kroger Field with the SEC Network doing the television honors.
The No. 17 Wildcats (4-0, 2-0 Southeastern Conference) will be looking to go 5-0 for the first time since 2007, which happens to be the last time they were ranked. They also will be going for their fifth consecutive win against the Gamecocks (2-1, 1-1 SEC).
So far, the only one to slow Snell has been Kentucky coach Mark Stoops, who limited his prize junior running back to just 15 carries that were good for 75 yards in the 48-10 victory over an overmatched Murray State team.
Snell's production in the other three games was 125 yards on 20 carries in the opener against Central Michigan, 175 in a victory over Florida that snapped the Wildcats' 31-game losing streak to the Gators and 165 last week in a 28-7 win over Mississippi State.
Coach Will Muschamp, who made his reputation as a defensive coordinator before moving up in the coaching ranks first at Florida and now at South Carolina, said there's only one way to approach a running back like Snell.
"Well, you've got to swarm the ball field. That's the bottom line," he said. "When you play really good backs, they are going to make you miss. They are going to break some tackles. You've got to swarm the football. You've got to leverage the ball the right way. The ball carrier is never down until the whistle blows. You've got to finish on the ball carrier, and you have to have the right mindset going into the game.
"And I think that's something really important when you play a back like Snell, because he is a guy you're going to have to gang-tackle to get on the ground."
The Gamecocks must win the "one-on-one" matchups to have a chance at success, Muschamp said.
"At the end of the day, football is a game where you're matched up against another person," Muschamp said. "Sometimes you may have to face a double-team, but you have got to win your one-on-ones.
"We talk in terms of winning downs, which wins possessions, and if you win enough possessions, you win games. So, our approach never changes, as far as that is concerned."
Snell rushed for over 1,000 yards in each of his first two seasons despite not getting onto the field until the third game of his freshman year.
Even Stoops couldn't have predicted how Snell has emerged as a possible Heisman Trophy contender.
"I've always said — and you people frame it different ways — that we had a good idea of who he was," Stoops said. "To say that he would do all this, no, I didn't know that. I just knew he was very mature.
"I knew he was strong, got tough yards, and he was disciplined for a young guy. He came in with an edge and an attitude about him from the very beginning and he's been consistent all the way through. That doesn't surprise me one bit."
South Carolina also has an offensive star that will create headaches for Kentucky's defense. Wide receiver Deebo Samuel has had at least six receptions in each of the Gamecocks' first three games and presents challenges in the kicking game as well. He has three career kickoff returns for touchdowns despite missing most of 2017 to injury.
"South Carolina is a very good football team across the board," Stoops said. "They're very balanced, as far as being a good special teams, offense, defense. It does present a challenge, especially with their quarterback and wide receivers."