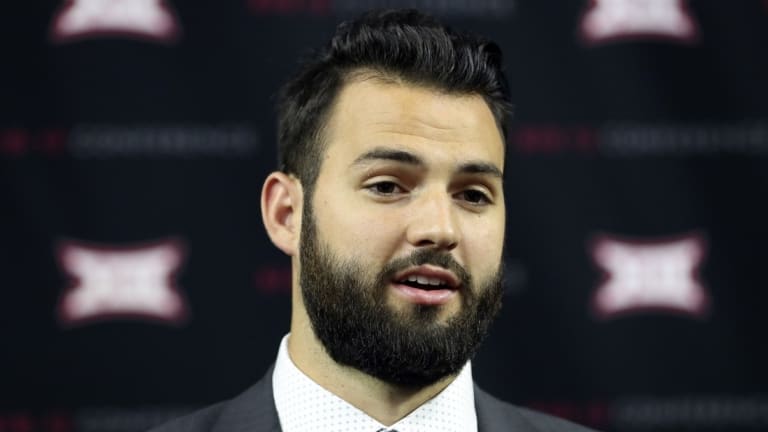 No. 17 West Virginia faces early test vs. rebuilding Tennessee
West Virginia coach Dana Holgorsen: "The truth of the matter is we really don't know what they're going to do."
— By Steve Habel, The Sports Xchange —
West Virginia is never shy about taking on a legitimate Power 5 opponent to open the season and the No. 17 Mountaineers get their wish on Saturday when they face rebuilding Tennessee at Bank of America Stadium in Charlotte, North Carolina.
The Mountaineers begin the season led by a quarterback that's expected to vie for the Heisman Trophy and an offense that's one of the most explosive in the country.
West Virginia features quarterback Will Grier, the top returning signal-caller in the Big 12 , and a prodigious offense with wide receiver David Sills V, who caught 60 passes and hauled in 18 TD catches last year. They have augmented their team with an improving defense that features transfers from USC and Auburn and a solid returning core.
Tennessee is a bit of a wild card. The Volunteers are coming off a 4-8 season in which they were winless in the Southeastern Conference and have new coach Jeremy Pruitt, the former defensive coordinator at Alabama, at the helm.
"If you look at what we think they're going to do, we can sit here and guess all we want," West Virginia coach Dana Holgorsen said. "The truth of the matter is we really don't know what they're going to do."
It's the first-ever matchup between the storied programs.
"We're aware of all of their coaches and where they've been; we've accumulated video on everywhere; we've watched their spring game, which, really, probably doesn't mean a whole lot," Holgorsen added. "We watched some of their games from last year to see what their personnel is like. They're big and fast and strong, and I imagine they're a little bit more motivated to play for a new coaching staff than they were toward the end of last year."
This is the fourth time in the past five years West Virginia is opening its season against a Power 5 opponent. And for the third time in the last five years the game will be played either as a true road contest or on a neutral field.
There are always uncertainties when preparing for an opening-game opponent, but in the case of Tennessee, there are multiple variables considering the newness of the Volunteer coaching staff and Pruitt's willingness to play two quarterbacks on Saturday.
During an appearance Sunday on the Vol Network's football preseason special, Pruitt indicated that Stanford transfer Keller Chryst and redshirt sophomore Jarrett Guarantano could see action against the Mountaineers, while sophomore Will McBride and freshman J.T. Shrout haven't been publicly ruled out yet, either.
"When it comes to game week, the most important thing is to do what your players can do," Pruitt said. "Don't ask them to do something they're not capable of doing. It doesn't matter what we know as coaches, it's important what the players know."
Tennessee knows that to have a chance to beat West Virginia it will have to stop the run after giving up 251.3 yards per game in 2017, create turnovers and find some explosive plays.
"We have to take care of the football," Pruitt said. "If you look at all the Power 5 games last year, probably the two most important stats are turnovers and explosive plays. If you take that into account, offensively, you need to find a way to create explosive plays, and you need to find a way to take care of the football. Defensively, you need to eliminate explosive plays and get turnovers."