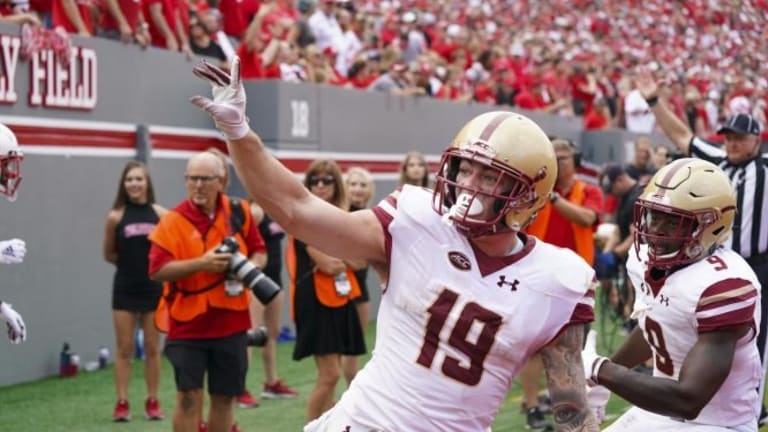 No. 22 Boston College takes on slumping Virginia Tech
Defensive coordinator Bud Foster: "We are going to roll our sleeves up and get back to work."
Defensive coordinator Bud Foster: "We are going to roll our sleeves up and get back to work."
Call it a role reversal.
Boston College hits the road for Blacksburg, Va., this weekend and, in a switch of positions, the Eagles, not the Hokies, are ranked.
The Eagles are No. 22 in the first CFP rankings of the season after last Friday's 27-14 victory over Miami.
Virginia Tech (4-3, 3-1 ACC) has lost two of its last three games. This is also a Hokie team that lost a game to FCS Old Dominion –at home — in September and gave up 465 rushing yards against Georgia Tech's option attack last week.
"We've got to be able to really establish a good run game," said Boston College coach Steve Addazio. "You go on the road, you've got to pack your run game, you've got to pack your defense, and you've got to be able to sustain and with stand the home team force.
"We need to have a really strong week of preparation. We need to get our team feeling good and healthy. We came out of a very physical football game last weekend, and then march on and get ready to get win No. 7."
Sophomore running back AJ Dillon returned for BC (6-2, 3-1) against Miami after missing 2 1/2 games with an ankle injury. He ran for 149 yards and a touchdown on 32 carries as the Eagles amassed 432 yards against what is still the No. 2 defense in the country. Dillon is fourth in the country in rushing with 133.5 yards per game.
Quarterback Anthony Brown ran for one touchdown and passed for another while also catching a pass.
The win made Boston College bowl eligible for the third straight year and the fifth in six years under Addazio.
This will be a tough challenge for a young Virginia Tech defense — only one senior starter — that has been up and down all season.
"We can't ride the highs too high and you can't ride the lows too low," said veteran defensive coordinator Bud Foster. "We have to just go fight every day and that's what this program is known for. We are going to roll our sleeves up and get back to work."
At least the Hokies will be facing, as Tech coach Justin Fuente said, a "normal style" of offense.
"Boston College is coming off of a fantastic performance against Miami. They played really well in all three phases of the game. They're a veteran football team, very physical and do a very good job in the return game," Fuente said.
It wasn't just poor defense against Georgia Tech, though. Virginia Tech muffed a punt that was recovered at the 12-yard line and led to a touchdown. The offense scratched out only 323 yards amid execution errors.
"You look at a dropped pass, a missed block, a dropped snap, a poor conversion on third down and the next thing you know the game's over," Fuente said.
Virginia Tech quarterback Ryan Willis, a Kansas transfer who took over as starter for an injured Josh Jackson in late September, completed 15 of 22 passes for 201 yards and two touchdowns last week. He has a 10-to-3 touchdown-to-interception ratio this season.
He'll have to watch out for defensive end Zach Allen, a senior who has 17.5 career sacks and is No. 17 on the 2019 Big Board of NFLDraftScout.com senior analyst Rob Rang. The Eagles' other end, senior Wyatt Ray, has 16.5 career sacks, including nine this season.
The 6-2 start is Boston College's best since the '07 squad opened 8-0.
Still, Lane Stadium is never an easy place to visit. The Eagles were pounded 49-0 in Blacksburg two years ago.
"We've got to handle the crowd noise," Addazio said Monday.
"In our new indoor (facility) we have a sound system that's probably second to none in America. It's really incredible. We were in there last night, and we had that thing cranked up. It was giving me a headache it was so loud. It's louder than any stadium could possibly be."
Virginia Tech linebacker Khalil Ladler, who is second on the team with 49 tackles, will miss the first half of the game after being ejected for targeting in the second half against Georgia Tech.