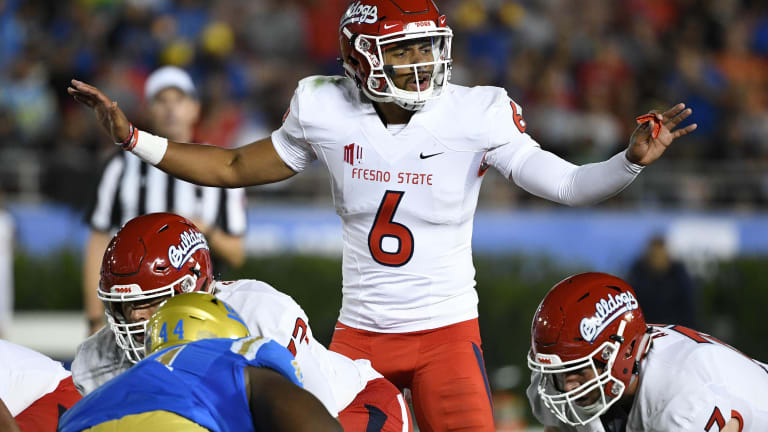 No. 23 Fresno State aiming for 7th straight win
For the first time since 2013, the Fresno State Bulldogs have been recognized for having a pretty good football team.
For the first time since 2013, the Fresno State Bulldogs have been recognized for having a pretty good football team.
The Bulldogs have won six straight games and cracked the first College Football Playoff ranking, which was released Tuesday night at No. 23.
But head coach Jeff Tedford can't be bothered very much about rankings this time of year — there's a game to prepare for against UNLV on Saturday in Las Vegas. Rankings at this time of the season are just a distraction.
"It really matters at the end of the year. There is a lot of football to be played. If we play well and people recognize it, maybe someday that will happen, but that's not a goal that we have right now," Tedford said. "Our goal is to try to work hard each week and get better. We want to take advantage of every opportunity that we have from week to week."
With their next game against a struggling UNLV squad, the Bulldogs (7-1, 4-0 Mountain West) have a golden opportunity to climb even higher in the all-important CFP.
Fresno is coming off a 50-20 victory over a talented Hawaii squad. UNLV (2-6, 0-4) is fading fast after a disappointing loss and questions about the future of head coach Tony Sanchez have begun to simmer in the desert.
"You can go to work or not work … there is no choice in that, and I believe in our team and kids," Sanchez told the Las Vegas Review-Journal. "They do a really good job of coming in and shaking things off and moving forward. They know what we're dealing with."
Sanchez and the Rebels need to figure out a way to slow down the Bulldogs offense, which racked up a season-high 562 yards against the Rainbow Warriors.
Fresno State quarterback Marcus McMaryion will be licking his chops looking across the line at a Rebels defense, which last week gave up 555 yards to a San Jose State team that won for the first time in 2018.
For the season, McMaryion has completed 171 of 243 pass attempts for 2,142 yards, 18 touchdowns and only two interceptions.
UNLV has lost five straight and has given up 40 or more points in four of those games, and 50 or more points in three games.
In the win over Hawaii, the Bulldogs' KeeSean Johnson became the program's all-time receptions leader with 234 passes caught, overtaking Green Bay Packers wide receiver Davante Adams.
"I think everyone is happy for KeeSean," Tedford said. "He is a great teammate, everyone has a lot of respect for him. This is well deserved, he has had a great career here. It was nice that he could get it done at home."
Sophomore running back Ronnie Rivers proved he could shoulder the load on the ground as he ran for a career-high 125 yards on 11 carries against Hawaii.
And if that weren't enough to keep Sanchez up late, against Hawaii, the Bulldogs defense held its opponent to under 30 points for the 19th straight time.
Injuries on both sides of the ball have plagued the Rebels this season. Not having starting quarterback Armani Rogers has hurt the most on offense.
The good news for Sanchez is that Rogers returned to practice on Monday.
The sophomore from Los Angeles has played in only four games this season because of a foot injury. But in those games, he was averaging 122 yards on the ground but only 92 yards in the air. He had thrown six touchdowns and four interceptions.
Rogers' replacement, Max Gilliam, has thrown 12 touchdowns in four games. Whoever is taking snaps for UNLV, the goal should be to get Tyleek Collins the ball.
Against San Jose State, Collins was the most dynamic player on the field. He hauled in nine catches for 170 yards and scored four times.
Injuries have devastated the Rebels defensive backfield, and UNLV is paying the price.
"There are areas we haven't gotten better, and part of that's on me because I have the final say on (recruiting)," Sanchez said. "But I know the overall program is better. We have done some really, really good things."
"A lot of it is personnel matchups," Sanchez added. "With some of the guys out, we're really thin, and we got exposed. We're just not playing at a real high level right now."