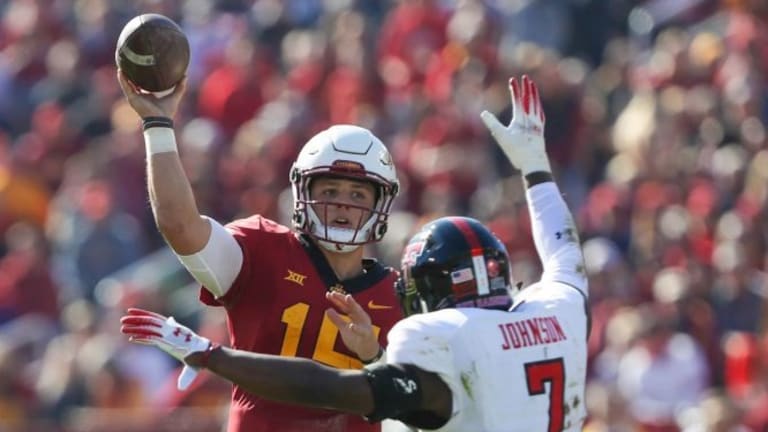 No. 24 Iowa State visits improving Kansas
According to the Sagarin ratings, guess which team has played the toughest schedule in the country in 2018?
According to the Sagarin ratings, guess which team has played the toughest schedule in the country in 2018?
It's not some SEC powerhouse or Big Ten behemoth — it's Iowa State. That helps explain why the Cyclones — unranked in the AP poll — debuted at No. 24 in the initial College Football Playoff rankings, despite a 4-3 record.
Iowa State's opponents are 32-15 in games not against the Cyclones.
The Cyclones, 3-2 in the Big 12, won all three of their games in October, winning at Oklahoma State, and versus West Virginia and Texas Tech.
November begins with a Saturday game at Kansas, which is coming off a 27-26 home win over TCU. The Jayhawks (3-5, 1-4) ended a 14-game losing streak in Big 12 play, causing fans at David Booth Kansas Memorial Stadium to storm the field.
"All the stuff we've gone through over the years, what people have said, you know, the naysayers, the haters, whatever you want to call them … it's pretty cool to get a win," linebacker Joe Dineen said.
Cyclones coach Matt Campbell is looking for a better finish to the season than in 2017, when Iowa State went 1-3 in November.
Campbell said this year's team is better positioned to avoid that kind of a slide. The Cyclones have improved their depth under Campbell's watch, with the decreased snap counts for many of the starters a testament to the overall talent.
The staff has been more willing to dip into the bench than in the past, and the returning starters now know what to expect and presumably are less likely to wear down.
"A year ago we started November and there are guys that have already played well over a thousand snaps for our football team," Campbell said in the Ames Tribune.
"We're not even remotely close to that this year, which is certainly a credit to our football team and a credit to the multitude of guys that have stepped up to help us play."
The new face of the surging Cyclones is freshman quarterback Brock Purdy. With him in charge over the past three games, Iowa State is averaging 39.3 points and 461.2 yards, with wins over ranked teams Oklahoma State and West Virginia.
Purdy has done a nice job being aggressive when the opportunities arise and not forcing things when the coverage is tight. He needs to continue that against Kansas, which is plus-16 in turnover margin, ranking second nationally (plus-two per game).
Kansas senior linebacker Joe Dineen has a school-record 42 tackles for loss with senior defensive lineman Daniel Wise fifth at 39.5.
Purdy gets plenty of help from running back David Montgomery, who is a bear to bring down and is one of the most durable rushers in the country. He carried 33 times for 125 yards in the win against Texas Tech.
Montgomery leads the Big 12 and is ranked 12th nationally at 108.0 yards per game and has rushed for more than 100 yards in four consecutive games.
For Kansas, quarterback Peyton Bender has taken every snap since coach David Beaty took over play-calling after firing offensive coordinator Doug Meacham on Oct. 10. Bender was 19 of 29 for 249 yards and two touchdowns, with no interceptions, against TCU.
Often immobile, Bender added a 12-yard keeper to convert a third-and-9 situation on the Jayhawks' decisive touchdown drive in the fourth quarter.
"We just had to go up there and execute, and that's what we've been saying all year — we just need clean execution," Bender said. "That's something we haven't done, I feel like every week we have a very good game plan, we just haven't executed the way we really want to."
Kansas last played in a bowl in 2008, and the postseason dream is alive in November, even if games at Kansas State and Oklahoma, and a home meeting with Texas, still loom.
"We still have a chance to go to a bowl game and were not going to quit and I love that about this football team," linebacker Keith Loneker said. "I'm so happy to be a part of a group of guys that believe in that."