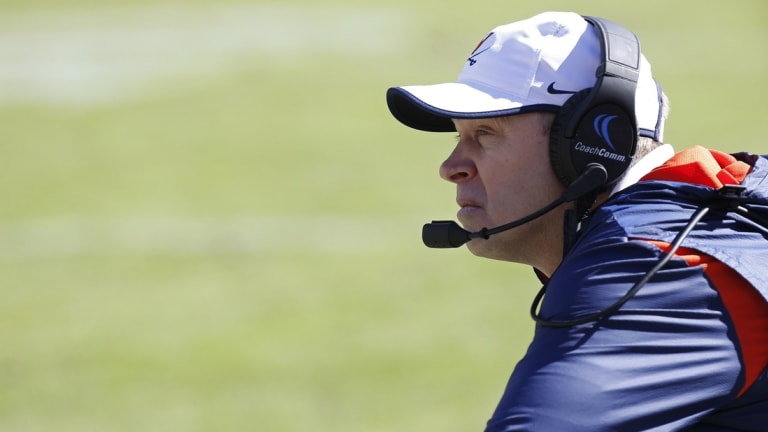 No. 25 Virginia aims for 4th straight ACC win vs. Pitt
-- By Brandon Lloyd, The Sports Xchange --
-- By Brandon Lloyd, The Sports Xchange --
CHARLOTTESVILLE, VA. -- Meaningful games in the month of November are not something that Virginia football fans have been used to over the past decade. In fact, the Cavaliers have made two bowl appearances and have tallied just one winning season since 2008.
Friday night under the lights at Scott Stadium will provide a pleasant change for those same fans that have witnessed the dread and despair, as a rejuvenation has been pumped back into the Cavalier football program.
No. 25 Virginia (6-2, 4-1) aims for their fourth-straight conference win and a chance to move one step closer to an ACC Coastal Division Title when they host Pittsburgh (4-4, 3-1).
"From the minute our game finished last year against Navy, there had to be a completely recommitted effort to size, strength and fundamentals," Virginia head coach Bronco Mendenhall said. "The mindset to run fundamentals knowing our program could not take a step forward until that got better was the challenge, and it is on-going still."
To say that Virginia has taken a step forward from their 6-7 2017 season that saw them fall to Navy 49-7 in the Military Bowl would be an understatement. The Cavaliers were picked to finish dead last in the ACC at the beginning of the season, and now find themselves ranked in the top-25 for the first time since November of 2011.
With each week comes a new challenge for Mendenhall's team, as Pittsburgh enters Friday night's game with high aspirations as well. The Panthers are coming off of a 54-45 shootout win over Duke last week and have moved themselves into a group with Virginia and Virginia Tech of teams in the Coastal Division with just one conference loss.
"We know have to go back to work, we have a short week," Pittsburgh head coach Pat Narduzzi said after his team's win over Duke. "We've got Virginia on Friday night and we have got a lot of work to do."
Offensively, Pittsburgh used their best performance of the season to put up 54 points and 634 total yards with 484 of those coming on the ground. Defensively, they struggled, as they gave up 619 yards to the Blue Devils. Virginia boasts one of the nation's best run defenses while Pittsburgh claims a top-25 rushing offense.
Which one will give?
"Pitt is a unique challenge. They are very physical and a tough football team," Mendenhall said of the Panthers. "You have to be really sound in your fundamentals. Your eye control has to be good because of the nature of the run-game. This will be a competitive matchup."
The Panthers have taken the last three games in the series which included a 45-31 win in Charlottesville in 2016.
Virginia's offense has exceled this season under first-year quarterback Bryce Perkins who continues to lead the Cavaliers' offense. The junior, JUCO transfer became only the second Cavalier quarterback to pass for 200 yards and rush for 100 in the same game when he did so last week against North Carolina. Perkins' favorite target wide receiver Olamide Zaccheaus became Virginia's all-time receptions leader in the game as well as he passed former great Billy McMullen.
"Perkins is a guy that makes it go on offense," Narduzzi said. "He gets it done."
Getting it done with his arm and his legs is a combo that Perkins has added to the Virginia offense this season. He currently has thrown for over 1,600 yards and has eclipsed the 100-yard mark on the ground three times already while totaling 21 touchdowns.
Pittsburgh freshman running back V'Lique Carter made his collegiate debut against Duke running for 137 yards and two touchdowns on just seven carries. Carter will provide a unique challenge for a stingy Virginia rushing defense that allows just 113 yards on the ground per game.
"I told the TV crew on Friday morning to watch out for V'Lique Carter," Narduzzi said of his freshman. It goes into those four games. If he keeps doing that for the next three, he'll be playing a fifth, maybe a sixth."
Carter committed to the Panthers out of high school as a safety but showed his running ability in practice as a scout team player, ultimately leading to Narduzzi's decision to add him to Pittsburgh's already stellar rushing attack.
Each of these teams controls their own destiny in regards to making it to December's ACC Championship game in Charlotte. Kickoff is set for 7:30 on Friday night.