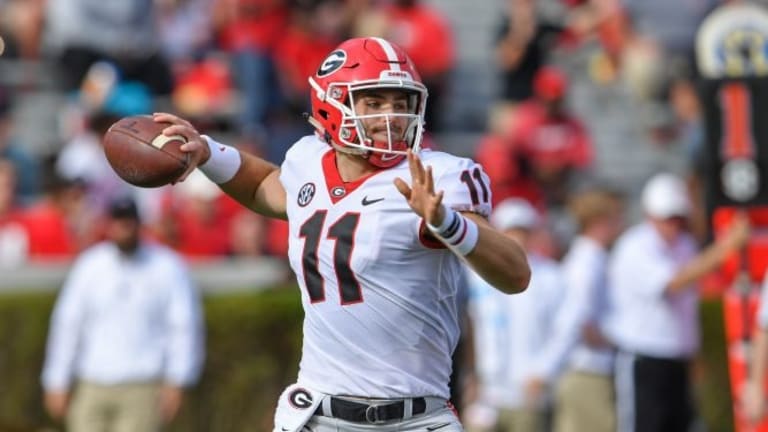 No. 3 Georgia opens vs. Austin Peay
Georgia head coach Kirby Smart: "I know our players are champing at the bit."
— By Anthony Dasher, The Sports Xchange —
ATHENS, Ga. — Austin Peay may not hold the same name recognition as the rest of the teams on Georgia's schedule for 2018 but that doesn't mean the Bulldogs aren't anxious to get their season underway.
Kickoff at Sanford Stadium on Saturday is set for 3:30 p.m. ET (ESPN).
"I know our players are champing at the bit to get the chance to go play somebody other than ourselves," Georgia head coach Kirby Smart said. "They have practiced long and hard, and they're excited about the opportunity to go get ready for somebody else."
There's been plenty of buildup for Georgia and the impending 2018 campaign.
Ranked No. 3 nationally after winning the SEC and the Rose Bowl before falling to Alabama in the national championship game, expectations are once again high for the Bulldogs, who many prognosticators are projecting the team to challenge for a trip to the playoffs for the second straight year.
Smart and his coaches have done everything possible to ensure that complacency doesn't set it. That includes making sure players understand that starting positions are never guaranteed — no matter your previous status on the team.
"I think it's just kind of the mantra we go by here, that every practice is really competitive, and every job opportunity is competitive. I mean, Andrew Thomas could have every right to left tackle there is, but if he doesn't play as well as the next guy, then he's not going to be the starter," Smartt said. "Deandre Baker through this camp, he's actually practiced better this year than he did last year, but there were points in this camp where if he didn't play better than Eric Stokes, then he wasn't going to be the starter. So as far as that goes, for us it's always that way.
"Guys compete; guys go out and play. It was the same way last year with Jake (Fromm) and (former quarterback) Jacob (Eason). He was out there competing."
The visiting Governors of the Ohio Valley Conference are an FCS team on the rise.
Coming off a season that saw the program win eight games for the first time since 1987, Austin Peay enters Saturday's contest ranked 23rd in the AFCA under head coach Will Healy.
He understands the challenge his Governors will face in Saturday's opener.
"They're loaded, they're well-coached, they play really hard. I'm familiar enough with the University of Georgia where I don't know if I've felt the same buzz around Georgia as I feel right now. I know the place will be rocking. … For me, I know Austin Peay's relevant right now because we're playing the University of Georgia," Healy said. "That's big for our kids. We're going to get one chance on September 1 to line it up against arguably the best team in the country."
The Governors are by sophomore quarterback Jeremiah Oatsvall, a native of Brentwood, Tenn., who is the 2018 OVC Preseason Player of the Year.
Of course, Georgia has a pretty good quarterback itself.
Jake Fromm is primed for another big year after a sensational freshman campaign that saw him complete 181 of 291 passes for 2,615 yards and 24 touchdowns. He takes over as the focal point for a Bulldogs offense that has to replace the running back duo of Sony Michel and Nick Chubb.
"I'm very pleased with what he's done for our team from a stand-in-front-of-the-group, command the respect, grow us a player, picking the right plays to put in. He's done a really good job of that," Smart said. "We want that for every player on our team. We want every guy on our team to lead by example and do things the right way. And Jake's done that since he's been here."