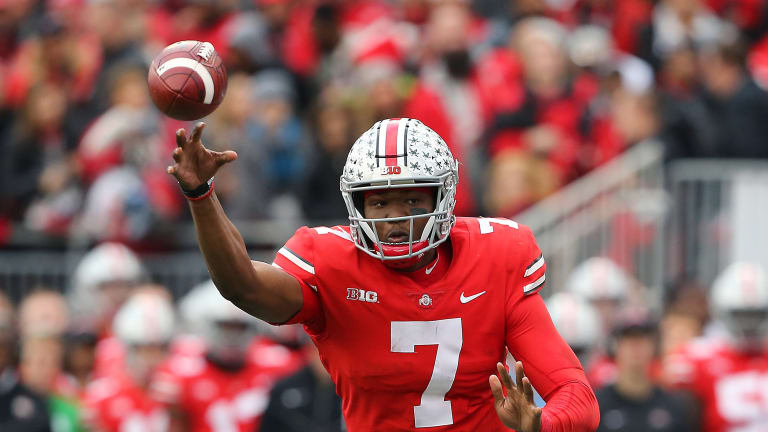 No. 6 Buckeyes heavy favorites against No. 21 Wildcats
— By Doug Bean, The Sports Xchange —
COLUMBUS, Ohio — A month ago, Ohio State and Northwestern seemed unlikely candidates to reach the Big Ten Championship Game.
The No. 6 Buckeyes had just been drummed at Purdue and the No. 21 Wildcats blew a 17-point lead in a home loss to Michigan. But neither team slipped up again after those stumbles, winning out and reaching the conference title game on Saturday night (8 p.m. ET, Fox) in Indianapolis.
The Buckeyes (11-1, 8-1 Big Ten) will be playing in Lucas Oil Stadium for the fourth time in coach Urban Meyer's seven seasons at the school. Ohio State is a heavy favorite to take down Northwestern (8-4, 8-1), which lost non-conference games to Akron, Duke and Notre Dame but will make its first appearance in the Big Ten final after claiming the West Division title.
Ohio State coach Urban Meyer stressed to his coaches and players to prepare for Northwestern as they did for Michigan in order to avoid any type of lull.
"I'm going to be very hard on everybody this week, and we cannot see anything other than the same effort we did last week," Meyer said, later adding, "When you win and you win the way you did, now that's the time to cut it loose and be very, over-the-top demanding of them."
Northwestern has pulled off some upsets this season, beating Michigan State and Iowa as double-digit underdogs, and brings a nine-game road winning streak to Indy.
"I don't think anyone outside these doors would pick us to win this game," Northwestern coach Pat Fitzgerald said Monday. "My mom and dad I guess would. I'm not even sure if my sisters would. But I don't need them; I just need the 74 guys who will put on the purple and white Saturday."
Ohio State wasn't expected to beat rival Michigan and claim the East Division championship, but the Buckeyes annihilated the Wolverines 62-39 last week in their best performance of the season to keep alive their aspirations of making the four-team College Football Playoff field.
The defense rose to the challenge against Michigan, limiting 1,100-yard rusher Karan Higdon to 72 yards on 15 carries and keeping quarterback Shea Patterson in check (20 of 34, 187 yards passing, three touchdowns, one interception) most of the way. Ohio State also was able to avoid giving up big plays — a bugaboo in the narrow 52-51 overtime escape at Maryland the previous week.
"We have a lot of respect for this defense, and we know what we're capable of … I think we just got to play our game and kind of see how the game, as the game gets going, where we can continue to attack them, Northwestern quarterback Clayton Thorson said. "There's not a lot of holes in their defense. … When they really turn it on and are in tight situations, they make the plays when they need to."
Ohio State's offense, led by quarterback Dwayne Haskins, absolutely riddled the nation's top-ranked defense. He completed 20 of 31 passes for 396 yards and six touchdowns, and the Buckeyes racked up 567 total yards. The 62 points were the most ever scored against Michigan in the rivalry.
That's mostly because of Haskins, who is having the best season by a quarterback in Ohio State history. He has broken numerous school records and also set Big Ten records for touchdown passes (42) previously held by Purdue's Drew Brees and for passing yards (4,082) by Purdue's Curtis Painter.
Even scarier if you're a Northwestern defensive player is hearing Haskins say, "I'm not done yet.
"I want to be one of the best to ever do it playing here at this university. And this is a dream come true for me. I have no words to say about all we've done this year. … And to break all these records and to go win these games the way we've won these games is a blessing. And (we're) going to put on a show next week."
Northwestern and Ohio State haven't met since 2016 when Thorson was a sophomore and the Wildcats gave the Buckeyes a battle at Ohio Stadium before losing 24-20. He passed for 256 yards and a touchdown with an interception in that game.
"I remember we took them to the limit … but we couldn't finish the job," said Thorson, who has started 51 consecutive games and thrown for more than 10,000 yards, including 2,675 yards this year while completing 60 percent of his passes for 14 touchdowns and 12 interceptions.
Northwestern's offense ranks 110th nationally in total yards (351.8 yards per game) and 107th in scoring (23.7 points per game).
The Wildcats win with a tough defense that is 29th in the country in points allowed (21.7 ppg) and 49th in total defense (372.7 ypg). They've given up just 40 points in the past three games and are expecting several injured players in the secondary to return this week.
Northwestern defensive back Cam Green doesn't believe the game will be an offense-dominated shootout.
"I wouldn't say so," he said. "I believe in our defense."
But the defense hasn't faced anyone as gifted as Haskins, who ranks third nationally in yards per game (340.1) and fifth in passing efficiency rating while throwing just seven interceptions in his first season as a starter.
"What jumps out is his poise, his accuracy and his understanding of the offense," Fitzgerald said of Haskins. "He does a phenomenal job of taking what the defense gives him. If I had a Heisman Trophy ballot, I would vote for him. I've already voted him the Big Ten (Offensive) Player of the Year. He is a phenomenal, phenomenal football player. He uses all of his weapons."
The Buckeyes, meanwhile, know they'll have to crack the Northwestern defense and focus on the task at hand to keep their playoff hopes intact.
"If we want to have any aspirations of winning this game, and potentially going further, we have to put all of our energy into this game," said Ohio State senior wide receiver Terry McLaurin, an Indianapolis native with 31 catches for 591 yards and nine touchdowns in 2018. "Motivation won't be a problem, because there's a championship on the line."
Considering all that Ohio State has endured this year with Meyer's suspension, the turmoil surrounding the dismissal of assistant coach Zach Smith, inconsistent play, health issues and speculation that Meyer will step down, he is thankful to get through the year. But there's still unfinished business in Indianapolis — and that is what's at stake in the Big Ten Championship Game.
"It's only special if you win it," Meyer said.