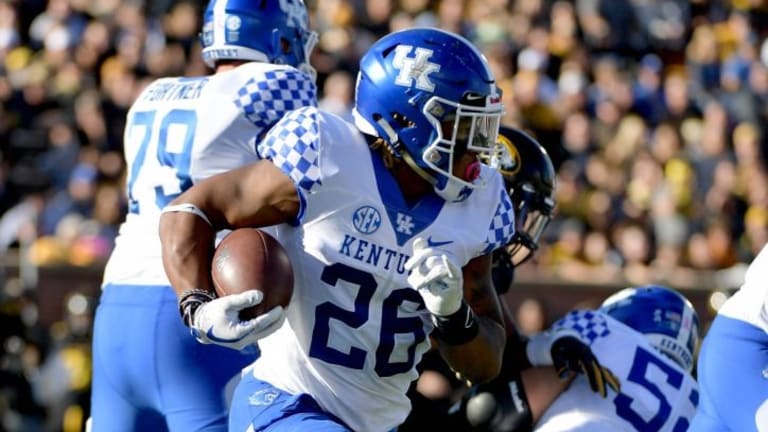 No. 6 Georgia, No. 9 Kentucky meet in pivotal SEC East game
Georgia coach Kirby Smart: "We're excited about this game."
Georgia coach Kirby Smart: "We're excited about this game."
A most unlikely matchup will decide the Southeastern Conference East Division winner Saturday afternoon when No. 9 Kentucky hosts No. 6 Georgia in Lexington, Ky.
The Bulldogs (7-1, 5-1 SEC) have won or shared the division title eight times since the conference split into divisions in 1992 and last year knocked off West winner Auburn to capture the SEC title and advance to the College Football Playoff.
This is a whole-new experience for the Wildcats (7-1, 5-1 SEC), whose best division finish was a tie for second at 4-4 in 2016. They also have several thirds, but have finished last or next-to-last in the division 19 times in 26 seasons.
"It's a big deal and we don't shy away from that," Kentucky coach Mark Stoops said of the magnitude of Saturday's game (3:30 p.m. ET, CBS) for his program. "The change in culture and what you do and that relentless fight, day in and day out, by a lot of people to put yourself in a position to play in big games, and that's a culmination of six years of extremely hard work by a lot of people."
With just one more SEC game to follow, the winner of this one will be assured of no worse than a share of the division. And if it's Kentucky, it will hold the tiebreaker over Georgia and Florida to land the spot in the SEC title game. If it's Georgia, the Bulldogs would have the tiebreaker over Kentucky and Florida.
"We're excited about this game," Georgia coach Kirby Smart said. "Obviously, there's a lot at stake. I think our kids and players understand that.
"I got a lot of respect for Mark and the job he's done. I think it's really remarkable, and it shows the patience of an athletic department to stick with a guy who I think is one of the best coaches in all of college football. He's now put his roster together. He's got a senior class that's really incredible across the SEC."
The game will feature two of the top four rushing teams in the conference.
Georgia ranks second in the SEC behind Mississippi State with an average of 221.63 yards per game. Kentucky is fourth behind Alabama with an average of 214.
Individually, Wildcats running back Benny Snell is the SEC leader with 935 yards. No other Wildcats player has more than the 406 yards of quarterback Terry Wilson.
"He's a hard runner and a tough football player, first and foremost," Georgia defensive back Tyrique McGhee said of Snell. "The guy loves football. You can see it in the energy he brings every Saturday. He's going to be the engine to their offense on Saturday."
Elijah Holyfield and D'Andre Swift share the workload for Georgia with 559 and 466 yards, respectively, after taking over for Nick Chubb and Sony Michel.
"When you think of Georgia, you know they have talented running backs and certainly with Holyfield and Swift, they're very good runners," Stoops said. "Physical, run you over.
"Their line is really, really good, really talented, physical. And their backs will run downhill and they can run around you. Swift is electric and Holyfield is so darn tough and gets tough yards, talented. They're good. Just like you would expect when youre playing these guys."
The Bulldogs have a big advantage in the passing game, however, with quarterback Jake Fromm completing 67.4 percent of his attempts for just over 206 yards per game. Wilson has completed 65.4 percent of his passes but for only 123.5 yards per game.
But Wilson came through in the clutch last week in taking the Wildcats 81 yards for the final touchdown of their 15-14 victory.
Kentucky's resiliency impresses Smart, calling the Wildcats "a very senior-laden team.
"They believe. They have a good coaching staff," Smart said. "They have a good group of young men that fight. I mean when you have a defense that plays like they do, they're in every game. And their offense matches it perfect because they grind you to a nub."