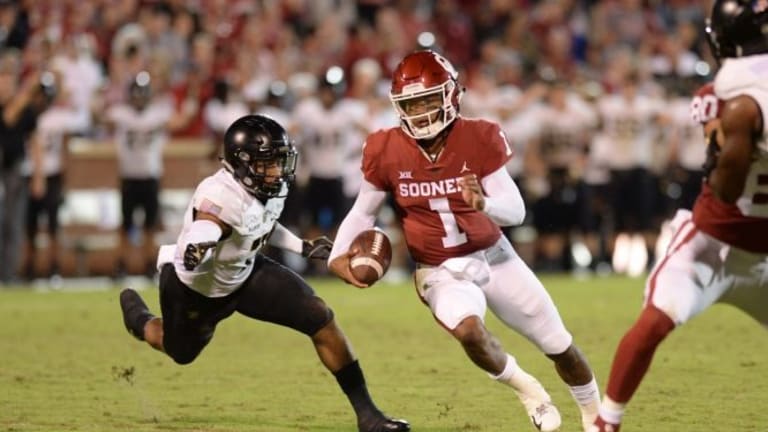 No. 6 Oklahoma may be tested downfield by Baylor
Army had plenty of success against Oklahoma last week, though the Sooners still were able to escape with an overtime win
Army had plenty of success against Oklahoma last week, though the Sooners still were able to escape with an overtime win
But don't expect much about that game to translate as the Black Knights' offense isn't exactly replicable and Baylor — the team the No. 6 Sooners host Saturday — uses a typically wide-open Big 12 offense.
"We've been running a little bit of triple option here and there," Bears coach Matt Rhule told reporters Monday. "We ran a couple last week. But I don't think (Oklahoma) is going to be too worried about that from us after seeing it last week with Army."
The Bears figure to challenge the Sooners more downfield — like Iowa State did regularly earlier this month with Hakeem Butler.
But while Oklahoma's cornerbacks struggled against Butler for large portions of the game against the Cyclones, Sooners coach Lincoln Riley said the problem is larger than just with the two starters at that position — Parnell Motley and Tre Norwood.
"I think it's learning to play within the defense. A lot of times people see a corner giving up a play and they think, 'Well, their corner just didn't have good coverage,'" Riley said. "A lot of times there's a lot more to it than that — where your help is defensively, schematically helping those guys out, obviously pass rush is gonna be a critical factor in that.
"There's an area where we feel like we're gonna have some advantages here going forward. It takes everybody. No doubt the big receivers like that who can win their majority of 50/50 balls are always a tough matchup. But we're used to that in this league. We're gonna have to defend it well and have to do a better job than we did on Butler."
Rhule said his team can't afford to get out of its typical game plan offensively to try to consciously slow down the game and keep Oklahoma's prolific offense from getting many possessions.
"You'd love to go out there and slow the game down, keep their offense off the field, but that's not where we are right now," Rhule said. "We'll have to go out there and just be us. Army limits mistakes and that's how they win.
"Army is built to keep that great Oklahoma offense off the field and I'm not sure that we're really wired for that."
While Oklahoma's defenders — especially in the front seven — were battered and bruised after the Army game, forcing Riley to adjust his practice plan slightly to give his defensive linemen and linebackers a bit more rest, the Sooners are fresh offensively after running just 40 plays.
"I felt great (Monday)," running back Trey Sermon said. "I just want to go back out there on the field and show what we can do and compete."
A year ago, it was Sermon that helped save Oklahoma's 49-41 win at Baylor with his 148-yard, two-touchdown performance.
"It was really big for me in building confidence within myself, knowing I can get the job done," Sermon said.
While the Sooners' passing attack gets most of the attention — and rightly so with Marquise Brown and CeeDee Lamb among the Big 12's best receivers — Oklahoma's running game has improved recently as Sermon has settled into the role as the No. 1 running back and quarterback Kyler Murray has become a bigger part of the ground game.
Sermon ran for 119 yards against Army while Murray had 71 on seven carries.
"He is dynamic in the run game," Rhule said of Murray. "OU has a very good power football run game but he is also capable of pulling the ball and making explosive runs. He is also a tremendous passer, so we have to keep him in the pocket and we have to rush him or else he will get out of the pocket and make plays."