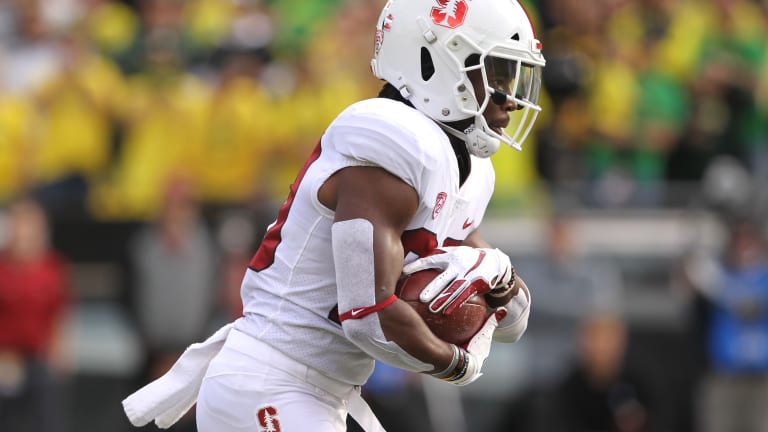 No. 7 Stanford invades No. 8 Notre Dame in battle of unbeatens
— By Tom Musick, The Sports Xchange —
— By Tom Musick, The Sports Xchange —
Two top-10 teams have not squared off at Notre Dame Stadium since 2005.
That will change Saturday when No. 7 Stanford (4-0) visits No. 8 Notre Dame (4-0) in a prime-time matchup at 7:30 p.m. ET in South Bend, Ind. Expect millions to be glued to their television sets and more than 80,000 fans in the stadium to reach a steady roar.
"I hope it's a great atmosphere," Notre Dame head coach Brian Kelly said. "We thrive on our home field. We've had a good run going at home. To have a home game against a top-10 opponent when you're a top-10 team, these are the moments that you wait for."
The Fighting Irish opened the season with wins over Michigan, Ball State, Vanderbilt and Wake Forest. The first three wins came by single digits, but they rolled to a 56-27 win over the Demon Deacons last week after switching to Ian Book at quarterback in place of Brandon Wimbush.
It seems likely that Book will start again this weekend, although Kelly refuses to show his hand.
"They're both going to prepare the way they have," Kelly said. "Look, it's important that everybody knows that both of these quarterbacks can win football games for us. That's the most important thing. So, as coaches, we have to keep both of them sharp. It's a lot of work during the week, but we'll make sure both of them are ready."
Stanford has posted wins over San Diego State, USC, UC Davis and Oregon. The Cardinal's win last weekend against the Ducks proved to be the most difficult as they held on for a 38-31 victory in overtime.
Junior quarterback K.J. Costello has tossed 10 touchdown passes in his first four games. But the national spotlight will be on his teammate in the backfield, running back Bryce Love, who rushed for 2,118 yards a year ago but is on pace for much less this season with 254 yards and two touchdowns to date.
However, the Fighting Irish know that Love can break off a big run on any given play.
"We know about Bryce Love — the best back in the country," Kelly said. "Once you think he's down, he's gone. You've got to get him on the ground and tackle him."
Stanford coach David Shaw said Love's persistence and sudden burst were difficult to describe.
"I wish I could explain it," Shaw said. "I have no idea. You never know when those plays are going to happen. The funny thing with him is you get to the point you know it's going to happen, so we don't worry about the three- and four-yard gains with him. At some point, he's going to break one.
"What is unique about Bryce is a lot of those big runs, they're not untouched runs. They're runs where he has to break a tackle, make a guy miss, and then his acceleration, I don't know that I've seen live, on the field, an acceleration like that. Some of you remember 'Rocket' Ismail from Notre Dame. I have not seen a guy in three or four steps get to full speed like Bryce since 'Rocket.'"
This marks the 22nd season in a row that Stanford will play Notre Dame. The winner of the game will claim the Legends Trophy for the next year. The Cardinal have held the trophy since 2015.