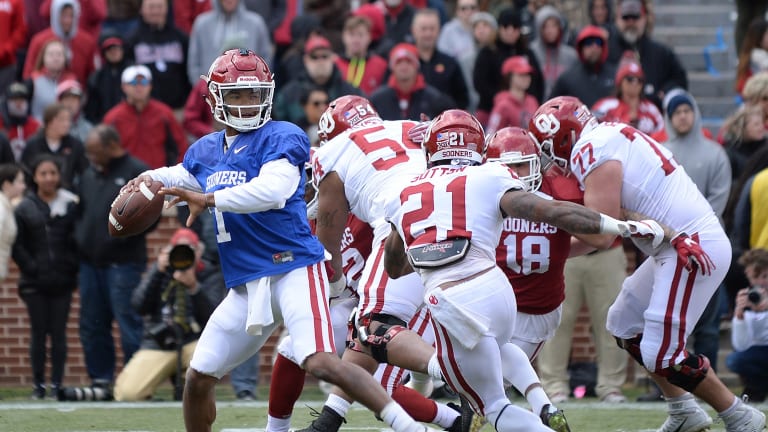 Oklahoma ready to break in new QB
"I think Kyler has certainly grown," Sooners coach Lincoln Riley said. "I'm happy with his progress."
NORMAN, OKLA. — A year ago, Oklahoma had their answer at quarterback but plenty of questions at running back and wide receiver.
This season, as the No. 7 Sooners prepare to open against Florida Atlantic at home Saturday, they're settled at running back and wide receiver but are getting ready to play without No. 1 overall draft pick Baker Mayfield under center.
Instead, it will be Kyler Murray starting there after serving as Mayfield's backup last season and three seasons after he started for three games at Texas A&M as a true freshman.
"I think Kyler has certainly grown (since his freshman year)," Sooners coach Lincoln Riley said. "I haven't paid a whole lot of attention to what he did at A&M other than what I looked at him before I brought him here. I'm happy with his progress. I think he's quite a bit different than he was then."
The Sooners do return Rodney Anderson, who started last season buried on OU's running back depth chart before taking over as the clear No. 1 midway through the season, and receivers Marquise Brown and CeeDee Lamb from last year's College Football Playoff squad.
Riley and the rest of the Sooners are hoping for a similar leap as what happened to Mayfield between his freshman season at Texas Tech and his earning the starting job at Oklahoma.
Mayfield struggled with interceptions with the Red Raiders — much like Murray did as a freshman — but he evolved into an accurate passer who made good decisions overall.
Though few are expecting Murray to give the Sooners the kind of production Mayfield was able to, Murray's running ability — he's widely considered one of the fastest players in college football — figures to add a dimension to Riley's offense.
"He is a problem," Florida Atlantic coach Lane Kiffin said.
"These are the guys you want to play the least. I have always thought they give you the most problems. The guys that when plays don't happen in rhythm like a lot of plays in football especially college, they have the ability to get out of trouble. You can cover everybody, have our match plays perfect, the guy still takes off and runs for 15 yards. He is very difficult to deal with."
NOTES
–RB Rodney Anderson ran for more than 1,000 yards over the final eight games in 2017 and enters the season as the clear top option in the running game. Those big totals included 201 yards and a pair of touchdowns in the Rose Bowl loss to Georgia. Oklahoma coach Lincoln Riley said Anderson's ability to run the ball — and the line's ability to block — will be key especially early in the season as Murray settles in. "You've got to be able to take pressure off," Riley said. "If people can just sit there and tee off on you one or the other eventually it's going to catch up with you."
–LB Kenneth Murray had a bit of a rocky freshman year. The middle linebacker earned the starting job and held onto it all year but had plenty moments of learning in there. Against an offense that can run the ball the way the Owls do, Murray figures to get a big test right out of the gate as a sophomore. "I feel like last year I kind of played off raw athleticism," Murray said. "I really didn't understand the scheme of things that I was trying to do." Murray said that's changed this year and he should be able to be more of a disruptive force.
–S/NB Brendan Radley-Hiles is one of the most highly touted secondary recruits for the Sooners in a while and figures to make an immediate impact. At least initially, that figures to be at the nickel spot as Radley-Hiles has spent most of his time working there while other players battle it out for the safety spots. "He's a pretty versatile guy and all he can do a lot of different things, but he's definitely a gifted nickel without a doubt," Riley said.