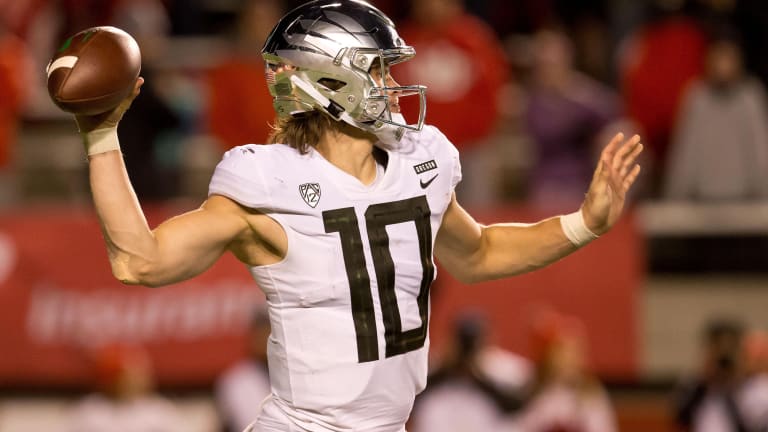 Oregon QB Justin Herbert shuns NFL, opts to return for senior season
Herbert's decision has huge ripple effects throughout college football and the 2019, 2020 NFL drafts.
The 2018 NFL draft held the richest quarterback crop in recent memory with five passers earning first round picks, the most this century.
Teams that did not take advantage of last year's bumper crop got coal in their stocking the day after Christmas with the announcement that Oregon junior quarterback Justin Herbert is electing to return for his senior season.
Though recently supplanted by Ohio State's Dwayne Haskins as the top quarterback on my personal ranking of the top 32 NFL prospects in the country, Herbert has maintained his position atop NFLDraftScout.com's board and is nearly universally viewed as a first round talent, earning the 15th overall pick in Rick Serritella's first round mock draft.
At 6-5, 233 pounds, Herbert possesses the size, big arm and athleticism to project as an NFL star. He completed 59.6 percent of his passes in 2018, throwing for 2,985 yards with 28 touchdowns and eight interceptions with a Redbox Bowl matchup with Michigan State still to go on Monday.
While his production and physical traits are undeniable, Herbert's accuracy has been sporadic, at times, especially late in games. After delivering some big throws in an upset win over visiting rival Washington October 13, Herbert and the Ducks slumped over the final half of the year, finishing the regular season on a 3-3 note and losing on the road at Washington State, Arizona and Utah, raising concern among some talent evaluators (including this one) about Herbert's true readiness for the NFL.
With Herbert returning, QB-needy teams will be focusing instead on Haskins, NFLDraftScout.com's top-rated senior passer Drew Lock from Missouri and what is shaping up to be a fascinating class of quarterbacks heading to Mobile, Ala. for the Senior Bowl.
​