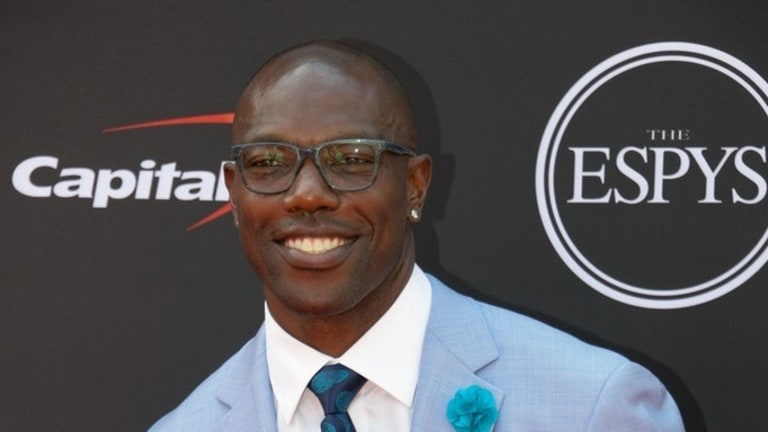 Owens: Previous snub reason for skipping Hall of Fame
Owens says he is at peace with his decision.
Owens says he is at peace with his decision.
Terrell Owens will not be in Canton, Ohio, next week when the Class of 2018 is inducted into the Pro Football Hall of Fame.
He finished his 15-year career second in receiving yards with 15,934 and 153 receiving touchdowns, which ranks third. His 1,078 career receptions has him eighth on the all-time list.
But Owens was not voted into the Hall of Fame in his first year of eligibility and evidently that was enough for him to boycott his enshrinement festivities.
In a recent interview with TMZ, Owens was unhappy with being snubbed in his first-year of eligibility, and that's why is not going to Canton. And he blamed the media for demeaning his character, as well.
"What I will say is that my character is something that I will always defend," Owens told TMZ. "That's what happened the first two times around with the Hall of Fame. When you got the media -- over the course of my career -- that habitually told lies and obviously, the media and everybody else, even the writers, that really started to factor in the character issues, that's what it's mostly about."
He said he would have attended the ceremony if he had been elected in his first year. But now he says he is at peace with his decision.
"My family's happy, I'm happy. I'm not going to worry what anyone else says," Owens said adding that he will "clarify and validate" why he made this decision at a later date. Those who run the Hall of Fame are clearly disappointed the Owens will not be around next weekend.
"We talked, and basically I told him -- it's unprecedented that this ever happened -- bottom line. I told him we were disappointed because we were looking forward to honoring him," Pro Football Hall of Fame president and CEO David Baker told NFL.com on Wednesday.
Baker said Owens came to Canton in the spring for orientation with Hall of Fame officials, and seemed to have "a good time." "He streamed the whole thing on Facebook Live, the entire time," Baker said, adding Owens appeared to be eager to participate in the ceremonies.
But the often enigmatic wide receiver had a change of mind and in June announced he would not attend enshrinement events in Canton and instead will be celebrating in Chattanooga, Tenn., where he attended college and was a third-round pick by San Francisco in 1996.
Despite not being in attendance, the Hall still will honor Owens, Baker explained.
"His face is on the front of the Hall of Fame," Baker told CBS Sports Radio's "Tiki and Tierney." "We have an exhibit on the new class where each of them have a locker and he's prominently in there. His picture is going to be prominently in Tom Benson Stadium. He's going to be in the opening video with all of the class members. On television, there's going to be videos related to him on both NFL Network and ESPN."
And if Owens should have a last-minute change of mind and decide to take part in the enshrinement ceremonies?
"What I told him is that he's welcome up until the last moment to come to the enshrinement," Baker said. "If he doesn't come to the enshrinement, he's welcome here every day for the rest of his life. Our job is to honor the heroes of the game."