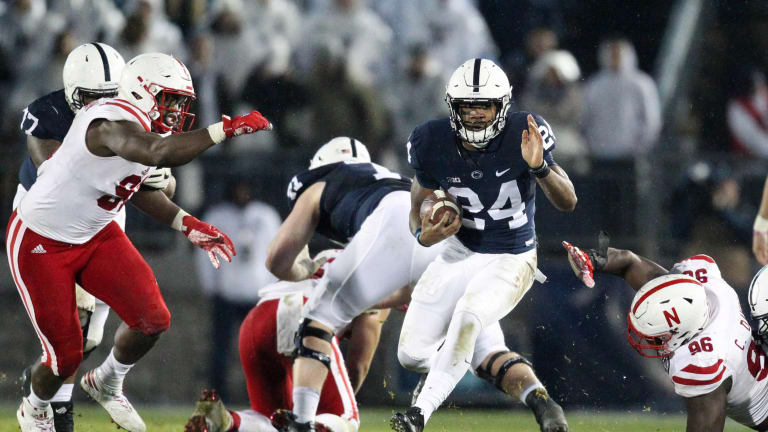 Penn State's Miles Sanders among top breakout NFL prospects to watch
From relative unknown to high NFL draft pick? That's the hope for these seven breakout candidates. Learn their names now
While every scout loves the idea of sleeper candidates, the reality is the majority of players who will be selected in the first round of the 2019 NFL draft have already been identified.
Just like how we all recognized a year ago that Saquon Barkley, Sam Darnold and Bradley Chubb were all likely to be first round picks or that next spring's draft is likely to be loaded with defensive linemen, including many underclassmen.  
That said, two players also among the top five selections last April – No. 1 overall pick Baker Mayfield and his-now Cleveland Browns' teammate Denzel Ward (selected fourth overall) – would have been considered first round longshots at this point last year, as would Marcus Davenport (Saints, No. 14), Kolton Miller (Raiders, No. 15), Leighton Vander Esch (Cowboys, No. 19), Rashaad Penny (Seahawks, No. 27) and Taven Bryan (Jaguars, No. 29), among others.
The following is a list of draft-eligible players (listed alphabetically) whose stock could be about to soar this fall.
Azeez Al-Shaair, ILB, Florida Atlantic, 6-1, 228, 4.78, # 2, SR
Al-Shaair kicks off the list alphabetically, but he deserves top billing anyway after finishing third in the nation a year ago with an eye-popping 147 tackles, including 11 for loss. That production (not to mention the Owls' 11-3 record a season ago) helped earn Al-Shaair preseason Conference USA Defensive Player of the Year honors and he already ranks as the program's all-time leading tackler. Al-Shaair (whose last name is pronounced "Al-Shire") is an active, instinctive defender who brings a load as a hitter, which should make for some awesome collisions in this weekend's opener against Oklahoma and their talented (and similarly sized) junior running back Rodney Anderson.
Derrick Brown, DT, Auburn, 6-5, 335, 5.14, # 5, JR
It isn't often that a legitimate difference-maker from an SEC powerhouse can be described as underrated but given how much more attention has been paid to some of the other top defensive linemen in the country, the massive Brown qualifies after posting 56 tackles, including nine tackles for loss and 3.5 sacks a season ago. Brown may not be quite as nimble as some of his peers but he simply overpowers college blockers with his mass, projecting best as a two-gap run-stuffer at the next level.
Andre Dillard, OT, Washington State, 6-5, 306, 5.23, # 60, rSR
While skill-position players generally receive most of the hype given the prolific scoring associated with Mike Leach's offenses, the Cougars have also developed a reputation for producing quality offensive linemen since Leach entered the Palouse with recent blockers Cole Madison (Packers, 2018) and Joe Dahl (Lions, 2016) earning fifth round picks after impressive performances at the Senior Bowl and guard Cody O'Connell earning All-American honors. Meanwhile, toiling in relative anonymity is Dillard, perhaps the most athletic, physical and technically-sound of the bunch. Entering his third consecutive season as the Cougars' starting left tackle, Dillard could be the next Cougar to prowl Mobile, climbing past his former teammates to ultimately earn a higher draft selection.
Byron Murphy, CB, Washington, 5-11, 180, 4.45, # 1, rSoph
Two years ago, scouts were crawling all over Washington's campus to evaluate defensive backs Budda Baker, Kevin King and Sidney Jones, each of whom eventually earned second round selections in the 2017 draft. Meanwhile, those close to the squad were already touting Murphy - then just a true freshman - as more gifted than any of them. Murphy exploded out of the gate in the Week One win over Rutgers a year ago, intercepting two passes and downing two punts inside the five yard line in his college debut. A broken foot midway through the season cost Murphy seven games but he returned to play well against rival Washington State as well as Penn State in the Fiesta Bowl. Murphy needs to get stronger but his smooth acceleration, agility, ball-skills and competitiveness make him a classic cover corner - and those don't last long on draft day. Murphy, in fact, is already on my list of the top 32 NFL prospects in college football.
Ahhmon Richards, WR, Miami, 6-1, 190, 4.45 (est.), # 82, JR
Assuming the normal underclassmen exodus, the 2019 NFL draft should be loaded with big receivers. Richards' frame is not intimidating in comparison to some of the others throughout the country but he plays big, twisting and fighting to generate yards after the catch and he has good speed, as well. Richards dominated as a true freshman, leading the Hurricanes (and breaking the school's all-time freshman record) with 934 receiving yards on just 49 grabs (a 19.1 average), scoring three times. He was plagued by injuries last season, missing the first two games due to a hamstring strain and never really looking like the playmaker he was a year earlier. He then tore his meniscus in practice prior to the ACC Championship last year, finishing with a disappointing 24 catches for 439 yards and another three scores. Expect a return to prominence for Richards in 2018.
Miles Sanders, RB, Penn State, 5-11, 215, 4.54, # 24, JR
Sanders may be low on this due to his last name but he might be the purest breakout candidate on this list, along with Murphy. Playing second fiddle to Saquon Barkley the past few seasons could ultimately help Sanders and his pursuit of joining his former teammate in the NFL. Sanders has the look of an NFL back, showing the lateral agility and burst to elude defenders to go along with a solid frame for the position. Perhaps just as important, Sanders enters his junior season with only 56 career carries, with his yard-per-carry average during that time (6.7) suggesting that he could explode in 2018 as Penn State's new bell-cow.
Nate Stanley, QB, Iowa, 6-4, 242, 4.86, # 4, JR
With four of the five quarterbacks selected in the first round this past spring leaving college with eligibility remaining, scouts are eager to see who will step up at the position this season. A lot of buzz surrounds Oregon's Justin Herbert and Auburn's Jarrett Stidham but don't overlook Stanley, whose prototypical size, arm talent and experience in a pro-style scheme is much more important to scouts than the 55.8% completion percentage he posted in his first season as a starter. In an era of dual-threat passers, Stanley is a throwback as a traditional drop-back passer with enough mobility to buy time or roll-out slightly but not a real threat with his legs. If he can build upon his success last season (which included a sparkling 26-6 TD to INT ratio), Stanley could vault into the QB1 conversation.