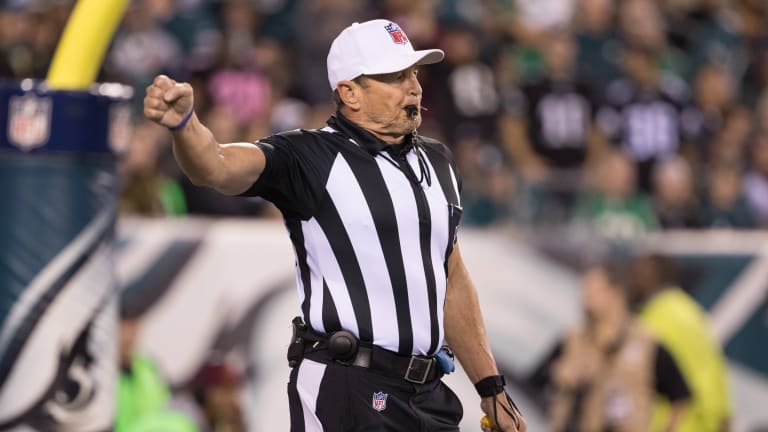 Pereira: Officiating games more challenging
--- NFLDraftScout.com ---
--- NFLDraftScout.com ---
Officiating NFL games will be even more challenging this season.
So says Fox Sports' Mike Pereira, a former NFL vice president of officiating.
Four referees — Ed Hochuli, Terry McAulay, Gene Steratore and Jeff Triplette — retired from the NFL this offseason, meaning the league will introduce four new game officials this year.
There are 17 referees employed by the NFL.
"I've never been involved in a season where you went with four new referees, and four referees that really haven't been around the league that long," Pereira told the Boston Globe on Saturday. "And first-year referees aren't eligible for playoffs, so you're going to dig deeper into the remaining stash of referees. That could create a problem, too."
McAulay will serve as an on-air rules analyst for games on NBC Sunday Night Football. He will also work Notre Dame games for NBC. Steratore will join CBS as a rules analyst for the NFL and college basketball.
The Globe also reported that four other referees — Walt Anderson, Walt Coleman, Tony Corrente and Pete Morelli — could also be on their way out over the next two seasons.
The recent turnover rate among NFL referees adds to the challenges of officiating games. This offseason, the league made changes to the catch rule, kickoff/kick return formations, and added a new helmet rule. The NFL also will deal with a new law that legalizing sports gambling.
The changes may have contributed to the departures of the referees.
"(McAulay) just said it didn't make any sense not to take (NBC's offer)," former NFL official and supervisor of officials Jim Daopoulos told the Globe. "He got a three-year contract, and he doesn't have to put up with everything now."
However, Daopoulos told the Globe that Steratore left officiating behind because of chronic knee and back problems.
Hochuli and Triplette were longtime NFL officials. Hochuli joined the league in 1990 and Triplette in 1996. McAulay officiated in the NFL for 20 years and Steratore for 15 seasons.