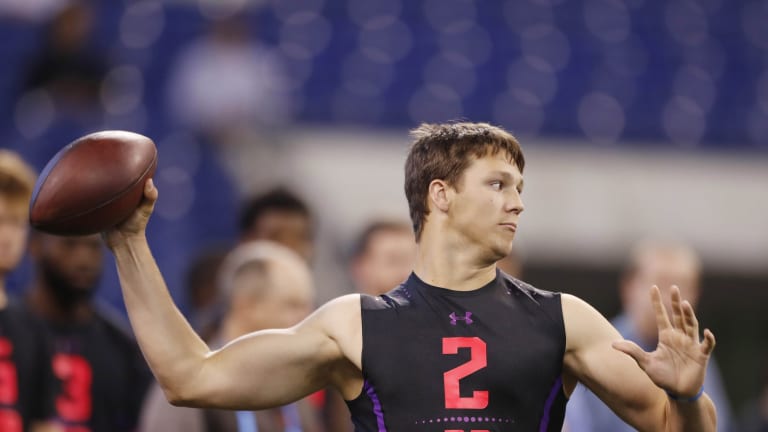 QB Allen wants to be the 1 for Browns
--- NFLDraftScout.com ---
The Cleveland Browns have been a black hole for quarterbacks since returning to the city as an expansion team in 1999.
Josh Allen wants to change that and said at a pre-draft event in Dallas on Tuesday that he would embrace going to the Browns, who own the No. 1 overall pick in Thursday's NFL Draft.
The Brown also own the fourth overall selection but Allen, considered the third-best quarterback prospect by NFLDraftScout.com senior analyst Rob Rang, made it clear he's looking out for No. 1.
"My biggest interest of being the No. 1 pick, obviously the pressure that comes along with that, I would love to have that pressure on my shoulders because I've always thrived in those situations, and I feel like Cleveland would be a great spot to be," said Allen, who starred at Wyoming. "But if I'm not, I'm not, and I'm going to do whatever I can to the team that actually picks me and actually wants me so we'll go from there."
Rang lists USC quarterback Sam Darnold first in his most recent Big Board. UCLA quarterback Josh Rosen is second while Allen is ranked 10th. Heisman Trophy winner Baker Mayfield is 14th and Louisville quarterback Lamar Jackson check in at No. 15.
Allen is ranked 10th by Rang, Mayfield is 14th and Louisville quarterback Lamar Jackson is 15th.
"It doesn't bother me one way or another," said Allen of the quarterback ratings. "Everybody's got their own opinion and their own say. In today's age, everybody wants to be right, so there's people that hate you; there's people that love you."
Cleveland is coming off a winless 2017 campaign and and is 1-31 over the past two seasons. The Browns have had 28 different starting quarterbacks since 1999, including four first-round selections: No. 1 overall pick Tim Couch in 1999 and a trio of No. 22 selections — Brady Quinn (2007), Brandon Weeden (2012) and Johnny Manziel (2014).
Allen, who threw for 1,966 yards with 19 touchdowns last season, said Tuesday that Cleveland was among seven teams that he visited.
Listed at 6-foot-5, 237 pounds, Allen ran the 40-yard dash at the NFL Scouting Combine in 4.75 seconds with a 33 1/2-inch vertical jump. Rang said the knock on Allen is his completion percentage.
"But when you've been doing this as long as I have, you have seen players like Matthew Stafford who completed about one percentage more than Josh Allen did at Wyoming, about 57 percent," assessed Rang. "You've seen Joe Flacco do the same things, Matt Ryan do the same things. Those three quarterbacks, obviously, wound up being selected in the first round and being very successful in the NFL.
"You do believe that Josh Allen, with more talent around him, could be successful."
Allen appeared at the Dallas Cowboys' practice facility with three other high-profile players — Alabama defensive back Minkah Fitzpatrick, Central Florida linebacker Shaquem Griffin and Oklahoma State QB Mason Rudolph. While he wants to go at the top of the draft, Allen is just as eager to get started on his professional career.
"I'm going to go out there and play my game, and whatever team is fortunate to pick me, or I'm fortunate to be picked by, is going to be a team I'm going to give everything to," said Allen. "Hopefully I'll be there for the next 15 years. It's an exciting time, but at this moment, right now, I'm content with whatever happens. My job is done, and now it's just sitting back and hearing my name being called."