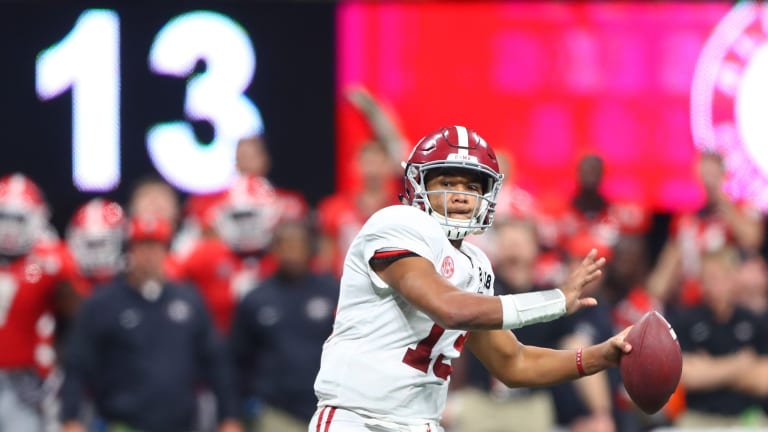 QB battle looms over No. 1 Alabama's opener vs. Louisville
Nick Saban: "Louisville, to me, has an outstanding team."
— By Christopher Walsh, The Sports Xchange —
TUSCALOOSA, Ala. — Alabama is going for back-to-back national titles, its sixth championship since 2009 and what would be a record-breaking seventh for coach Nick Saban.
But those big, arching storylines are overshadowed by the most pressing of short-term matters: What's going on with the top-ranked Crimson Tide's quarterback competition?
Having a player like Jalen Hurts — who is 26-2 as a starter and who was named the SEC Offensive Player of the Year as a freshman — competing to keep his starting role is about as atypical as it gets with most college football programs.
But so was the way Alabama rallied after Tua Tagovailoa replaced Hurts in last season's national championship game and his historic throw for a touchdown to beat Georgia in overtime.
After months of speculation about how Saban would handle the situation, everyone will finally begin to have some answers when Alabama faces Louisville in Orlando, Fla., on Saturday night (8 p.m. ET).
Will they be final, definitive answers? Probably not.
"I don't think you should assume anything," Saban said.
Odds are both quarterbacks will play and could potentially even be on the field at the same time.
Saban has kept things close to the vest all offseason, only suggesting that one quarterback has to win over the team. Their teammates have been tight-lipped as well.
"We've been having to prepare for both of them," Louisville coach Bobby Petrino said.
"They both can run, and they're both big 220-pound guys that can run with big hips that are hard to tackle, so the thing we have to do is get in position to make the tackles when they do run and do a great job of form tackling and getting extra guys to the ball.
"They're very sound on everything that they do — protection, run game, their RPO game that they do. We've got to be able to recognize splits and formations and tips and try to have an idea what's coming before the ball's snapped."
Otherwise, it appears to be a pretty typical Alabama team, with lots of talent and high expectations. The Crimson Tide is the only program to participate in all four seasons of the College Football Playoff.
Yet it's a very different team from 2017 in terms of personnel, especially defensively. Overall, there's at least 14 new starters, numerous new young players in key supportive roles, and the coaching staff has undergone major changes, too. There are six new assistant coaches, along with Mike Locksley and Tosh Lupoi having been promoted to offensive and defensive coordinator, respectively.
"Great tradition, very well-coached team, with a lot of really good players," Petrino said.
The unranked Cardinals are coming off an 8-5 season, including a 31-27 loss to Mississippi State in the TaxSlayer Bowl.
On defense, Louisville only has five returning starters, including sophomore linebacker Dorian Etheridge, who notched 83 tackles in 13 games. Junior defensive end Jonathan Greenard was credited with 15.5 tackles for loss and 7.5 sacks.
"Louisville, to me, has an outstanding team," Saban said. "Very, very good offensive coach. They averaged over 38 points per game in the ACC last year, which is a pretty good conference. They have a lot of returning players back from a year ago."
Quarterbacks is one of the spots where the Cardinals have a new starter.
Redshirt sophomore Jawon Pass appeared in five games last season in relief of 2016 Heisman Trophy winner Lamar Jackson. He completed 22 of 33 attempts for 238 yards and two touchdowns, and also ran for 62 yards and a touchdown.
The Cardinals have seven offensive starters back, including wide receiver Jaylen Smith, who caught 60 passes for 980 yards and seven touchdowns in 2017. The offensive line also has four returning starters: offensive tackle Mekhi Becton, guards Lukayus McNeil and Kenny Thomas, and center Robbie Bell.
They key, though, is Petrino, who is known for his offensive prowess. He matches wits with a Crimson Tide defense that has new starters across the board in the secondary. They are going to be tested — a lot.
"That is definitely a challenge for us," Saban said. "Not only the quarterback, the skill players that they have, the balance they have on offense and the way they were able to run the ball a year ago, as well as throw it effectively, score points against just about everybody they played against."