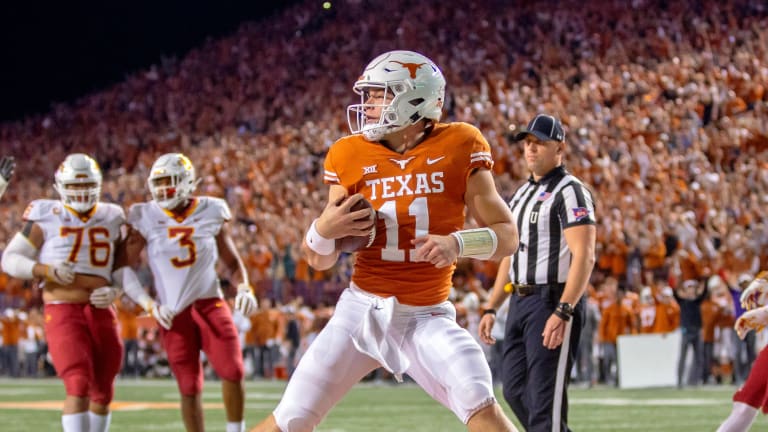 QBs will be focal point in Texas-Oklahoma rematch
Texas quarterback Sam Ehlinger approached Oklahoma quarterback Kyler Murray.
"Oh, I went up to him and congratulated him on a great game. That was all," Ehlinger said this week as the teams prepare to meet again Saturday, this time in the Big 12 Championship Game. "I respect his game and that was it."
The gesture wasn't responded to in kind by Murray, who was upset after the loss and, wearing a towel on his head as he walked off the field, threw some derogatory words Ehlinger's way before leaving the field at the Cotton Bowl.
The two players again will be front and center in the rematch, as No. 5 Oklahoma looks to keep its College Football Playoff hopes alive and the No. 14 Longhorns try to make their first major bowl since falling in the BCS Championship in 2009.
Ehlinger has played a big role in Texas' resurgence, giving the Longhorns stability at the position after years of up and (mostly) down play at quarterback.
Ehlinger has been particularly effective against Oklahoma, throwing for an average of nearly 300 yards and rushing for nearly 90 yards per game in his two games against the Sooners.
"He's not a flashy runner, but he's very effective," Oklahoma coach Lincoln Riley said of Ehlinger. "He's smart. He kind of knows where to run. It's not like tackling a normal quarterback. He's a big kid — 235 pounds. Runs physical. So he challenges you there, and then I think he's really improved throwing the ball this year. You can see those guys have done a really nice job with him."
Ehlinger has been banged up since the week after the win over the Sooners, when he suffered a shoulder sprain and was knocked out of the game early.
"It hasn't been (great) since the Baylor game," Longhorns coach Tom Herman said.
But Ehlinger has yet to miss more action since.
"It's a pain tolerance thing," Herman said. "If it's a pain tolerance thing, my money's on Sam Ehlinger. He's going to be fine for the game. But it's definitely something that bothers him."
Riley said he hasn't noticed much difference in Ehlinger on film.
"He's battled through it," Riley said.
Murray has managed to stay healthy and along with Alabama quarterback Tua Tagovailoa is one of the two primary contenders for the Heisman Trophy.
After throwing for 364 yards and rushing for 114 yards in last week's 59-56 win over West Virginia, Murray became the first FBS player to average 300 or more passing yards and run for an average of 60 or more yards.
Like Ehlinger, Murray has come up with big play after big play to help the Sooners get to this point.
"I think some guys are born with that," Riley said. "And then some of that also comes through your preparation, your work, your confidence in your scheme. It takes all those things, and I think he has that. But his pulse through games stays pretty much the same. He's steady."
While Murray and the Sooners' offense has been putting up points at a historic pace, its defense has struggled, giving up an average of more than 47 points in the last four games.
Sooners coach Lincoln Riley fired defensive coordinator Mike Stoops after the first meeting between the teams, but not much has improved on that side of the ball.
"Of course you expect them to scheme up against us," Texas wide receiver Lil'Jordan Humphrey said. "Have some stuff up their sleeve, but we just going out there prepared, being ready to play."
Despite its earlier win over Oklahoma, Texas is the underdog.
"Of course, it gives you motivation, but the thing is we already knew we were underdogs, everybody counted us out," tight end Andrew Beck. "At the end of the day, it's on us in that locker room and we count on each other to win these games and that's what we're going to do."