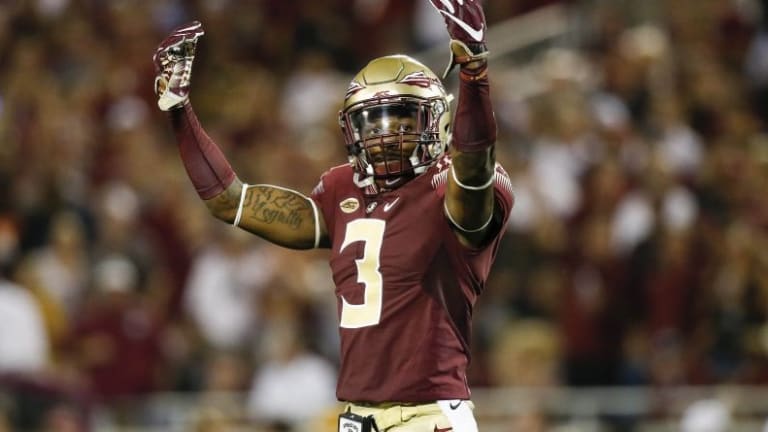 Rang: Bucs, Cowboys tip hands on draft strategy
— By Rob Rang, NFLDraftScout.com —
The Tampa Bay Buccaneers and Dallas Cowboys made bold moves last week to acquire veterans, also providing a peek as to each club's strategy for next month's NFL Draft.
In Tampa Bay, it was obvious what general manager Jason Licht's top priority would be this offseason, given that the club finished last in the NFL in sacks a year ago.
Rather than naively hope that North Carolina State star defensive end Bradley Chubb would somehow slip past the pass-rush needy clubs selecting in the first six spots — or to be willing to pay the exorbitant price to move up a spot or two — Licht addressed the need with the free agent signing of Vinny Curry (formerly with the Philadelphia Eagles) and Friday's deal with the New York Giants for Jason Pierre-Paul.
The moves completely reshape a defensive line that already featured All-Pro defensive tackle Gerald McCoy and was reinforced earlier in the offseason with the additions of steady run defenders Beau Allen (Philadelphia) and Mitch Unrein (Chicago Bears).
The decision to invest heavily in veterans was a savvy acknowledgement by Licht of where the value lies in this year's draft.
Chubb is the only pass rusher worthy of top 10 consideration in this draft, and rookie defensive linemen typically struggle to make an immediate impact anyway. Meanwhile, there are three defensive backs — Alabama's Minkah Fitzpatrick, Ohio State's Denzel Ward and Florida State's Derwin James — who would provide premium value at No. 7 overall and address another key area of concern in Tampa Bay.
Licht needs to only look to NFC South division rival New Orleans to see the impact that rookie Pro Bowl cornerback Marshon Lattimore had last year. Or Licht could speak to his own defensive coordinator, Mike Smith, who, while serving as head coach in Atlanta, watched 2013 first-round pick Desmond Trufant record 17 passes defensed while starting all 16 games as a rookie.
The versatility of Fitzpatrick and James might be especially valued in Tampa given the unique skill-position weapons throughout the division like Atlanta's two-headed running back monster Devonta Freeman and Tevin Coleman, Carolina's Cam Newton and Christian McCaffrey, and New Orleans' Alvin Kamara, whose 14 touchdowns last season ranked second behind the Rams' Todd Gurley in the NFL last season.
Meanwhile in Dallas, Jerry Jones and the cap-strapped Cowboys made a similar savvy move in convincing veteran wide receiver Allen Hurns to sign a club-friendly, two-year $12 million deal after he was released by Jacksonville on Tuesday.
The 6-3, 201-pound Hurns gives the Cowboys another weapon to complement or even potentially replace nine-year pro Dez Bryant, who has not reached 1,000 yards receiving or double-digit touchdowns since 2014 and carries a $16.5 million cap hit in each of the next two seasons.
The Cowboys could have waited until the draft to try to provide Dak Prescott with another playmaker.
Alabama's silky smooth Calvin Ridley would appear to be the perfect flanker to complement Bryant (and now Hurns), but expecting the consensus top-rated receiver to be available at No. 19 overall is a gamble, especially with the Seattle Seahawks expected to auction off their pick at No. 18 to the highest bidder.
Jones loves to make big splashes on draft day and that eagerness could only be reinforced this year with the Cowboys hosting the draft for the first time.
While adding a dynamic weapon with its first-round pick likely would put Cowboys fans in a frenzy, it is important to remember that significant impacts from rookie receivers are even more rare than edge rushers.
Teams won't soon forget that the Tennessee Titans, Los Angeles Chargers and Cincinnati Bengals didn't received a single touchdown a year ago from their top 10 investments in receivers Corey Davis, Mike Williams and John Ross.
While Dallas could still nab Ridley (or another weapon like Maryland's D.J. Moore or Texas A&M's Christian Kirk), taking advantage of this year's depth along the defensive line might be the smarter move.
The Cowboys wisely guaranteed that star pass rusher Demarcus Lawrence will return next season, slapping a franchise tag on the 25-year old who is coming off a breakout 14.5-sack campaign and his first Pro Bowl invitation.
The Cowboys would be wise to follow the Bucs' lead when it comes to their defensive line. For too long, McCoy languished as Tampa Bay's only truly effective defensive lineman. Lawrence more than doubled the sacks of any other Dallas defensive lineman last season, a strong statement about his own talent, as well as the relative lack of depth and playmaking ability from the rest of the Cowboys' crew.
With a handful of quality defensive linemen — like Michigan's Maurice Hurst, Florida's Taven Bryan, UT-San Antonio's Marcus Davenport and Ohio State's Sam Hubbard — all quality options potentially available at No. 19 overall, the Cowboys could be planning to give defensive coordinator Rod Marinelli the same injection of talent that it gave Prescott with Hurns.