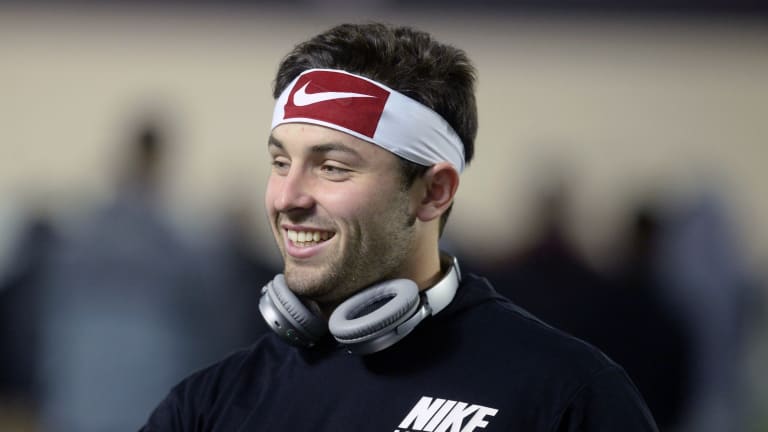 Report: Browns expected to take Mayfield with first pick
--- NFLDraftScout.com ---
--- NFLDraftScout.com ---
The Cleveland Palin Dealer is among those reporting that quarterback Baker Mayfield is expected to be the Cleveland Browns' pick with the No. 1 overall selection in the NFL Draft.
According to the Plain Dealer's Mary Kay Cabot, the Browns narrowed the choices to Mayfield and Wyoming quarterback Josh Allen, and the team seems to have settled on Mayfield.
NFLDraftScout.com analysts Rob Rang and Dane Brugler both project that Mayfield will be the Browns' first pick in their final mock drafts.
NFLDraftScout.com ranks Mayfield as the second-best quarterback prospect in the draft, behind USC's Sam Darnold.
Mayfield will not be at the draft. He will watch with family in Austin, Texas, and has declined an ESPN live shot to capture his reaction, according to Deadspin.
Browns general manager John Dorsey has been a fan of Mayfield ever since he scouted him thoroughly last fall before he got the job with the Browns, per the Plain Dealer report. Dorsey saw Mayfield play a number of games last season and was impressed.
Regarding concerns that the 6-foot Mayfield may be too short, Cabot noted that Dorsey told Peter King of Sports Illustrated last December, "Some would say he's too short, but I would ask you: How tall is Russell Wilson? How tall is Chase Daniel?"
When asked by the Plain Dealer whether there were character concerns about Mayfield, Dorsey said, "You guys create a narrative that you try to portray him as one.
"Every young man will make a mistake in his life, I bet you. And I think he's very remorseful of that mistake (being arrested for public intoxication and disorderly conduct) and I think he's moved forward from that, and he's trying to make himself a better person, going through the process."
Browns head coach Hue Jackson spoke highly of Mayfield's leadership ability at the NFL Meetings last month.