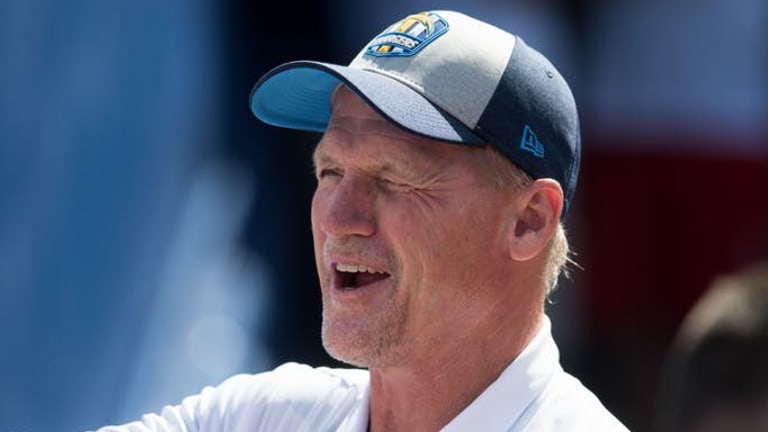 Report: Chargers OC Whisenhunt to interview at Georgia Tech
Chargers offensive coordinator Ken Whisenhunt will interview for the head coaching job at Georgia Tech, ESPN reported.
The position became vacant when longtime Yellow Jackets coach Paul Johnson announced his retirement on Thursday after 11 years at the school.
Georgia Tech athletic director Todd Stansbury told the Atlanta Journal Constitution that he has not had any conversations with prospective successors to Johnson — although he acknowledged there was no shortage of interest in the job.
"I think it may serve as a positive to kind of allow things to settle a little bit," said Stansbury. "Right now, my phone's blowing up and everybody's calling with either advice or they know a guy."
According to ESPN, the school is seeking a candidate that has both NFL experience and ties to Georgia Tech.
Whisenhunt fits that bill on both counts. He has ample experience as a head coach, spending six seasons with the Arizona Cardinals and two with the Tennessee Titans.
The 59-year-old Whisenhunt, who is in his second stint as offensive coordinator of the Chargers, played tight end at Georgia Tech. He has limited experience at the college level, serving as an assistant coach with Vanderbilt in the 1990s.
The newspaper listed as many as five candidates who are interested in the position, including Clemson co-offensive coordinator Tony Elliott and Alabama offensive line coach Brent Key.
Additionally, Temple coach Geoff Collins, Army coach Jeff Monken and Kennesaw State coach Brian Bohannon could be on the school's short list. All but Elliott have ties to Georgia Tech.
Stansbury did not offer a definitive timetable to name a new coach, but told the newspaper he'd like to have a successor in place before the start of the early-signing period on Dec. 19.
"I think the sooner the better, because it kind of brings clarity and everyone will kind of know what's going on," Stansbury said. "But I wouldn't want to sacrifice that for getting the right person."
Johnson, 61, guided the Yellow Jackets to a 7-4 record this season. He is expected to coach the team for its upcoming bowl game.
A three-time ACC Coach of the Year, Johnson posted an 82-59 mark (51-37 in ACC) at Georgia Tech with four division championships and the 2009 ACC conference crown. His 82 victories with the Yellow Jackets are fourth in school history, behind Bobby Dodd (165), William Alexander (134) and John Heisman (102).