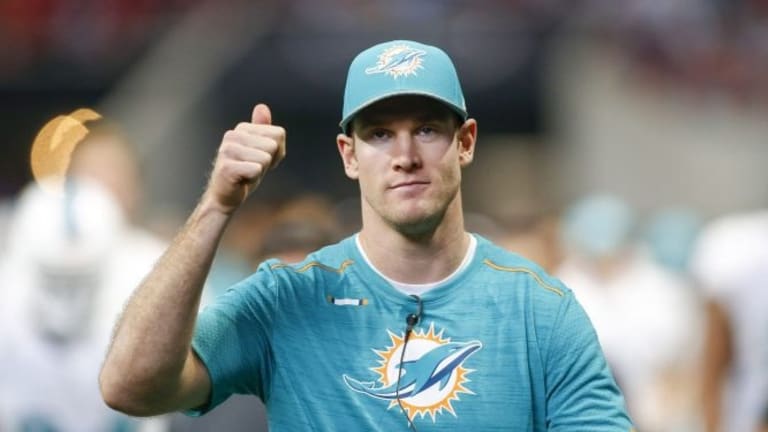 The Miami Dolphins have met with several quarterback prospects ahead of the 2018 NFL Draft, namely reigning Heisman Trophy winner Baker Mayfield out of Oklahoma and Louisville's Lamar Jackson.
While the Dolphins will select their first-round pick (11th overall) in just a few hours, they opted to give Ryan Tannehill some assurance by telling him that he would be their starter in 2018 even if they draft a quarterback, according to Tom Pelissero of NFL Network.
"The #Dolphins haven't ruled out trading up tonight if a QB slides in the #NFLDraft, but they've also made clear to Ryan Tannehill that no matter what, he's their starter for 2018," Pelissero tweeted.
NFLDraftScout.com senior analyst Rob Rang lists USC quarterback Sam Darnold first in his most recent Big Board. UCLA quarterback Josh Rosen is ranked second, Wyoming's Josh Allen is 10th, Mayfield 13th and Jackson 23rd.
Tannehill missed the entire 2017 season after suffering a preseason knee injury.
Without Tannehill, the Dolphins went 6-10 with Jay Cutler, Matt Moore and David Fales calling the signals. The trio combined for 24 touchdowns and 21 interceptions.
Tannehill initially injured his knee against the Arizona Cardinals in December 2016, partially tearing the ACL. It was reinjured on Aug. 3, when he fell to the ground while scrambling toward the sideline in practice.
The 29-year-old Tannehill has started 77 games for the Dolphins over five NFL seasons. His 62.7 career completion percentage is second in team history and his 86.5 career passer rating is third among all-time Dolphins quarterbacks.
Tannehill had his most efficient season as a professional in 2016, his first under coach Adam Gase, completing 67.1 percent of his passes for 2,995 yards, 19 touchdowns and 12 interceptions with a career-best 93.5 passer rating in 13 games. He originally joined the Dolphins as a first-round pick (eighth overall) in the 2012 NFL Draft.