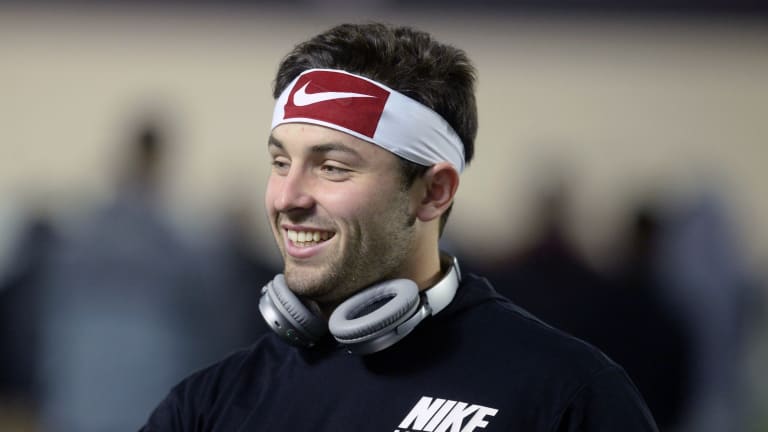 Report: Mayfield 'definitely' in mix for Browns' No. 1 pick
--- NFLDraftScout.com ---
--- NFLDraftScout.com ---
Oklahoma quarterback Baker Mayfield has been discussed by the Cleveland Browns as a serious candidate for the top overall pick of the 2018 NFL Draft, multiple media outlets reported.
Radio broadcast host Dan Patrick said on Monday that he's hearing the Browns are mulling between Wyoming quarterback Josh Allen or Mayfield, who is the reigning Heisman Trophy winner.
ESPN's Adam Schefter added the following over Twitter on Tuesday morning:
"(O)ne NFL executive said this morning that Baker Mayfield is 'definitely' in Cleveland's conversation to become the No. 1 overall pick."
Cleveland, which also owns the fourth overall pick, will be on the clock Thursday at the 2018 NFL Draft, which will be held at AT&T Stadium in Arlington, Texas.
The Browns, who limped to an 0-16 mark last year and are 1-31 in the last two seasons, haven't fared well when selecting a quarterback with their first-round pick. Since 1999, the team has chosen the following: Kentucky's Tim Couch (No. 1 overall, 1999), Notre Dame's Brady Quinn (No. 22 overall, 2007), Oklahoma State's Brandon Weeden (No. 22 overall, 2012) and Texas A&M's Johnny Manziel (No. 22 overall, 2014).
NFLDraftScout.com senior analyst Rob Rang lists USC quarterback Sam Darnold first in his most recent Big Board. UCLA quarterback Josh Rosen, Penn State running back Saquon Barkley, Notre Dame guard Quenton Nelson and North Carolina State defensive end Bradley Chubb round out the top five.
Allen is ranked 10th by Rang, Mayfield is 14th and Louisville quarterback Lamar Jackson is 15th.
Mayfield recently visited with the Browns, with general manager John Dorsey referring to the 23-year-old as a "pleasant fella" during his Thursday news conference.
Mayfield passed for 4,627 yards and accounted for 48 touchdowns with just six interceptions while leading Oklahoma to the College Football Playoff last season.
While that that is impressive, Mayfield is also linked to some less-than-stellar moments.
Mayfield planted the Sooner flag at midfield after winning at Ohio State and taunted Kansas fans as well. Those actions were preceded by a Feb. 25 arrest in Fayetteville, Ark., on charges of public intoxication, disorderly conduct, resisting arrest and fleeing, which resulted in a plea deal.
Tyrod Taylor, who was the Buffalo Bills' primary quarterback over the last three seasons, was acquired by the Browns in the offseason. The 28-year-old Taylor played in 15 games for the Bills last year and completed 62.6 percent of his passes for 2,799 yards and 14 touchdowns with four interceptions.
Taylor is joined by quarterback Drew Stanton, who has started 17 games and appeared in 38 total during his NFL career with the Detroit Lions (2007-11), Indianapolis Colts (2012) and Arizona Cardinals (2013-17). He has completed 345 of 659 passes for 4,059 yards with 20 touchdowns.