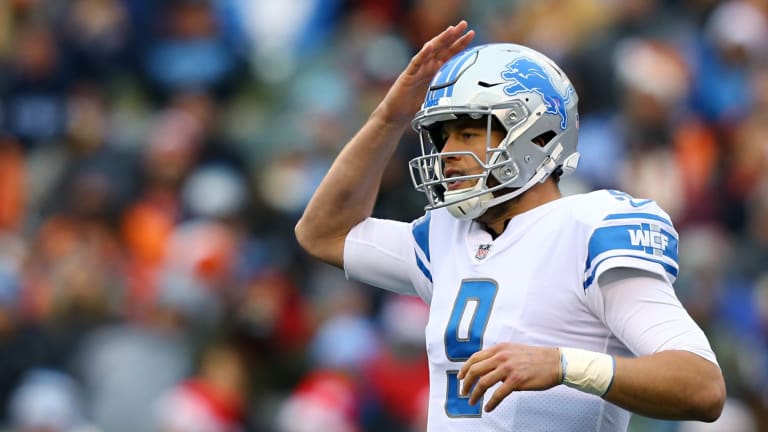 Stafford to upcoming top overall pick: 'Be yourself'
--- NFLDraftScout.com ---
Detroit Lions quarterback Matthew Stafford knows a thing or two about being the top overall pick of an NFL draft.
With the 2018 NFL Draft on the horizon, Stafford offered a bit of advice to the next man to hold that title — whether it's USC quarterback Sam Darnold, UCLA's Josh Rosen, Wyoming's Josh Allen or reigning Heisman Trophy winner Baker Mayfield of Oklahoma.
"I think that's all you can do is just be yourself," the 30-year-old Stafford said, via the Detroit Free Press. "Just go in there, work hard, show those guys in that locker room what you're about. And whatever it is you're about, it'll come out and they'll either accept you or they won't and then you go play."
Stafford was the first overall pick of the 2009 NFL Draft. He was selected mere months after the Lions posted an 0-16 mark in the previous season.
The Cleveland Browns, who are also coming off an 0-16 campaign, are expected to pick a high-profile quarterback with either the No. 1 or 4 selection in this year's draft.
Stafford was thrown into the fire pretty quickly during his rookie season, a situation the Browns' No. 1 or No. 4 overall pick may not face — should he be a quarterback.
Former Buffalo Bills quarterback Tyrod Taylor is behind center in Cleveland. The 28-year-old Taylor played in 15 games for the Bills last season and completed 62.6 percent of his passes for 2,799 yards and 14 touchdowns with four interceptions, helping the team reach the playoffs for the first time since 1999.
NFLDraftScout.com senior analyst Rob Rang lists Darnold first in his most recent Big Board. Rosen, Penn State running back Saquon Barkley, Notre Dame guard Quenton Nelson and North Carolina State defensive end Bradley Chubb round out the top five.
Allen is ranked 10th by Rang while Mayfield is 14th.