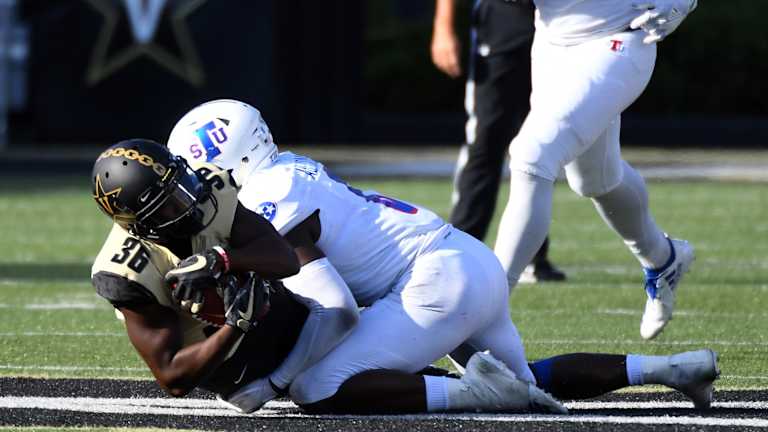 Tenn. St. LB Abercrombie collapses on sideline
Tigers coach Rod Reed: "He came to the sideline and just kind of collapsed there."
Tigers coach Rod Reed: "He came to the sideline and just kind of collapsed there."
Tennessee State middle linebacker Christion Abercrombie collapsed on the sideline in the first half against Vanderbilt on Saturday and was in critical condition after emergency surgery.
Abercrombie sustained a head injury in the second quarter and was rushed to Vanderbilt Medical Center. University officials issued a statement saying Abercrombie was being observed.
Tigers coach Rod Reed told The Tennessean that he was not certain exactly how or when Abercrombie was injured during the 31-27 loss.
"He came to the sideline and just kind of collapsed there," Reed said, per the newspaper.
Abercrombie was given oxygen on the sideline before being taken away on a stretcher.
The Atlanta native redshirted at Illinois in 2016 and played 11 games last season before transferring to Tennessee State.
Abercrombie entered the contest as Tennessee State's second-leading tackler (13) and also had 1.5 sacks on the season. He had five tackles and a quarterback hurry before sustaining the injury on Saturday.
Both Tennessee State and Vanderbilt came together for prayer after the game.
" At the end of the day, I'm a football coach coaching a team and coaching a game, but football's what we do, not who we are," Vanderbilt coach Derek Mason said. "I know what it is to be a coach. I know what it is to have a player who's injured. At the end of the day, when serious injuries happen, football becomes secondary."