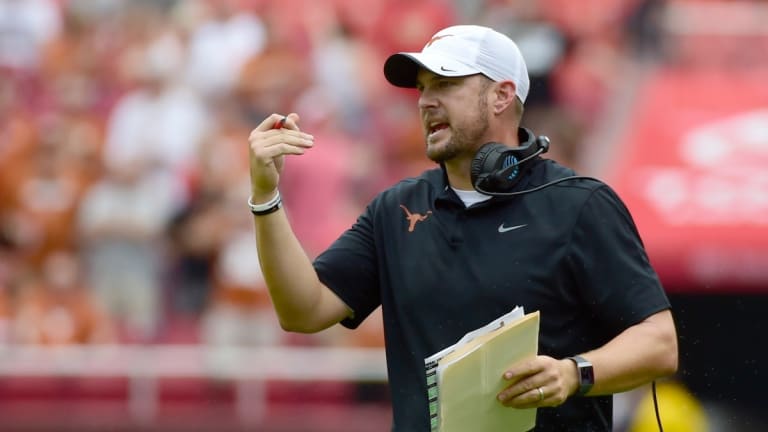 Texas coach Tom Herman: Lose the 'funeral home' feeling
Texas coach Tom Herman: "It's not going to define us. It's not. Week one will never define anybody."
— By Steve Habel, The Sports Xchange —
AUSTIN, Texas — Texas coach Tom Herman spent the better part of his media availability on Monday trying to send a message to everyone to come back to a positive frame of mind after his team's 34-29 loss at Maryland in its season opener.
Yes, the loss was a difficult one, Herman explained. And, yes, the Longhorns did not play up to anyone's expectations.
But there were plenty of things Texas did well in the loss as well, despite the "funeral home" feeling around the Longhorns' football complex on Sunday.
"I said postgame and I said today in the Big 12 teleconference, and I'll say it again here: Although the outcome is similar to last year's opener, this one feels much different," Herman said. "The reason we played so poorly, in my opinion, is actually a good one — because of how close this team has become, how badly they wanted to perform for each other, for their coaches.
"We have to learn how to manage expectations," Herman added. "We have to learn how to manage self-inflicted pressure. We have to learn to manage a lot of things, and that's our job as coaches to make sure we are capable of doing that."
Herman said quarterback Sam Ehlinger played well overall, but also said the sophomore forced some throws late in the game. Herman claimed there was no thought about switching to quarterback Shane Buechele.
"Like the entire team, Sam was a bit tentative early, but I think as the game progressed, he gained a lot more confidence," Herman said. "We made a decision, and we've got a tremendous amount of confidence in Sam.
"Certainly, Sam didn't play perfect, but nobody did, and his errors weren't egregious enough to merit just dumping him on the depth chart. If you start doing that, you're going to start riding a roller coaster and you're going to wind up in the same situation that you were in last year."
Herman wants to make sure that fact doesn't get lost in the hand-wringing after the loss.
"There were a lot of reasons that went into why we lost, and you address the why," Herman said. "The kids know the what, just like everybody knows the what. You address the why, and you just be very honest with them.
"It's not going to define us. It's not. Week one will never define anybody," he said. "How you grow from it and how you respond to it is going to be paramount. We have 11 more of these guaranteed to us, 11 one-game seasons and we've got to learn from it and move on."
NOTES
–QB Sam Ehlinger, a sophomore, finished 21 of 39 for 263 yards with two touchdowns and two crucial interceptions against Maryland.
–WR Collin Johnson, a junior, hauled in a 22-yard TD pass in the second quarter against Maryland after Sam Ehlinger checked to the play when he saw Johnson had single coverage. Johnson is the huge, fast downfield target that Texas needs to help open up the offense. He is due for a breakout season. The 6-foot-6 receiver can go over or through most of the defensive backs that are covering him. He finished the opener with three catches for 59 yards.
–LB Gary Johnson was ejected from the Maryland game after he hit Terrapins quarterback Kasim Hill in the chin while Hill was sliding at the end of the run. Johnson will miss the first half of the Tulsa game.
–CB Kris Boyd tweaked an ankle late in the Maryland game and is listed as probable for Saturday's contest against Tulsa.