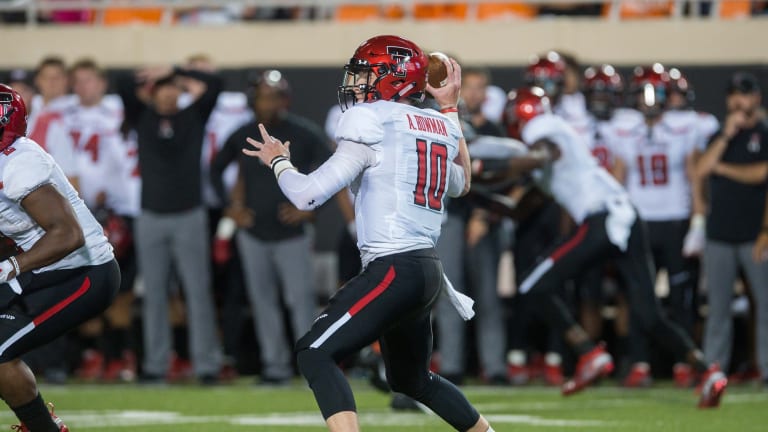 Texas Tech QB Bowman injured vs. West Virginia
Texas Tech freshman quarterback Alan Bowman was knocked out of Saturday's game against visiting West Virginia.
Bowman was injured when he was sandwiched by a pair of Mountaineers' defenders, absorbing jarring hits to his chest and upper back just after releasing a pass.
Texas Tech entered Saturday's Big 12 Conference matchup against No. 12 West Virginia with a 3-1 record and ranked 25th in the nation.
Bowman was second nationally in passing yards with 1,557 through four games, helping the Red Raiders' offense average 623.5 yards per game — tops in the country.
Before he was injured Saturday, Bowman completed 8 of 19 passes for 111 yards with one touchdown and one interception. Junior Jeff Duffey replaced Bowman.
Bowman was completing 72.1 percent of his passes and had directed Texas Tech to three consecutive victories following a season-opening loss to Mississippi, including last week's 41-17 road win at conference rival Oklahoma State.
The 6-foot-3, 210–pound Bowman had 10 touchdown passes against two interceptions through the first four games, including a spectacular performance versus Houston in Week 3.
Bowman shredded the Cougars for 605 yards and five touchdowns in a 59-43 victory on Sept. 15. He was not intercepted in the contest.