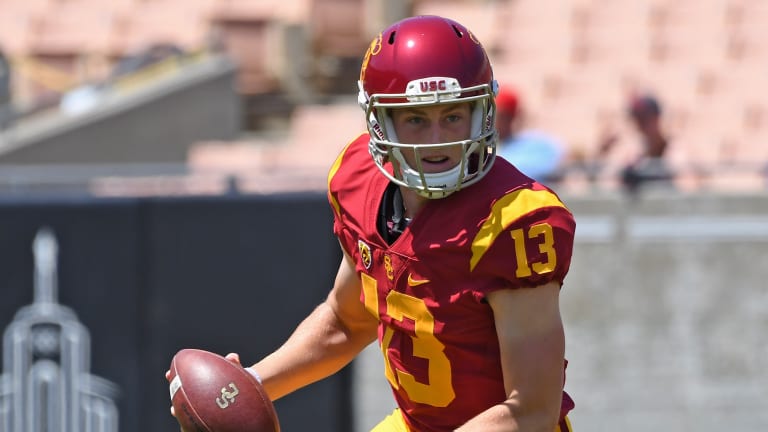 Third-string QB Sears might start for USC
Head coach Clay Helton: "It's 50-50 at best even if (Daniels is) cleared and probably leaning more toward not."
Head coach Clay Helton: "It's 50-50 at best even if (Daniels is) cleared and probably leaning more toward not."
USC's third-string quarterback, Jack Sears, who has never thrown a pass in his college career, might be the starter for the Trojans on Saturday against Arizona State at the Los Angeles Memorial Coliseum.
Starting quarterback JT Daniels, who sustained a head injury last Saturday in a 41-28 loss to Utah, remains in concussion protocol, while backup Matt Fink is nursing three broken ribs he suffered in the game against the Utes.
Daniels was permitted to throw during practice on Thursday, but that was all.
On Monday, it was reported that Daniels had passed the initial stages of the protocol and was expected to play against the Sun Devils. However, Daniels was still in the protocol on Thursday and head coach Clay Helton did not sound optimistic about the freshman's availability.
"It's 50-50 at best even if (Daniels is) cleared and probably leaning more toward not," Helton said, according to ESPN.com.
Earlier in the week, Helton said he told Sears, also a freshman: "I said, 'Man, we always talk about preparing like being a starter, then you look up, here's your opportunity."
Added quarterbacks coach Bryan Ellis: "He's got the talent," quarterbacks coach Bryan Ellis said. "I got no doubt in my mind we can win a football game with Jack Sears."
Daniels has completed 124 of 218 passes this season for 1,629 yards and eight touchdowns with seven interceptions, while being sacked 16 times. He was only 6 of 16 for 89 yards with a touchdown and two interceptions before being injured against Utah.