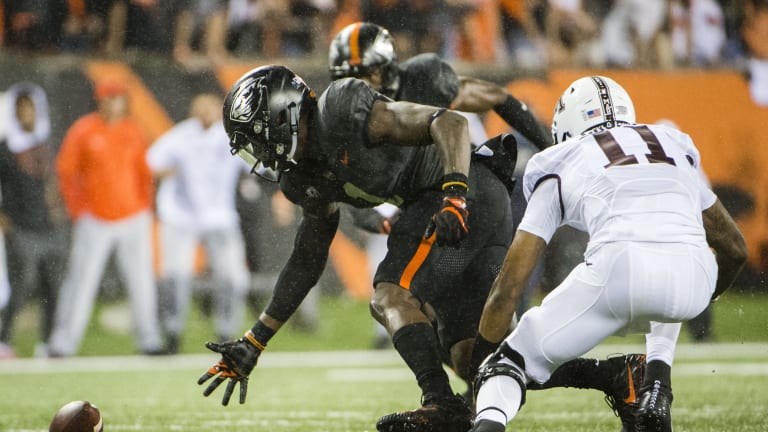 Ugwoegbu clocks slow 40 at pro day
--- NFLDraftScout.com ---
--- NFLDraftScout.com ---
Former Oregon State linebacker Bright Ugwoegbu turned in some disappointing numbers during his pro day on Friday.
Ugwoegbu, one of four players who will be available in the NFL supplemental draft on July 11, was clocked at 4.97 seconds in the 40-yard dash. Six NFL teams attended the workout, according to multiple outlets.
Given that he measured in at 6 feet and 205 pounds, the time could wreck Ugwoegbu's chances of being taken in the supplemental draft. He also was timed in 4.7 in the short shuttle and 7.38 in the 3-cone drill.
For comparison's sake, former Western Michigan cornerback Sam Beal clocked a 4.47 in the 40-yard dash, a 4.09 in the short shuttle and 7.11 in the 3-cone drill in his pro day earlier this week.
Ugwoegbu, a redshirt senior with 20 career starts, was suspended in April by new Oregon State head coach Jonathan Smith and opted to declare for the draft rather than pursue a transfer.
He finished fifth on the team with 55 tackles, including 4.5 for losses, last season.
NFLDraftScout.com gave Ugwoegbu a free agent draft grade, ranking him at No. 56 among 2019 outside linebackers.
Ugwoegbu joins Beal, Virginia Tech cornerback Adonis Alexander and Mississippi State safety Brandon Bryant in one of the most intriguing supplemental draft classes in years.