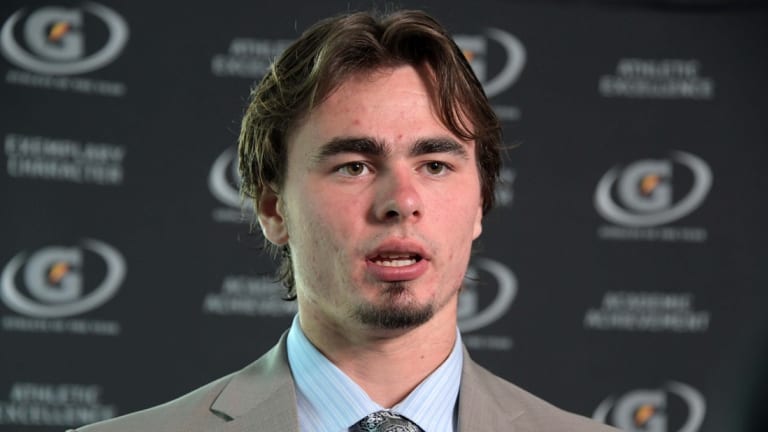 USC's true freshman QB JT Daniels to start against UNLV
Coach Helton: "JT Daniels has earned the starting position and will be the starter against UNLV."
True freshman JT Daniels will start at quarterback for USC in its season opener on Saturday against UNLV, Trojans coach Clay Helton announced Sunday.
Daniels beat out redshirt sophomore Matt Fink, redshirt freshman Jack Sears and redshirt sophomore walk-on Holden Thomas for the job.
The 18-year-old Daniels will be the first true freshman to start at quarterback for USC since Matt Barkley in 2009. He replaces San Darnold, the No. 3 overall pick by the New York Jets in the 2018 NFL Draft.
"We had a very healthy quarterback competition this year with four incredible young men," Helton said in a statement. "All are tremendous people, teammates and football players. In the end, JT Daniels has earned the starting position and will be the starter against UNLV.
"As you can imagine JT was excited when we let him know, but his uncanny maturity kept him focused on what is next. Matt, Jack and Holden handled the decision with class and grace as I expected, and I reminded each that they need to keep pushing to be ready to play when called upon."
Daniels graduated a year early from high school after guiding Santa Ana Mater Dei to a California state title as a junior. The 2017 Gatorade National High School Player of the Year passed for 4,123 yards with 52 touchdowns and four interceptions.
"I am honored that Coach Helton picked me as the starter," Daniels said. "I understand this it is a huge responsibility and I need to work hard to be prepared to handle it. It was a tight competition between all the quarterbacks throughout camp.
"We pushed each other every day. I felt that Coach's decision wouldn't be wrong whoever he picked. I am thankful to Matt and Jack and Holden for teaching me so much and helping me adjust to the system so that I could quickly get into the flow of things, and I know we will continue to be supportive teammates in the quarterback room."
USC is ranked No. 15 in the Associated Press preseason poll. The Trojans finished with an 11-3 record last season after beating Stanford in the Pac-12 championship game and losing to Ohio State in the Cotton Bowl.