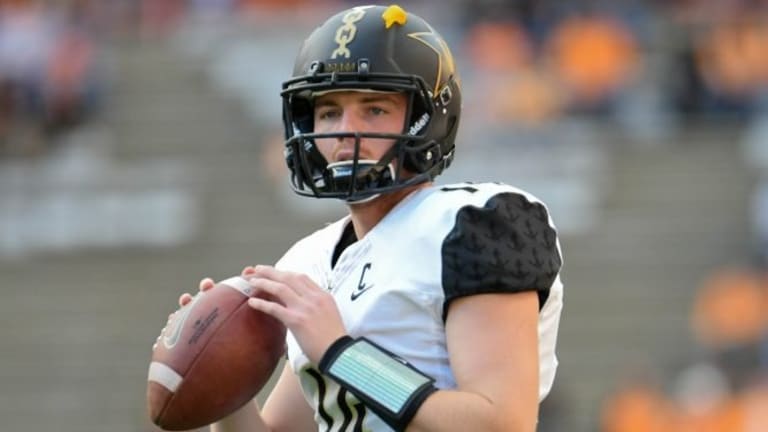 Vanderbilt eyes breakout offense with QB Kyle Shurmur
Commodores pin much hope on senior quarterback Kyle Shurmur.
In four years under coach Derek Mason, Vanderbilt hasn't field a high-powered offense. The Commodores' high in total offense under Mason came in 2016 (356 yards per game) and its best per-game point average came last season (24.6). But things are looking up this year.
The Commodores pin much hope on senior quarterback Kyle Shurmur, whose 26 touchdown passes last year set a single-season school record, his 2,823 passing yards, the third-highest total in school history.
It's what's around Shurmur, however, that could put the 'Dores over the top.
Shurmur connected long and often with wide receiver Kalija Lipscomb and 6-4, 255-pound tight end Jared Pinkney in fall camp. Sophomore Chris Pierce emerged as a sure-handed outside receiver, and freshmen C.J. Bolar and Cam Johnson, who can either line up in the slot or outside, are potential play-makers.
And while it's easy to presume the Commodores will fall off in rushing after losing all-time leading rusher Ralph Webb (4,173 yards), Webb (4.3 yards per carry) wore down under the burden of a massive career workload last season.
Veteran running backs Ke'Shawn Vaughn, Khari Blasingame and Jamauri Wakefield had excellent fall camps. Big things are expected of Vaughn, a junior transfer from Illinois who can run between the tackles, pop a play outside for big yardage, and catch passes.
The Commodores figure to be better along the line, too. Not only could the Commodores start five players who started multiple times last year in Saturday's opener vs. MTSU, but the player who's perhaps VU's best lineman, Bruno Reagan, is back at right guard after playing center last year. Reagan's an excellent run blocker, and right tackle Devin Cochran, the massive 6-foot-7, 318-pound sophomore, came on as a run blocker in fall camp.
VU also has depth there. Reserve sophomore Cole Clemens may start ahead of Saige Young, who missed time in fall camp to take care of academic matters. Young started eight games at left guard last season. Throw in players like Jared Southers (21 career appearances), and it's why Mason thinks he has 10 linemen who can capably play.
Mason has always wanted a run-oriented team. The Commodores seem to be suited to do that well.
"Just like (offensive coordinator Andy Ludwig) said, we've got to have a run-to-win mentality," Blasingame said on Tuesday. "The offensive line has been doing a great job all camp. We expect to go out and execute the game plan."
–QB Kyle Shurmur was 20 for 28 passing for 296 yards, three touchdowns and no interceptions against MTSU last season.
–RB Ke'Shawn Vaughn will make his Commodore debut Saturday. MTSU keyed on VU RB Ralph Webb last year, holding him to 49 yards on 24 carries, though he did catch a 73-yard touchdown. The Commodores would like to be able to pound Vaughn inside the tackles against a smaller Middle front seven.
–CB JoeJuan Williams didn't put up great numbers — no interceptions, 10 break-ups, 39 tackles, one forced fumble — last year. But some of that was by design; teams simply don't much want to throw at the talented 6-foot-3, 210-pound corner. On Tuesday, coach Derek Mason talked of using him some at nickel this season, depending on the matchup. The match-up of Williams on MTSU WR Ty Lee (75 catches, 955 yards, 5 TD in '17), if it happens, is worth watching.
–SS Zaire Jones is suspended for the opener for a recent incident in which he bumped an off-duty campus police officer with the front corner of his car as he attempted to drive around a traffic barricade following an on-campus concert. Jones, who played 11 games as a reserve safety last year, was projected to start at strong safety.