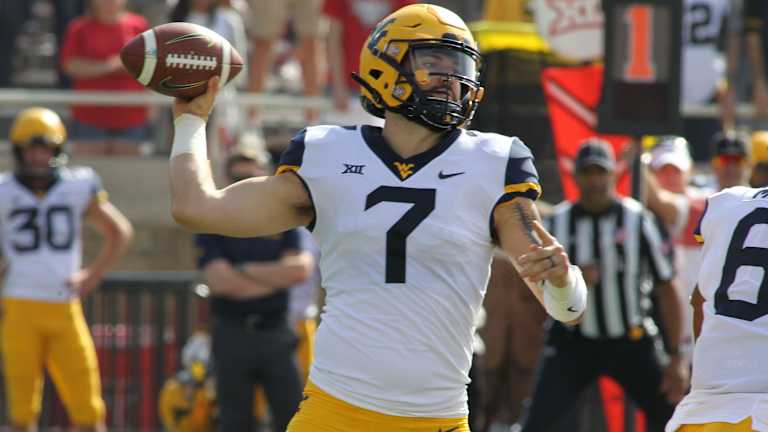 WATCH: Ranking the nation's top QB-WR combos based on their Week Five TDs
NFL-caliber throws and catches were on the menu Saturday. Which were the nation's best?
Football is the ultimate team game with the chemistry between a quarterback and his favorite receiver often resulting in some of the more picturesque plays on any given week.
This was certainly the case in Week Five with each of the nation's most prolific QB-WR duos hooking up for memorable scores, prompting this quick post ranking them both on aesthetics and their NFL futures.
Before getting to the highlights, it is worth pointing out a significant difference between last year's record-setting QB class and the one we may see in 2019. Even hardcore NFL draft enthusiasts would likely struggle to name the leading receivers for the five passers who were drafted in the first round a year ago.
Meanwhile, many of the highest rated passers this year have clear-cut favorite targets, as you can see below.
​
5. QB Will Grier, WR Gary Jennings, Jr., West Virginia
While it is true that fellow senior wideout David Sills IV has been Grier's favorite target to this point in their respective careers, with two more touchdowns Saturday, Jennings is now the Mountaineers' leading receiver in 2018 with six scores through four games. That is pretty remarkable production from the 6-2, 215 pound Jennings considering that he only scored once a season ago despite hauling in 97 passes for 1,096 yards opposite Sills (who had an NCAA-leading 18 touchdowns in 2018 on "just" 60 grabs for 980 yards). Almost regardless of who is catching passes, Grier is deadly when allowed to set his feet and survey the field comfortably as he did on this throw, one of his three touchdowns in a 42-34 win over Big 12 rival Texas Tech. While well behind Missouri's Drew Lock as the top senior passer in the country, Grier has his fans in the scouting community, currently projecting as a Day Two pick.
​
4. QB Kyler Murray, WR Marquise "Hollywood" Brown, Oklahoma
To make all of the highlight reels, long touchdowns need to feature either a picturesque throw from the quarterback or some kind of remarkable play by the receiver. This is an example of the latter with the Sooners' speedy Brown simply out-running pursuit angles to give Murray one of his six touchdown receptions Saturday in a 66-33 thumping of Baylor. Brown, who might just be the fastest player in the country, made his debut on my personal top 32 Big Board this week. At just 5-10, 195 pounds, Murray hardly has the look of a traditional NFL quarterback but ex-Redskins and 49ers general manager Scot McCloughan told me on the Instinctive Scouting Podcast that he sees some Russell Wilson in his game.
https://twitter.com/soonergridiron/status/1046160768977260544 QB
​
3. QB McKenzie Milton, WR Gabriel Davis, Central Florida
Like Murray, Milton lacks the size scouts want, checking in at just 5-11, 185 pounds. What he lacks in stature, however, Milton makes up for with a lightning quick and terrific mobility, making him truly one of the most lethal dual-threat weapons in the country. Milton was lights out Saturday at home against Pitt, throwing for 328 yards and four touchdowns while rushing for another 51 and two scores in a 45-14 thrashing. Davis has taken over for Saints' rookie Trequan Smith as Milton's favorite target, hauling in a touchdown in each of UCF's first four games this season. This score demonstrates their rapport and the improvisational skills that will keep Milton alive on NFL boards despite his frame.
​
2. QB Gardner Minshew, WR Easop Winston, Washington State
Minshew's 1,992 passing yards leads the country through the first five weeks of the season, with the senior and his 4-1 Cougars shattering expectations from perhaps everyone but head coach Mike Leach. Minshew, who has a stronger arm than predecessor Luke Falk, plays with a bit of a gunslinger mentality and yet is distributing the ball well. Winston leads the Cougars with five touchdown receptions on the year, including this 84-yard game-winner Saturday in a big win over Utah. Minshew, a senior, is playing himself into NFL draft consideration after entering the year barely a blip on scouts' radar, like Winston a JUCO transfer from City College of San Francisco.
​
1. QB K.J. Costello, WR JJ Arcega-Whiteside, Stanford
When properly executed, the back shoulder fade is as pretty a pass as you'll ever see. While there were not many highlights from a Stanford perspective in the Cardinal's 38-17 beat-down Saturday night at the hands of the Irish but this pearl of a pass from Costello to Arcega-Whiteside certainly qualifies. Quite simply, few even in the NFL have developed a better rapport on this particular route than Stanford's playmaking duo. Though Notre Dame silenced he and the Cardinal in the second half Saturday night, Costello is a future early round draft draft pick, who quietly out-played top-rated quarterback Justin Herbert in a hard-fought win over Oregon last week. Arcega-Whiteside has to answer questions about his straight-line speed but he's a polished route-runner with excellent size, body control and hands to continue excelling as a red zone specialist in the NFL.
​